As an Amazon Associate I earn from qualifying purchases.
Low-carb baked or air fryer portobello mushroom pizzas are packed with flavor, have endlessly adaptable toppings, and are ready in just 25 minutes! Enjoy these plant-based pizzas as an appetizer, side, or snack for a delicious, crowd-pleasing, gluten-free, grain-free, vegan pizza!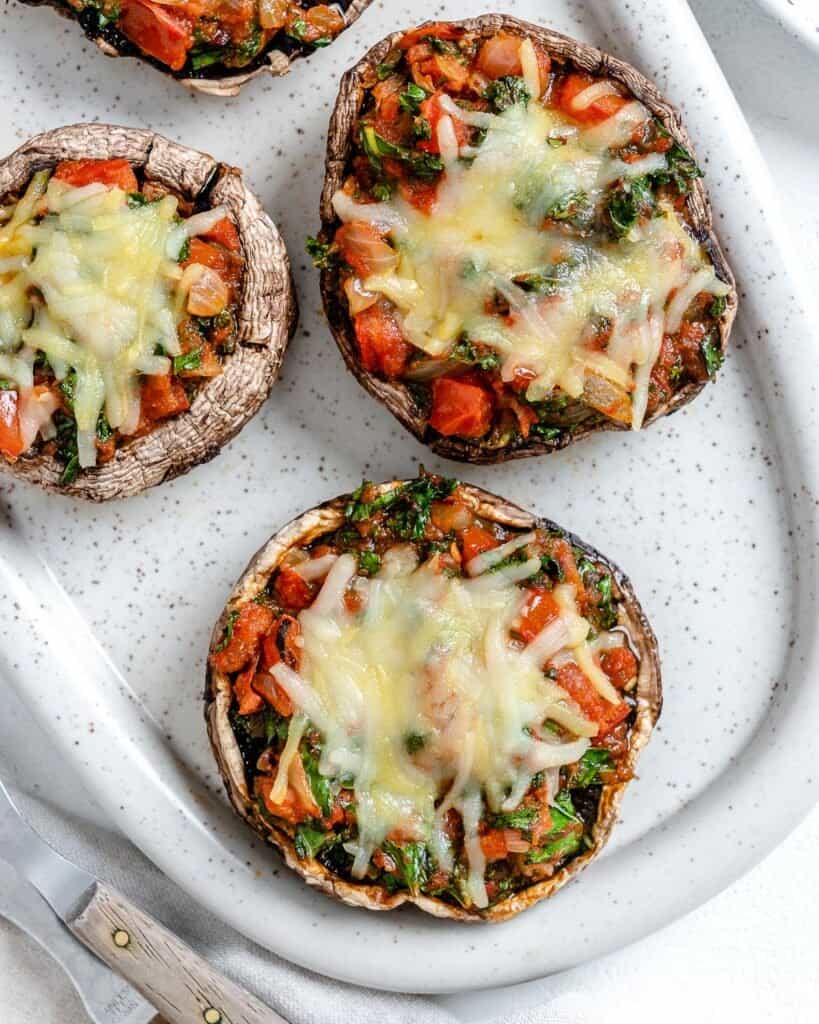 Baked or Air Fryer Portobello Mushroom Pizzas With Veggies
If you're looking for a truly plant-based pizza, these low-carb portobello mushroom pizzas are ready to impress. With a portobello mushroom cap base, tomato-based sauce, and mixed vegetable topping, portobello pizzas are packed with plant-based goodness. They're a great way to cater to your pizza cravings in a budget-friendly, low-carb, vegetarian, vegan way!
When it comes to individual-sized/mini pizzas, we've tried them all, bagel pizza, flatbread or pita pizza, etc. However, for those who want something with fewer carbs and calories, these veggie stuffed portobello mushrooms are perfect for enjoying all the flavor with your dietary needs in mind.
Swap out the toppings as you please and make them as baked portobello mushroom pizzas or air fryer portobello mushroom pizzas in 20-25 minutes. Either way, these are ready to impress friends and family as an appetizer, side, main, or within a party food spread!
Looking for more simple vegan pizza recipes? You may enjoy Mediterranean hummus pizza, Thai-style pizza, BBQ tofu pineapple pizza, or vegan calzones.
The Ingredients
This portobello mushroom pizza recipe requires just a handful of ingredients.
Portobello mushrooms: You'll need medium portobello mushrooms, similar in size. Look for nice wide ones with a curve to hold the toppings.
Marinara: Use either marinara or tomato sauce. Use store-bought or make your own (paleo or keto if preferred). Either way, make sure it's good quality with plenty of flavor. We like to use a garlic one for extra flavor.
Oil: Any neutral cooking oil will work. Vegetable oil, coconut oil, avocado oil, olive oil (not EVOO).
Vegetables: We used a combination of diced Roma tomatoes (sliced cherry tomatoes would also work), yellow onion, and kale (or spinach). However, these can easily be swapped with your toppings of choice.
Vegan cheese: (Optional) Use a vegan cheese that melts for the best results. A vegan mozzarella cheese or cheddar-style cheese would work well flavor-wise based on your toppings. Alternatively, you could sprinkle the veggie stuffed portobello mushrooms with some nutritional yeast for a subtle 'cheesy' flavor.
Looking for more inspiration to make stuffed mushrooms? Why not try our sweet potato stuffed mushrooms, pumpkin seed pesto stuffed mushrooms, pesto pasta stuffed mushrooms, or a basic simple vegan stuffed mushroom recipe!
Optional Toppings and Variations:
Like a dough-based pizza, mushroom cap pizza is super versatile with your favorite pizza toppings. The main rule is to avoid anything too 'wet' since the mushrooms themselves are already full of water.
Other vegetables: There are plenty of extra veggies to choose from for these plant-based pizzas.

Sweet corn
Sliced black olives
Artichoke hearts
Diced bell pepper
Sun-dried tomatoes
Caramelized onion
Pre-cooked zucchini or eggplant

Protein: You could add small pieces of vegan ham, smoked tofu/tempeh, shredded vegan chicken, etc.
Herbs: A small amount of dried oregano or Italian seasoning before cooking these low-carb vegan pizzas will add more classic pizza flavor. After baking, you could garnish with finely chopped fresh parsley or basil. Check out this article to keep your herbs fresh!
Garlic: Add a minced clove of garlic or garlic powder to the sauce for extra flavor.
Spice: Either add a small amount of chili sauce or powder to the marinara, red pepper flakes to sprinkle over top, or use finely diced/sliced chilies as a topping.
Pesto: A drizzle of pesto is a delicious addition to the plant-based pizzas.
Breadcrumbs: If you aren't worried about the carbs and want to add crunch, sprinkle over some breadcrumbs before broiling the mushroom cap pizzas. Use gluten-free breadcrumbs if preferred.
Keto/Paleo: To make the portobello pizza keto or paleo, use a sugar-free paleo or keto pizza sauce and choose your toppings accordingly.
How to Make Portobello Mushroom Pizzas?
Preparing these plant-based pizzas is pretty simple and requires just a handful of steps.
1) First, preheat the oven to 425F/220C and line a small baking pan with lightly greased aluminum foil or parchment paper. At the same time, finely dice/slice all the vegetable toppings.
2) Then, prep the mushrooms by removing the stems and gently scooping out the 'gills' with a spoon. Then transfer them to the baking sheet and bake for 8-10 minutes.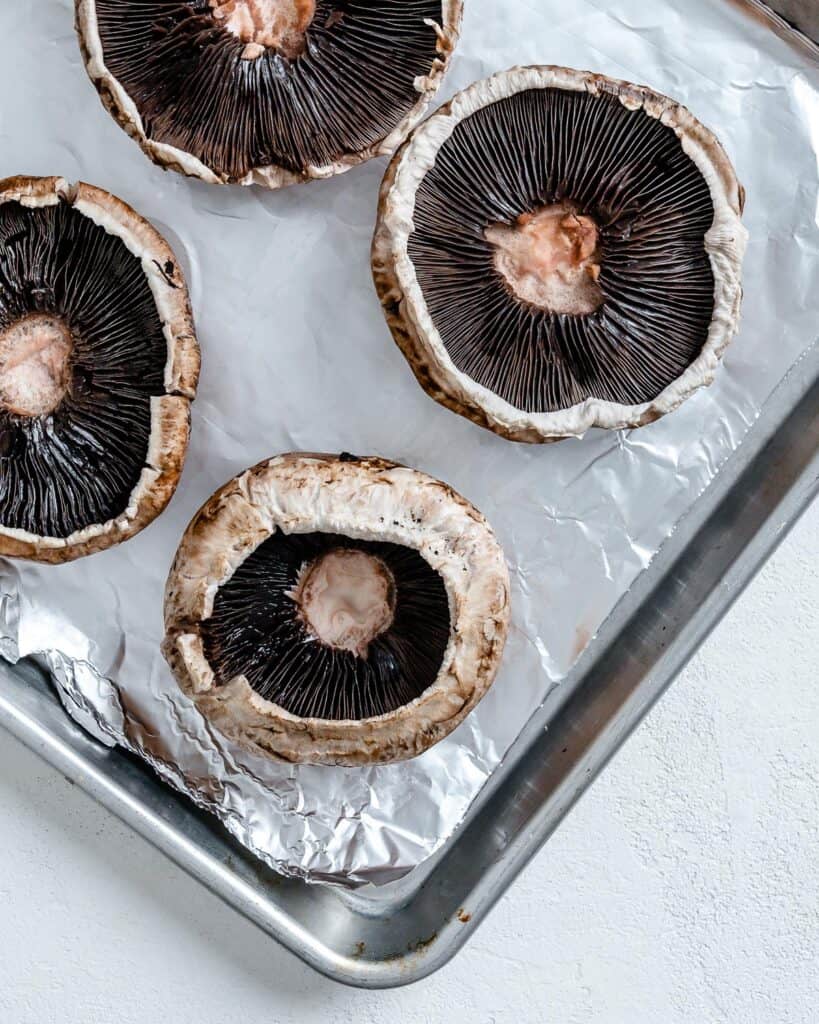 3) Meanwhile, in a medium saucepan, heat the oil and add the diced onions and tomatoes. Sauté for 3 minutes, then add the marinara sauce. Then add the kale and continue to cook for about 5 minutes until tender.
4) Remove the mushrooms from the oven and use paper towels to dab away the liquid gathered in the mushrooms.
This is especially important so you don't end up with mushroom cap pizzas that are soggy and yuck.
5) Spoon the cooked filling into each mushroom and optionally top with some shredded vegan cheese. Then, finally, bake or broil for several minutes until the vegan cheese is melted and bubbling.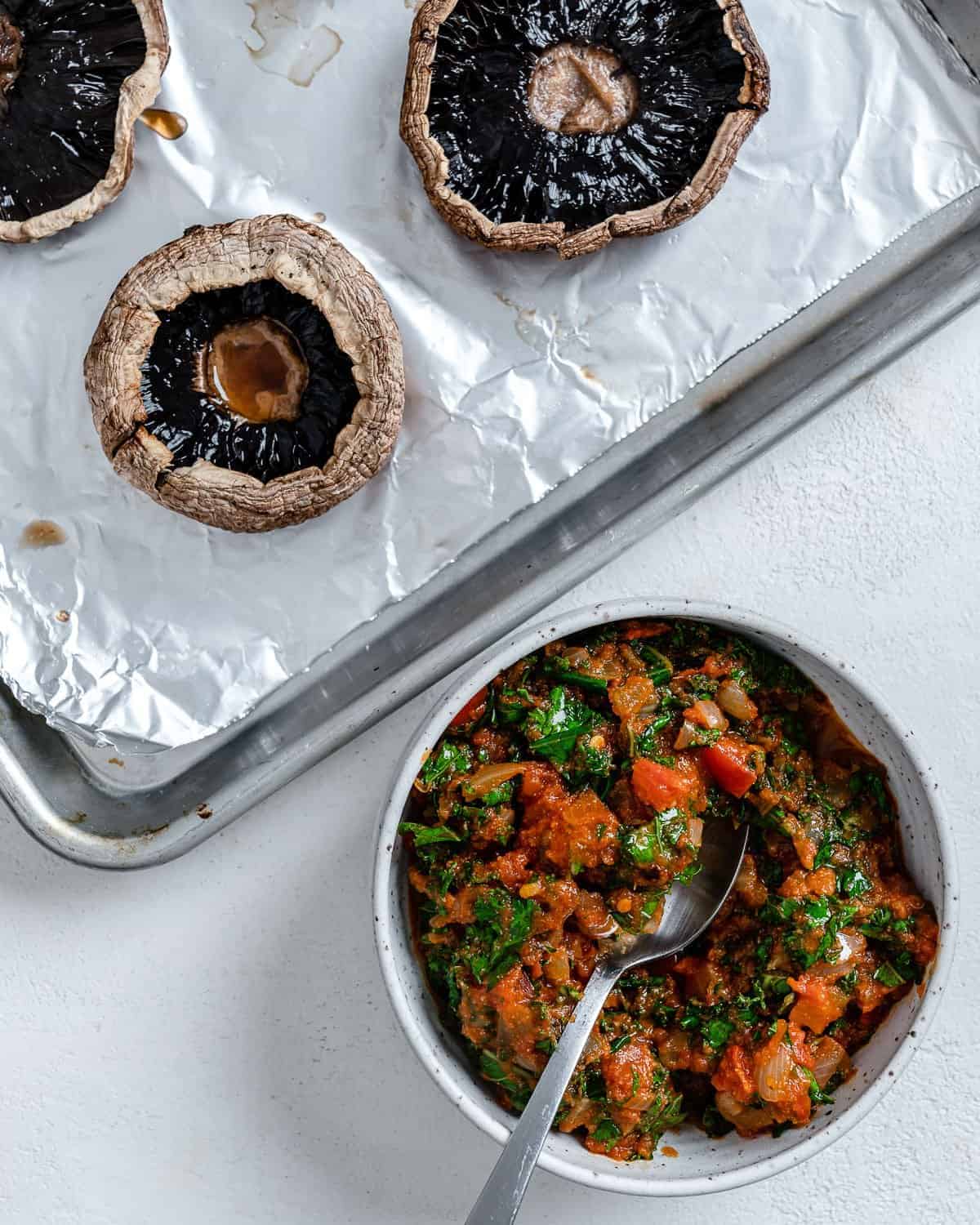 Allow them to rest for a couple of minutes to cool, and then serve and enjoy!
Air Fryer Portobello Mushroom Pizzas
1) Preheat the air fryer to 375F/190C.
2) Clean and prepare the mushrooms as written above, then place them, stem side down in your air fryer basket, spray or brush with oil, and cook for 2 minutes.
3) Flip the mushrooms over and dab with a kitchen towel to remove any liquid. Then, top with the marinara and toppings (pre-cooked as written above).
4) Cook for a further 4-6 minutes until the vegan cheese melts.
Most air fryer baskets can only fit around 4 medium portobello mushrooms at a time (or 2-3 larger ones), so you may need to cook them in batches.
FAQs
How to clean the mushrooms?
Use a slightly damp paper towel or cloth to wipe away any dirt. Avoid washing them in water. Otherwise, they may absorb it and become soggy when cooked.
Do I have to pre-cook the toppings?
This really depends on what the toppings are. There are some that you could get away with just broiling at the end (like corn, pre-cooked vegan meats, etc.). Pick and choose your preference.
Is it ok to eat the gills of a portobello mushroom?
Absolutely! There's no need to discard the stems/gills. Instead, you can either chop them up and add them to the cooked vegetable stuffing OR wash and chop them to use in other recipes. Once chopped, store the leftover mushroom bits in an airtight container in the fridge for an extra day or two.
How to avoid soggy portobello pizzas?
There are a few tips. First, remove the gills and don't wash the mushrooms when cleaning. Second, don't overbake the mushrooms. The third is to place the mushrooms on a wire rack above the foil-lined tray. That way, any released liquid drops onto the tray below away from the mushrooms, keeping them from becoming too soggy.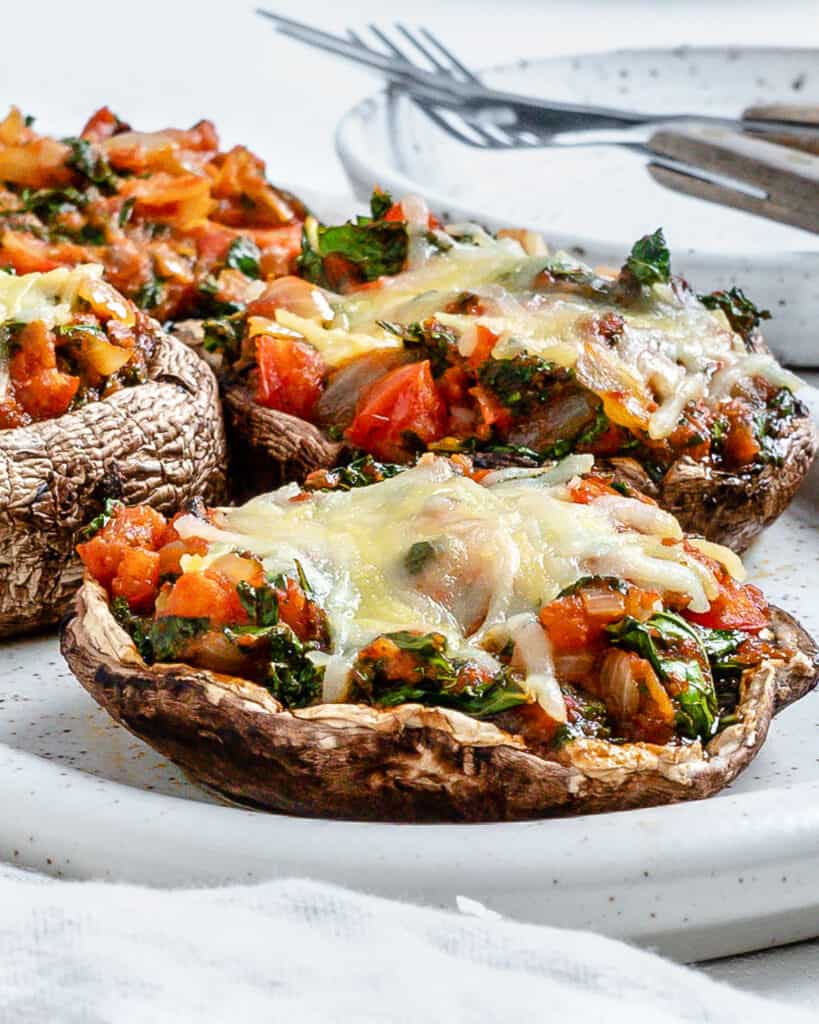 Storage Instructions
Cut down on prep time by preparing any cooked veggie toppings a day in advance and cleaning/preparing the mushrooms. Then, when you're ready, simply bake, assemble, and broil.
Once baked, these portobello pizzas are best enjoyed immediately for the best results. However, any leftovers can be stored in an airtight container in the fridge for 2-3 days.
Reheat them in the oven at 400F/200C until heated through.
How to Serve?
You can enjoy these veggie stuffed portobello mushrooms as a party snack, appetizer, or side, meaning there are plenty of ways to enjoy them, including with:
You can also serve them with your protein of choice OR as part of a party appetizer spread alongside vegan buffalo cauliflower wings, onion rings, jalapeno poppers, nachos, etc. They'd also be great paired with these Vegan Sausage Rolls.
Top Recipe Tips and Notes
Don't overbake them: Otherwise, the mushrooms will release too much liquid and become soggy.
Experiment with toppings: There are plenty to choose from, so you can choose all your favorites each time!
Using different sized portobello mushrooms: Be aware that the cooking time will vary.
For extra flavor: You can season the mushrooms. Brush the outside with oil and a sprinkle of dried herbs/Italian seasoning and garlic powder before baking.
Don't skip the pre-baking step: We've tried making portobello pizzas without it, and the results were lackluster at best. Pre-baking helps remove excess liquid, so you don't end up with soggy results.
More Vegan Mushroom Recipes
Photos by Alfonso Revilla
Portobello Mushroom Pizzas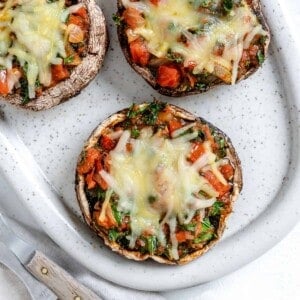 These Portobello Mushroom Pizzas are low-carb, packed with flavor, have endlessly adaptable toppings, and are ready in just 25 minutes!
Ingredients
6

medium

portobello mushrooms

2

cups

of kale

or spinach

1

medium

Roma tomato

diced

⅛

cup

of yellow onion

diced

3

Tablespoons

of tomato sauce or marinara

½

Tablespoon

of oil

1

ounce

of vegan cheese

optional

Salt & pepper, to taste
Instructions
Preheat the oven to 425 degrees F and line a small baking pan with lightly greased aluminum foil.

Prep mushrooms by removing the stems and gently scraping out the dark/brown part to make room for stuffing. Line them on the baking sheet and cook for 8 to 10 minutes.

In a medium saucepan over medium heat, heat the oil and add diced onions and tomatoes. Let cook for 3 minutes and add in tomato sauce/marinara.

Prep the kale by washing and chopping it into bite-sized pieces. Add it into the saucepan and let everything cook together for about 5 minutes.

Take the mushrooms out of the oven, you'll notice they're filled with "water" that's totally normal. Just take a paper towel and dab each of them to remove the liquid. That's why you bake them before stuffing, so they don't get all soggy and gross.

Spoon the filling into each mushroom, you should have plenty to fill 6 medium-sized mushrooms. Optionally, top each with a little vegan cheese or any other pizza topping you enjoy.

Bake on broil for about 2 to 3 minutes, or until vegan cheese is bubbling/light brown. Let rest for a couple of minutes to cool.
Notes
Enjoy these plant-based pizzas as an appetizer, side, or snack for a delicious, crowd-pleasing, gluten-free, grain-free, vegan pizza!
Nutrition
Calories:
57
kcal
Carbohydrates:
7
g
Protein:
3
g
Fat:
3
g
Saturated Fat:
1
g
Polyunsaturated Fat:
1
g
Monounsaturated Fat:
1
g
Trans Fat:
1
g
Sodium:
103
mg
Potassium:
435
mg
Fiber:
2
g
Sugar:
3
g
Vitamin A:
2350
IU
Vitamin C:
23
mg
Calcium:
65
mg
Iron:
1
mg
Disclaimer: Although plantbasedonabudget.com attempts to provide accurate nutritional information, kindly note that these are only estimates. Nutritional information may be affected based on the product type, the brand that was purchased, and in other unforeseeable ways. Plantbasedonabudget.com will not be held liable for any loss or damage resulting for your reliance on nutritional information. If you need to follow a specific caloric regimen, please consult your doctor first.
Additional Info