As an Amazon Associate I earn from qualifying purchases.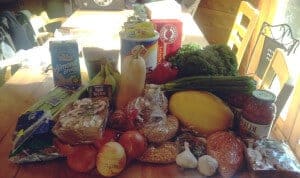 I'm going to get real for a second: there was a point during the first week that I felt extremely overwhelmed and asked Toni if I could opt out of the challenge. Too much work, adding too much stress. And then I thought about how privileged I am to have this meal planning be a chore for me, or something that I can choose not to do. I thought about the families, singles, and couples who do not have the luxury to go outside of their budget, and that was really humbling to me and hopefully to the canned-food hating critics as well. So anyway, with at least my privilege now in check, welcome to the second week on the Plant Based on a Budget meal plan for two!
—————————————————
One of the things that I would like to address from the comments is the varying prices of food. I am fully aware that unless you are shopping at the same grocery store that I am, it is unlikely that our prices are going to be the exact or possibly even in the same ball park.
Here is some advice I have:

1. Scout out all of the grocery stores in your area for the best prices: Obvious, right? But really. The chart below shows the main ingredients for my recipe for Barley Mushroom Kale Pilaf from just three of the many groceries that are in my area.
| | | | |
| --- | --- | --- | --- |
| Item | WinCo Foods | Trader Joes | Raley's |
| Kale | .98 per bunch | 1.99 for bag chopped | 1.99 per bunch |
| 8 oz white mushroom | 1.98 per package | 1.69 per package | 2.69 per package |
| Barley | .66 per pound | 1.79 for 8.8 oz | 3.19 per pound |
| Total: | $3.62 | $5.47 | $7.87 |
There are some stores that I still have not even stepped foot into: Lucky, Food Maxx, Grocery Outlet, etc. Who knows if how much more money I could save if I took the time to do a little more scouting. In addition, don't limit yourself to shopping at just one store. As you can see from the chart, I would have saved 30 cents if I had bought my mushrooms at Trader Joes versus WinCo. Maybe that doesn't sound like much, but when you need to stay within a budget it adds up fast!
2. Identify ingredients that can make repeat appearances: Figure out what ingredients are inexpensive that you can use for multiple meals. I tried to be better about this week: Lentils, peas, barley, rice, beans. Buying in bulk is always best.
3.Bring a calculator: Who cares if you are the crazy person with a list and a calculator hogging an isle? Making yourself aware of how much the items you think you need are adding to your bill, is really important.
4.Don't rush yourself: If you're serious about saving, you need to allot yourself time to make changes while at the store if your bill is becoming too much. You should always shop alone so there are fewer distractions and try to go to the grocery store at a slower time. At least for me, when the grocery store is crazy busy I have a "just get me out of here" mindset.
If you're looking for additional resources to help you with a plant-based diet: Check out this support group on Facebook where you can share tips and low-cost plant-based recipes. The New York Times bestseller called How Not to Die by Dr. Michael Greger is a fantastic resource to learn about plant-based nutrition. He also has a great website, Nutrition Facts, that has a ton of free resources. If you're interested in stopping your consumption of dairy, The Dairy Detox can help you out with an entire online detox guide for only $10!
—————————————————
Shopping List:
1 package Lasagna: 2.08
1 bunch of 7 bananas: 1.60
2 bunch kale: 1.96
2.5 cups barley (priced by pound): .66
1 bag celery: 1.48
1 bag frozen spinach: 1.69
1 cup green split peas (priced by pound): .39
1 cup yellow split peas (priced by pound): .30
1 cup corn meal (priced by pound): .30
1 1b flax meal (priced by pound): 1.74 * You only actually need 2 tblsp
1 cup red lentils (priced by pound): .51
1 cups green/brown lentils (priced by pound):.42
(1) 2 lb bag carrots: .98
(2) 8 oz pkg mushrooms: 3.96
2 head garlic: .96
3 pkgs of bouillon: 3.00
1 spaghetti squash (priced by pound): 3.54
2 marinara jars: 2.56
4 red bell peppers: 3.92
1 bunch green onions: .48
5 lb bag russet potato: 1.48
4 cups long grain brown rice (priced by pound): .75
1 almond milk (unsweetened or original) : 1.99
1 tbsp tomato paste (the price is for a whole can): .42
1 sm lemon juice: 1.00
1 can black beans: .89
2 lb of oats: 2.42
1 lb pumpkin granola: 2.25
4 yellow onion (priced by pound): 1.45
1 butternut squash: 1.56
$46.74
—————————————————
Friday, November 8, 2013
Breakfast: Oatmeal with sliced banana
Lunch: Red lentil curry over brown rice
Dinner: Split pea soup
Breakfast: Surprise! We had 1 cup of oatmeal divided with sliced banana. I did some research though, and oats are crazy good for you. In just 1 cup of oats there is 10 grams of protein, people! Vegans and protein? No problem.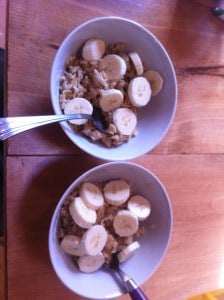 Lunch: This recipe is really filling and so, so delicious. I made all 4 cups of brown rice to use over the next few days. And because I love boasting about vegan nutrition, lentils are a great source of protein, fiber, and potassium.
Red Lentil Curry over brown rice
2-3 tbsp oil
.5 tbsp dry ginger
3 cloves garlic, minced
8 green onions chopped (save some for garnish
1 tablespoon curry powder
4 carrots, chopped
1 russet potato, chopped into 1 inch pieces
1 cup red lentils
4 cups water
2 bouillon cubes
2 cups brown rice (I cooked 4 cups of rice for leftover lunch tomorrow, and for another meal during the week)
Preparation:
Heat the oil in a large saucepan over medium-high heat. Add the ginger, garlic, and green onion and cook, stirring frequently, until softened, 2 to 3 minutes. Stir in the curry powder. Add the carrots, potato, lentils, water, bouillon. Bring to a boil, reduce heat, and simmer, stirring occasionally, until the lentils and vegetables are tender, about 20 minutes.
Sprinkle green onions and pour over brown rice.
Dinner: While researching dry, healthy ingredients I learned a wealth of information. Did you know that in just 1 cup of peas there are 48 grams of protein and has 200% of your daily fiber? Mind blown.
48 Grams of Protein Pea Soup
1.5 tablespoon olive oil
1.5 cups chopped onion
2 cups chopped carrot
2 cups chopped celery
2 gloves minced garlic
1 cup yellow split peas
1 cup green split peas
8 cups water
3 cubes bouillon
pepper to taste
Preparation:
In a large pot medium heat, heat olive oil. Cook onion, carrot, celery and garlic until onion is translucent. Stir in yellow and green split peas, water, and bouillon. Cover, bring to a boil, then reduce heat and simmer 40 minutes to 1 hour, stirring once or twice. I have a hand immersion blender, which I used to blend a little bit of the soup, but not all.
—————————————————
Saturday, November 9, 2013
Breakfast: Pancakes
Lunch: Leftover soup and/or curry
Dinner: Barley Mushroom Kale Pilaf
Breakfast: Since it's Saturday and I have a bit more time than usual, I made these delicious and super easy pancakes sans banana-with items I would think one would already have in their kitchen.
Lunch: See above
Dinner: This dish is seriously rich, buttery tasting, comfort food. Enjoy!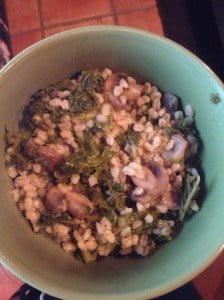 Barley Mushroom Kale Pilaf
1 package fresh sliced mushrooms
2.5 tbsp olive oil
2 cups pearl barley
6 cups water
3 bouillon cubes
4 tbsp chopped scallions (optional)
1 tsp dried rosemary
1 bunch chopped kale (you could get away with using less)
Preparation:
Heat olive oil in saucepan; add mushrooms and sautee until limp. Add barley, green onion, kale and rosemary. Bring to a boil.
Reduce heat to low, cover and cook for about 1 hour or until barley is tender and liquid is absorbed. I took the lid off and turned off the heat the last five minutes because I still had some liquid. It tasted so much more wonderful after it had cooled slightly.
Sunday, November 10, 2013
Breakfast: Granola with almond milk and sliced banana divided
Lunch: Leftover pilaf
Dinner: Brown rice with kale, black beans and butternut squash
Breakfast: See above
Lunch: See above
Dinner: I used the leftover rice from Friday for this dish, which cut the time in half!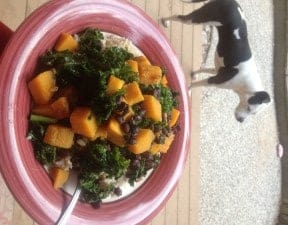 1 butternut squash, peeled and cut into 1 inch pieces
2 cups brown rice
2 garlic cloves, minced
1 tsp garlic powder
.5 tsp salt
.5 tsp cumin
1 bunch kale, chopped
(1) 15oz can black beans, drained and rinsed
Preparation:
1. Heat 1.5 tblsp oil to a pot over medium heat. Add minced garlic and saute for 2 minutes.
2. Add butternut squash, and cumin and saute for 5 minutes.
3.Add chopped kale, garlic powder, and salt and mix to incorporate. Add 1/4 cup water, reduce heat to low, and cover for 7-10 minutes.
4. Turn off heat, add black beans and incorporate.Put over brown rice and season to taste.
November 11, 2013
Breakfast: Oatmeal with brown sugar and a banana dividedLunch: Leftover rice, squash, blackbeans and kale
Lunch: Leftovers
Dinner: Roasted Red Pepper Soup and Skillet Cornbread
Breakfast: See above
Lunch: See above
Dinner: So this soup is kind of tedious. But it's my favorite soup of all time. Of all time. I made this cornbread to accompany the soup.
Roasted Red Pepper Soup
4 large red peppers, halved and seeded
1.5 large russet potato, peeled and cubed
2 medium carrots, chopped
1 medium onion, chopped
2-3 garlic cloves, chopped
6 cups water
2-3 bouillon cubes
Preparation:
Put oven to broiler on high
1. Halve and seed red peppers. Place face down on backing sheet, and rub or brush peppers with olive oil. Place tray under broiler and set timer for 25 minutes, periodically checking on them.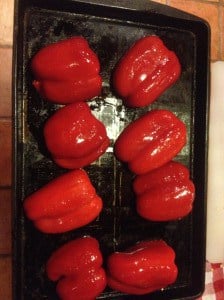 2. With about 10 minutes left on timer, heat 1 tblsp of oil on medium heat. Add onions and garlic for about 4 minutes. Add carrot and potato and saute, stirring occasionally for additional 5 minutes or so. Add water and bouillon cubes, bring to a boil, cover, and reduce heat to low.
3. By this point, the red peppers should be a mostly black and bubbly, like the photo below. To make your life a little easier, take broiled peppers and carefully place them in a brow paper bag. Close bag by rolling the top down. This technique helps the peppers to "sweat" their skin, making it a lot easier to peel off, and handle.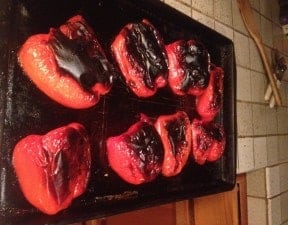 4. After about 5 minutes, take out red peppers and with your hands, peel off the skin as best as you can. Like this:
5. Place red peppers in pot with other vegetables, and cover again. Simmering for another 10 minutes or so. Turn off heat, and blend!
Season with salt and pepper and enjoy.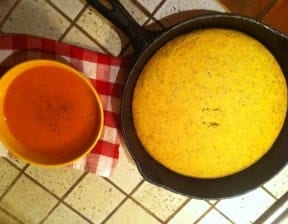 Tuesday, November 12, 2013
Breakfast: I had oatmeal and half a banana, and David had dry granola and the other half of a banana
Lunch: Leftover soup and corn bread
Dinner: Potato Lasanga
Breakfast: See above
Lunch: See above
Dinner: This is a dish that is routinely made at family functions by my step-dad. The mashed potatoes are a great, and inexpensive way to replace the ricotta cheese without having to use tofu.*
A disclaimer for this recipe: I had enough noodles, and potatoes to make a second tray, but not enough spinach. To avoid being wasteful, I would suggest using two bags of frozen spinach instead of one. Though prices vary, a bag of frozen spinach at my grocery store is 1.69 which still would have brought me under budget.
*Though another idea would be to make my tofu ricotta from last week's challenge
Potato Lasagna

1 box egg and dairy-free lasagna noodles
1 jar marinara
Left over bag of 5lb russet potatoes (I had about 8 or 9, though your amount will vary), peeled and cubed
1 large bag of frozen spinach
1 pkg mushrooms, sliced and/or roughly chopped
3 cloves garlic
Preparation:
Preheat over to 400 degrees.
1. Boil noodles according to instructions. Rinse with cold water and set aside.
2. Put cubed potatoes in empty pot and add enough water to just cover potatoes. Bring to a boil, cover reduce heat. Keep covered for 15-20 minutes or until potatoes are soft enough to smash with a fork. Remove from heat, drain water and return potatoes to pot.
Here comes the part where you make mashed potatoes. It's hard for me to tell you exact measurements because I cant be sure how many potatoes from the 5lb bag you have. The items I use for mashed potatoes are vegan margarine, almond milk (unsweetened or original), salt, garlic powder, and pepper. I usually just taste as I go along, slowly adding a bit of each and mixing (and of course mashing). After you're done, set aside.
3. In a pan, heat 1 tbl sp oil over medium heat. Add garlic and mushroom, stirring frequently for about 2 minutes. Add entire bag of frozen spinach, 1/4 cup water. Reduce heat to medium low and cover, checking on it periodically to see if spinach has defrosted usually between 5-7 minutes. Season with salt to taste.
4. Lightly sauce the bottom of a 12×7 pan, just enough so it's covered and the noodles will not stick. Then, add a layer of noodles, a layer of potatoes, a layer of spinach mixture, another layer of noodles, sauce, repeat.
Bake for 35 minutes, uncovered. Enjoy!
Wednesday, November 13, 2013
Breakfast: Oatmeal with maple syrup and banana divided
Lunch: Leftovers
Dinner: Lentil Barley Soup
Though this looks a lot like the lentil soup from last week, it's definitely different. I actually think I favor this soup more! It's got the added barley which is somewhat of a super grain, and a really nice flavor from the thyme and lemon.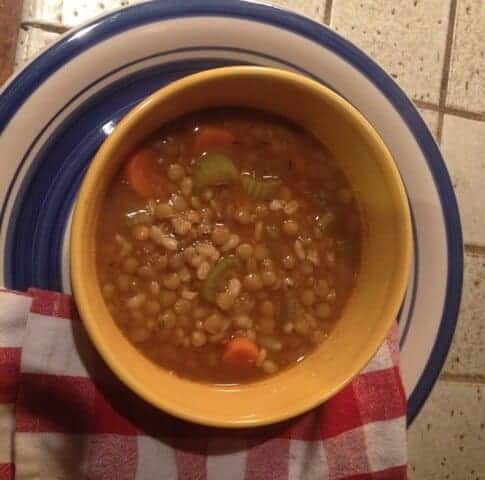 Lentil Barley Soup
1 tbsp oil
2 cloves garlic, finely chopped
1 onion, chopped
2-3 medium carrots, peeled and chopped
2 stalks celery, chopped
6 cups water
3 bouillon cubes
1 cup lentils, rinsed
1/2 cup pearl barley
1 tbsp tomato paste (optional)
1 1/2 tsp dried thyme
1 tsp curry powder
1 tbsp fresh lemon juice
Preparation:
1. Heat oil in a pot over medium heat. Add onion and garlic; sautee 4 minutes, stirring occasionally. Add carrots and celery; sautee 3 minutes longer, stirring occasionally.
2. Mix in 6 cups water, bouillon cubes, lentils, barley, tomato paste, thyme, curry powder. Bring to a boil. Reduce heat and simmer about 45 minutes or until lentils and barley are tender, but not mushy.
3. Add lemon juice, stir and serve!
Thursday, November 14, 2013

Breakfast: Oatmeal with brown sugar and 1 banana divided
Lunch: Leftover soup
Dinner: Roasted Spaghetti Squash with Marinara
For dinner I made Margaret's recipe for Roasted Spaghetti Squash (have you read Margaret's story by the way?—inspiring!) I stupidly forgot to take a picture though!