30+ vegetarian and vegan Instant Pot recipes (vegan pressure cooker recipes) even meat-eaters will enjoy! With soups, stews, chilies, and other one-pot meals, there's something for everyone in this list of plant-based Instant Pot recipes!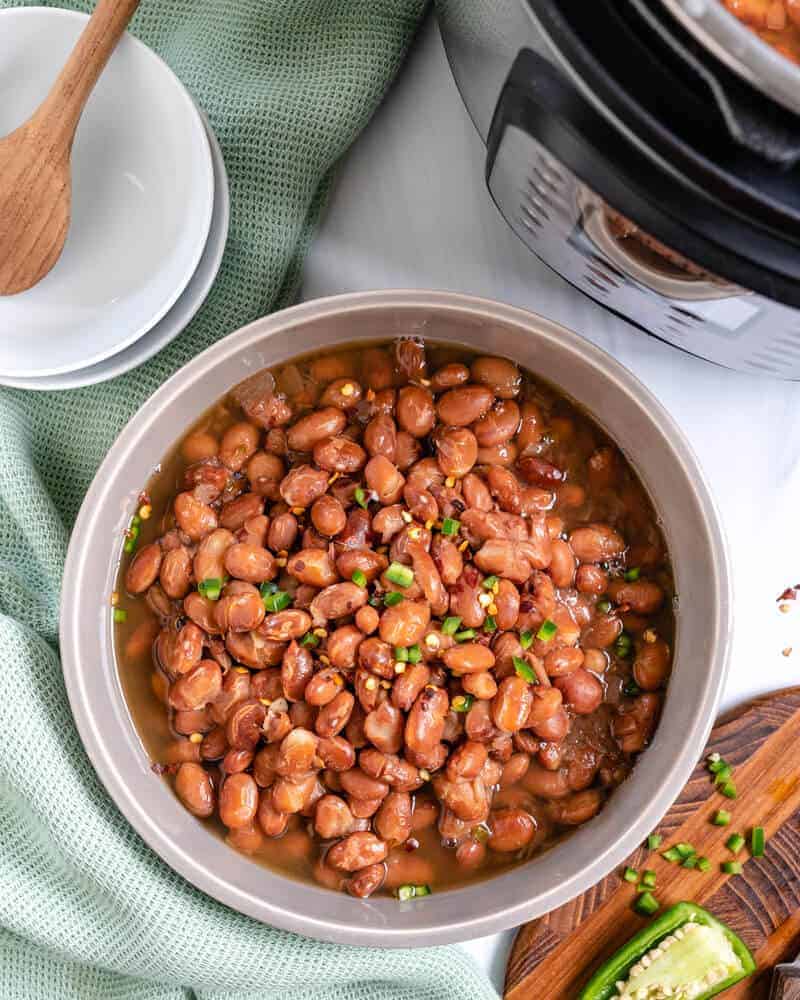 Whether you're new to Instant Pot cooking or simply in need of some vegan Instant Pot recipe inspiration, these vegan pressure cooker recipes include a little bit of everything. Including soups, stews, curry, pasta, chili, and even several side dishes (like plenty of fun ways to enjoy beans).
Pressure cooking is a great way to cook meals that usually require low and slow simmering over long periods in a fraction of the time. They're a perfect way to speed up cooking vegan staples like beans (with no soaking required!) and other pulses, soups, stews, chili, curry, and more. Now we've gathered all our favorite vegan recipes for a pressure cooker in one spot for you to browse through!
Jump to:
What is An Instant Pot?
While the terms have become practically synonymous, Instant Pot cooking is essentially a more modernized electric version of pressure cooking foods. While Instant Pots are multi-function (they can sauté, steam, and some even have slow cooker functions), the pressure cooking is where this kitchen gadget really shines.
Pressure cooking allows you to cook ingredients (like beans and lentils) and meals that would usually take hours of low and slow simmering on the stovetop in just a fraction of the time. Even better, they still taste like they've been simmering for hours, with all the depth of flavor we look for.
Best of all, they allow you to cook hands-off. So keep reading for all the best vegan Instant Pot recipes that will save you time, money, and effort!
Instant Pot Vegan Soups
Whether you want an option that's light and creamy or chunky and comforting, here are our favorite low-budget, high flavor Instant Pot vegan soup recipes.
Pressure Cooker Barley Vegetable Soup
This simple plant-based Instant Pot recipe is absolutely loaded with vitamins, minerals, fiber, and all sorts of nutrients, thanks to the combination of barley and mixed veggies. Best of all, it's ready in under 30 minutes!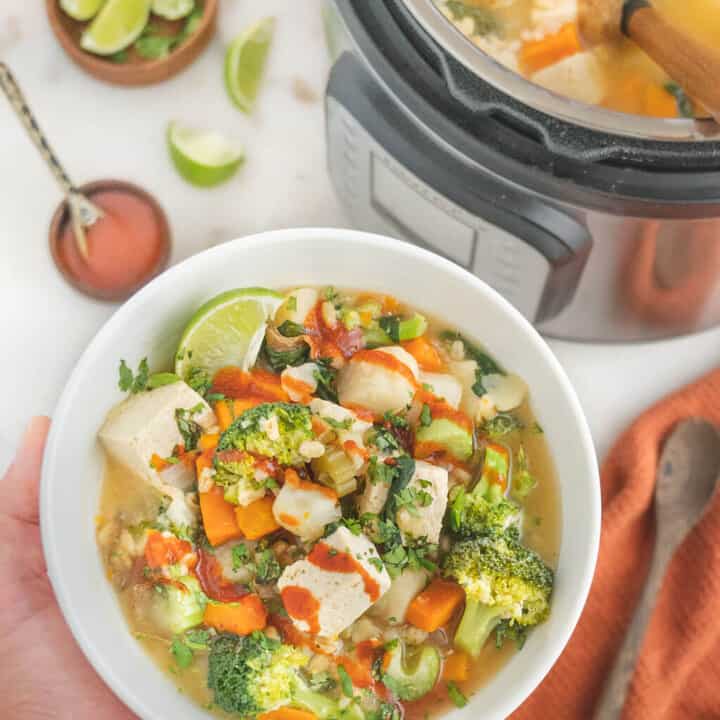 Barley Vegetable Soup in the Pressure Cooker
No need to spend hours in the kitchen in order to enjoy a comforting dinner! This Barley Vegetable Soup in the Preassure Cooker cooks itself!
This wholesome, hearty, flavorful vegan split pea soup from Veggie Inspired is made quickly and easily thanks to an Instant Pot. Serve up with smoky tempeh crumbles and crusty bread for a comforting meal!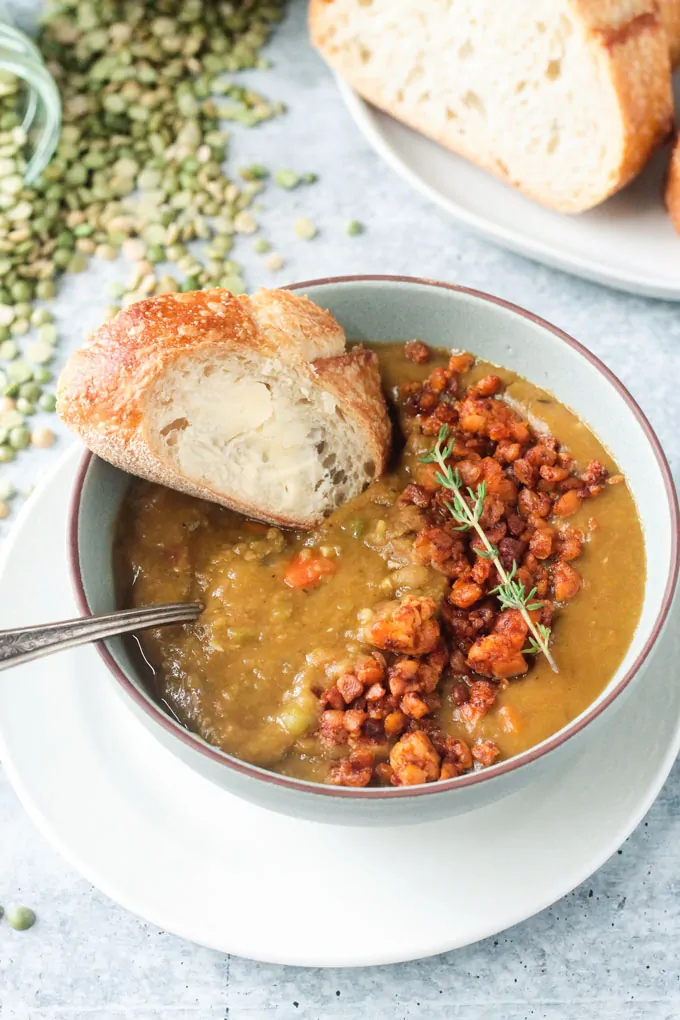 This Instant Pot vegan soup from Moon and Spoon and Yum is super creamy, comforting, and flavorful, made with cashews, carrots, and ginger in either an Instant Pot or on the stovetop. Perfect for enjoying this humble vegetable year-round!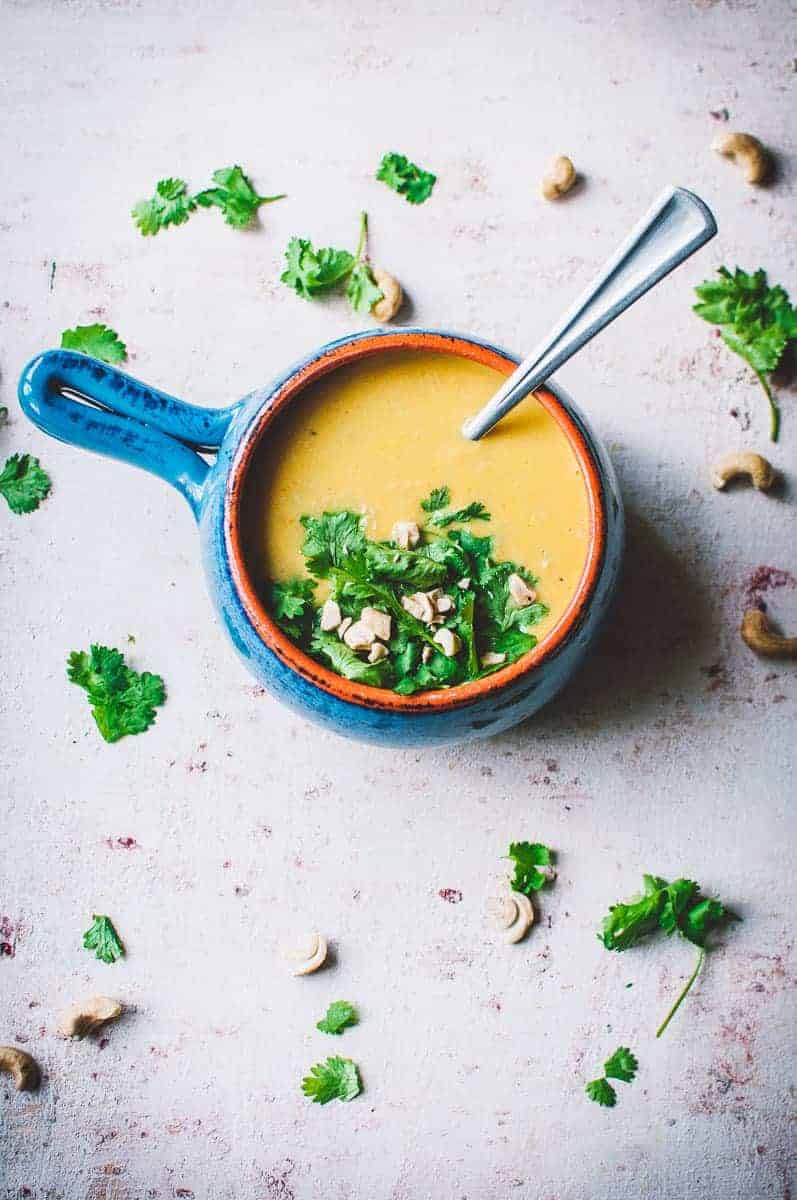 If you're looking for plant-based instant pot recipes, well, this recipe from Shane and Simple is definitely that. This Instant Pot vegetable soup is absolutely packed with veggies and ready in just 30 minutes!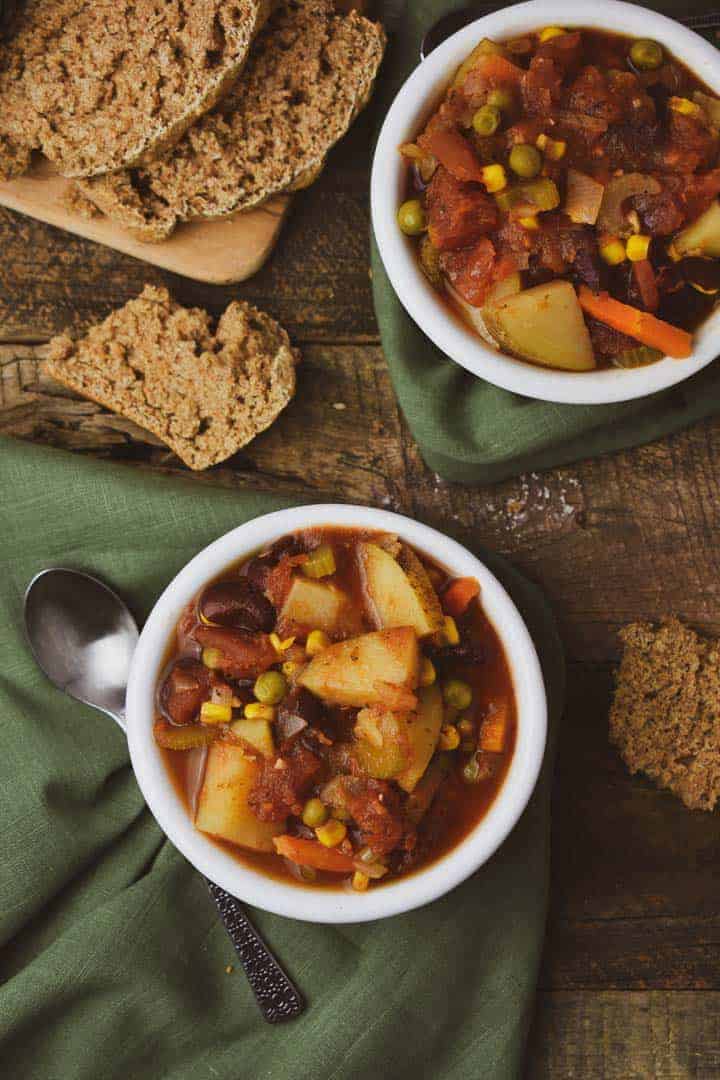 This healthy vegan Instant Pot recipe from Healing Tomato is hearty, packed with plant-based protein and essential nutrients. Best of all, it's ready in just 30 minutes.
This Instant Pot plant-based recipe from Piping Pot Curry is gluten-free and so easy to make. The result is a creamy, satisfying soup you will want to turn to every cold/flu season for its immune-boosting benefits.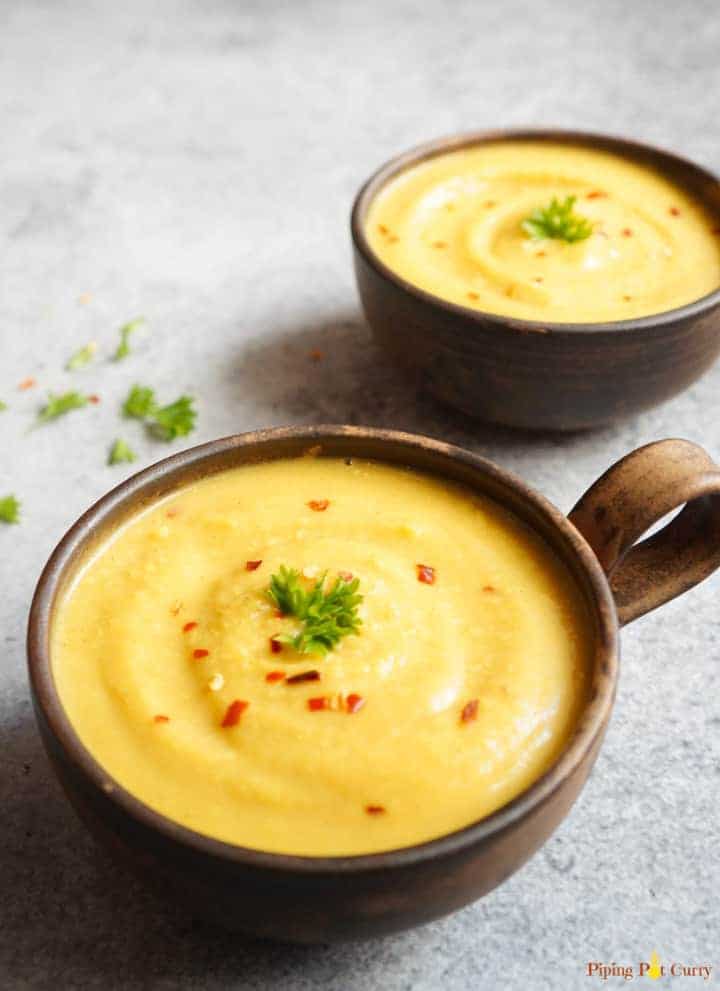 With a combination of spring peas (fresh or frozen) and thyme, this simple Instant Pot vegan soup from Eating Works is light, creamy, and even comes with crockpot and stovetop methods, too!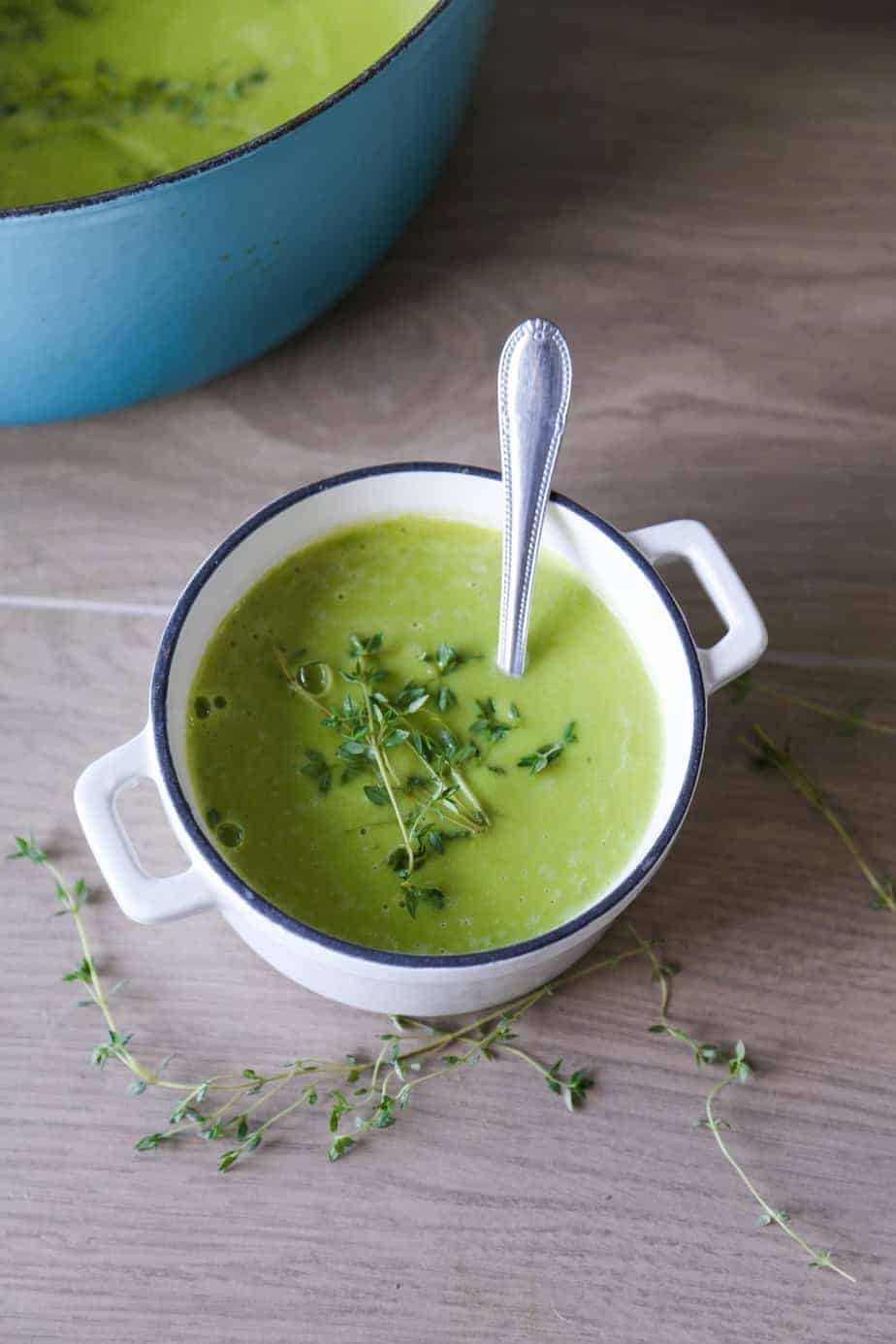 If you're in the mood for a hearty, veggie-packed, plant-based instant pot recipe, German potato soup has your back. This soup from Two Kids and a Coupon is perfect for enjoying on chilly days or any time you want a dose of comfort food.
This smooth and thick pumpkin soup from One Care Free Cook is topped with roasted pumpkin seeds and is the ultimate comfort food. Made even tastier thanks to the pressure cooker bringing out the pumpkin flavor.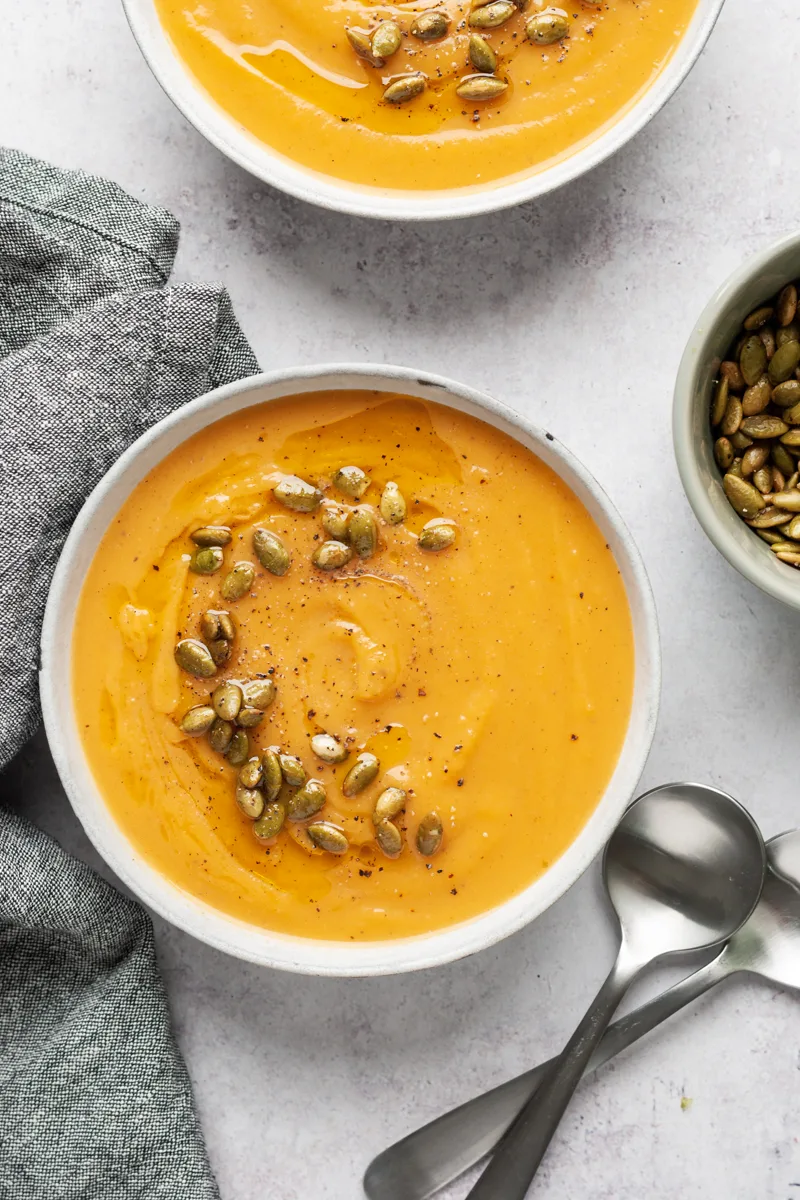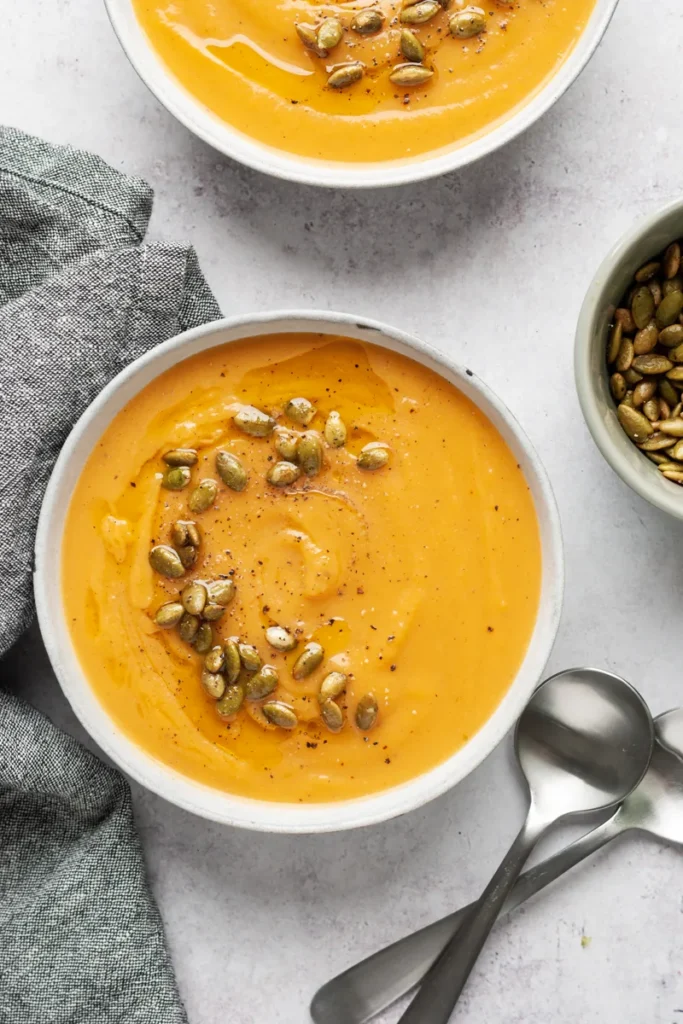 This vegan/vegetarian Instant Pot recipe from Easy Indian Cookbook is packed with plant-based goodness. The curry spices and abundance of veggies are warming, comforting, and perfect for warming your bones on chilly evenings.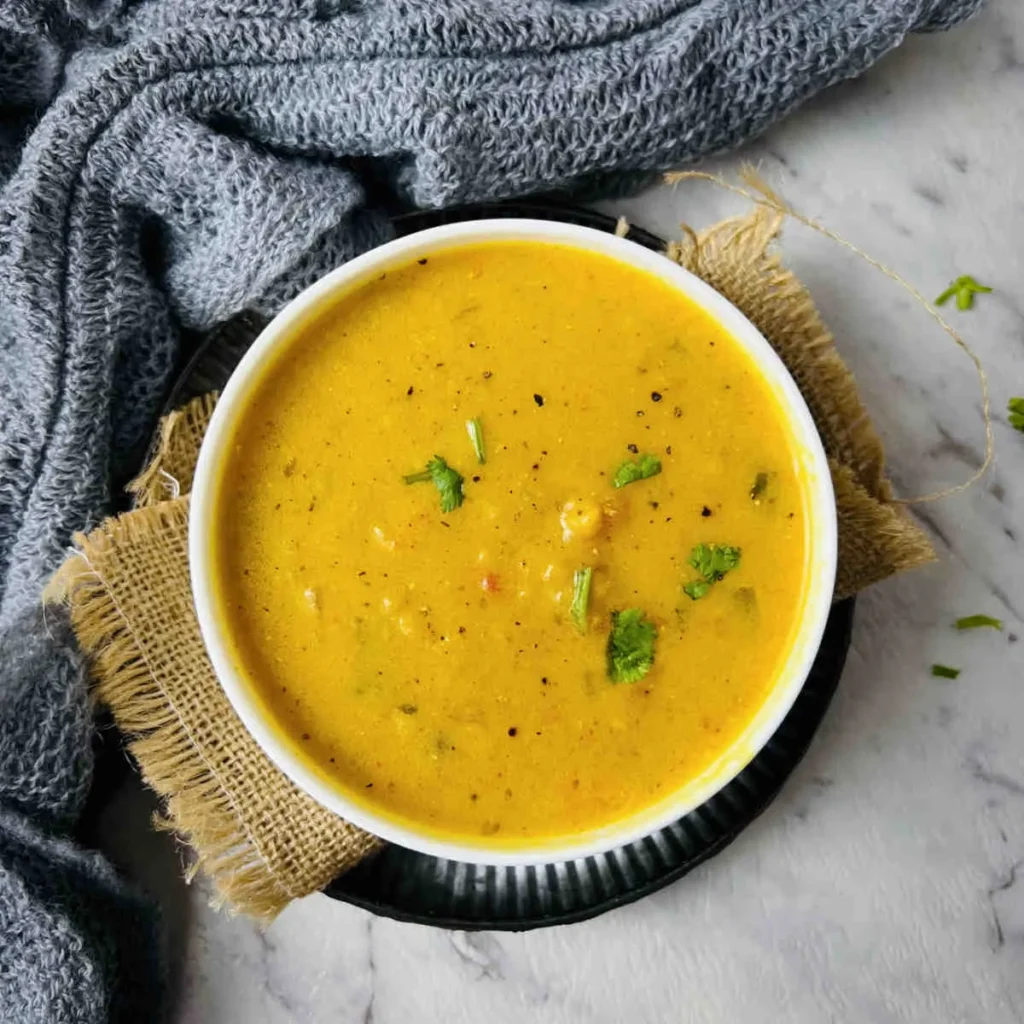 This Instant Pot vegan soup from Happy Veggie Kitchen is surprisingly flavorful, with a simple combination of cupboard/pantry staples. It's rich, deep, smoky, creamy, and made entirely from scratch (no pre-made sauce here!) with plenty of toppings to choose from.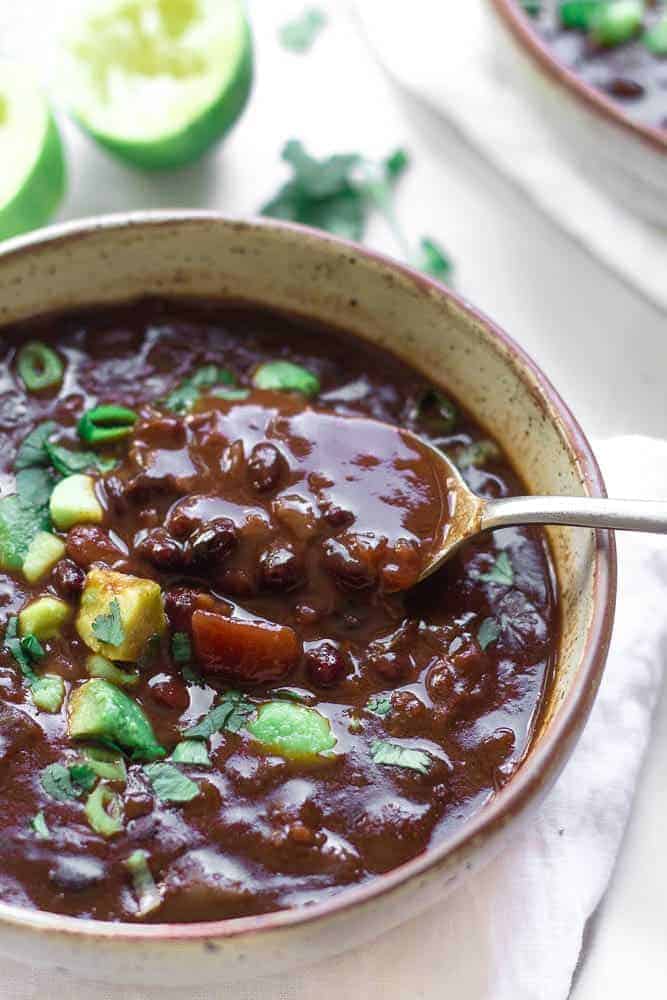 Stews and Curries
Give the meaty stews, chili, and curries a meat-free makeover with this list of vegan Instant Pot meals below.
This easy vegan roasted red bell pepper chili is creamy, comforting, oil-free, and packed with plant-based protein, fiber, and nutrients! Made with a handful of inexpensive pantry staples in as little as 30 minutes!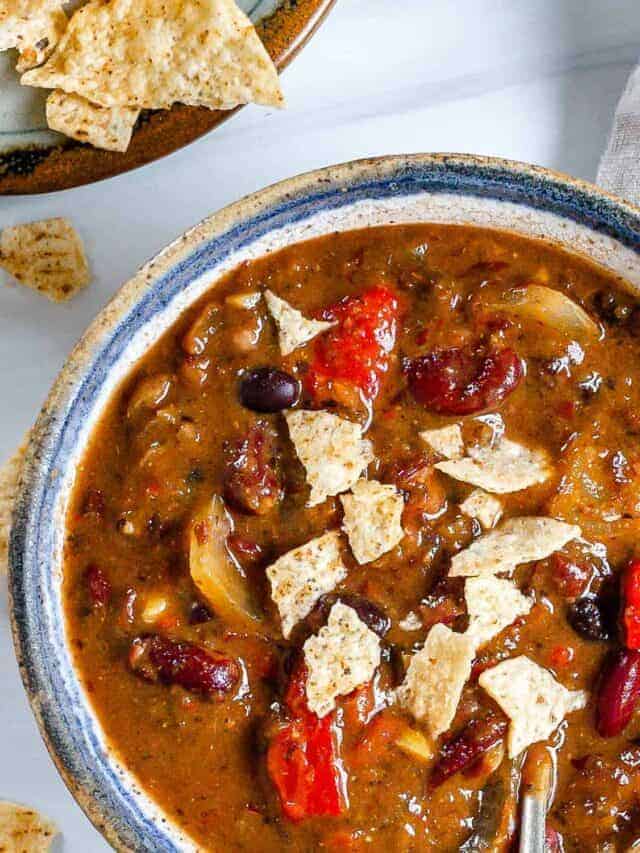 Fast, filling, and delicious, this Vegan Instant Pot Chili from Eat Plant-based is going to be a huge winner for the family as a mid-week meal, on game days, and for impressing crowds.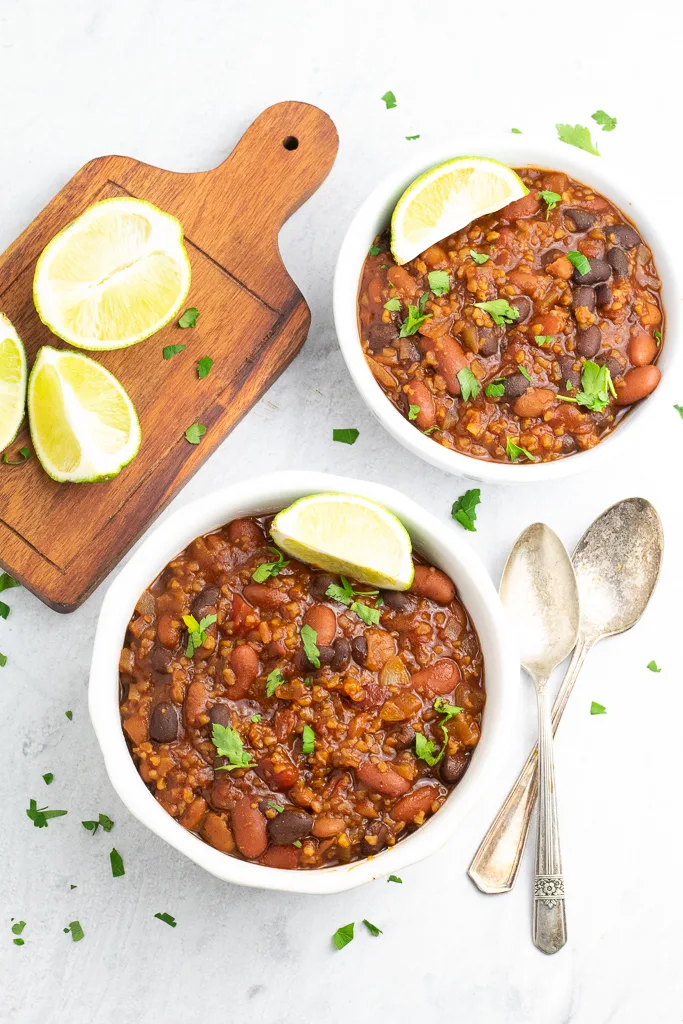 This vegan pressure cooker recipe from Rescue Dog Kitchen uses vegan 'beef' to make a hearty, flavor-packed Instant Pot vegan stew in just 25 minutes. Perfect for serving with crusty bread as a comforting, wholesome meal.
This easy Instant Pot vegan Thai Panang curry from The Fresh Fig is loaded with bold and delicious flavor thanks to the Thai flavors of chili, garlic, lemongrass, kaffir lime, etc. Plus, it's ready in just 30 minutes, hands-off!
This vegan Instant Pot recipe from Kiip Fit is a protein-packed, wholesome, nourishing, and warming lentil curry. With a combination of warming Indian spices and fresh herbs, this curry is wonderfully aromatic and inviting, too.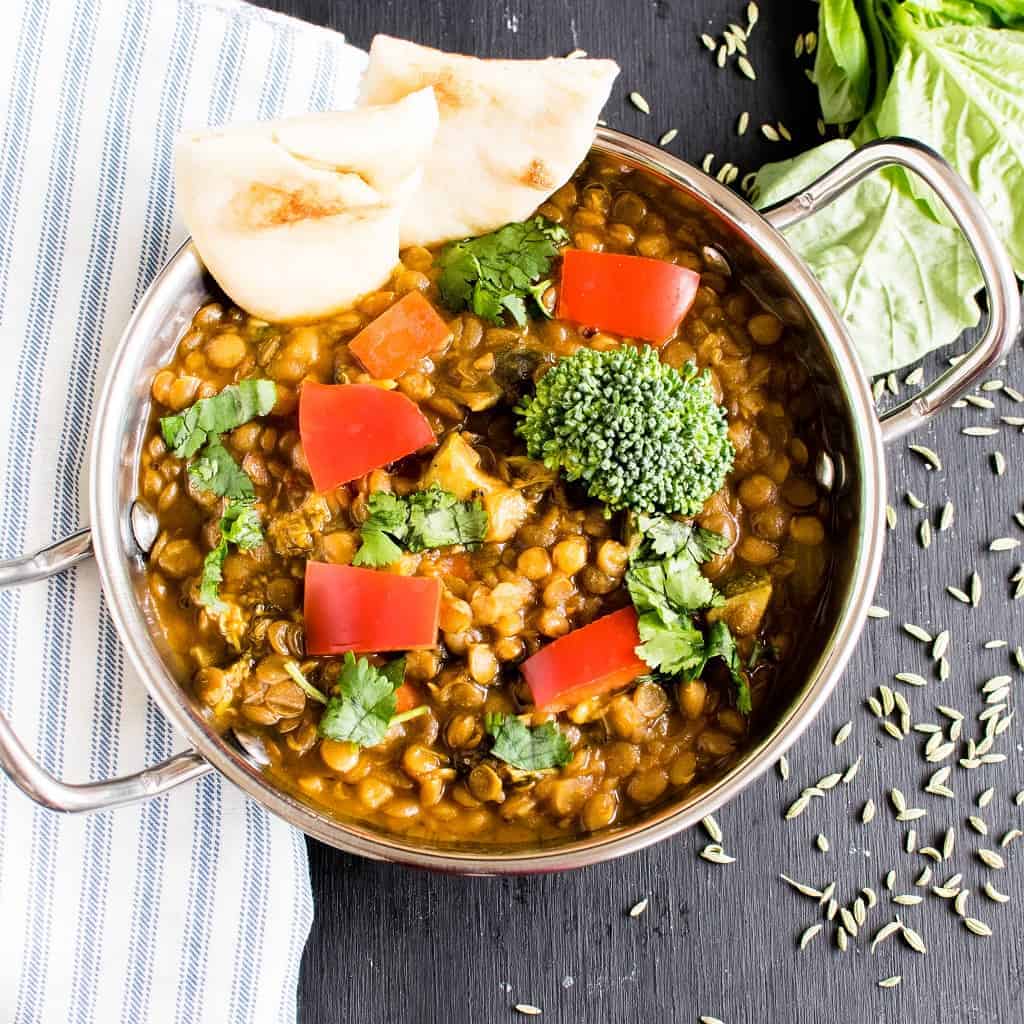 This Thai Massaman Curry from The Belly Rules The Mind is warm, comforting, creamy, and absolutely packed with plant-based goodness! Plus, you don't need much time or ingredients to prepare it before letting the Instant Pot do all the work.
This butternut squash chili from Instant Pot Cooking is excellent vegan comfort food. It is warm, hearty, and tasty and can be enjoyed year-round as a wholesome, comforting meal.
One Pot Meals and Mains
This list of simple vegan Instant Pot meals includes pasta, lentils, sloppy joes, and more!
Enjoy this one-pot pasta dish from Veggies Save the Day. It's loaded with olives, capers, garlic, and a rich tomato sauce, all without the need to even boil water! Perfect for enjoying as a low-effort, flavorful vegan Instant Pot meal.
This One-pot Dal Tadka from Simple Sumptuous Cooking is made with pigeon peas and warming Indian spices (including an aromatic tadka) for a flavorful, protein-packed, easy vegan Instant Pot recipe. Even better, this simple vegan lentil recipe is wonderfully budget-friendly, too, using the Instant Pot to mimic the low, slow simmer flavor.
These plant-based sloppy joes from Delightful Adventures are sure to impress vegans and meat-eaters alike. Made with lentils, this meat-free, dairy-free Instant Pot recipe is hearty, flavorful, and perfect for busy weeknights. Plus, slow cooker and stovetop methods are also included.
You can whip up this traditional Mexican dish (with several filling options) from Conflicted Vegan at a fraction of the cost of buying them. Made even easier thanks to an Instant Pot. These vegan tamales are flavorful, gluten-free, vegan, and you won't be able to get enough!
Make this delicious Instant Pot pasta marinara from Nutriciously with seasonal veggies as an easy and crowd-pleasing family-friendly dinner! It's easily customizable, convenient, and requires only 10 minutes of prep time.
Not only is this recipe from Carmy already a super moreish, sweet-salty-spicy flavorful plant-based twist on a take-out classic. It also cooks the rice in the pot for a one-pot meal, with no need for stovetop cooking!
Veggie Sides
Plant-based Instant Pot recipes including mashed potato, various bean-based sides, and several veggies!
Save yourself the long and boring process of stovetop bean cooking by preparing these Instant Pot pinto beans in just one hour, hands-off! Ready to add to soups, stews, salads, veggie bowls, burritos, and more!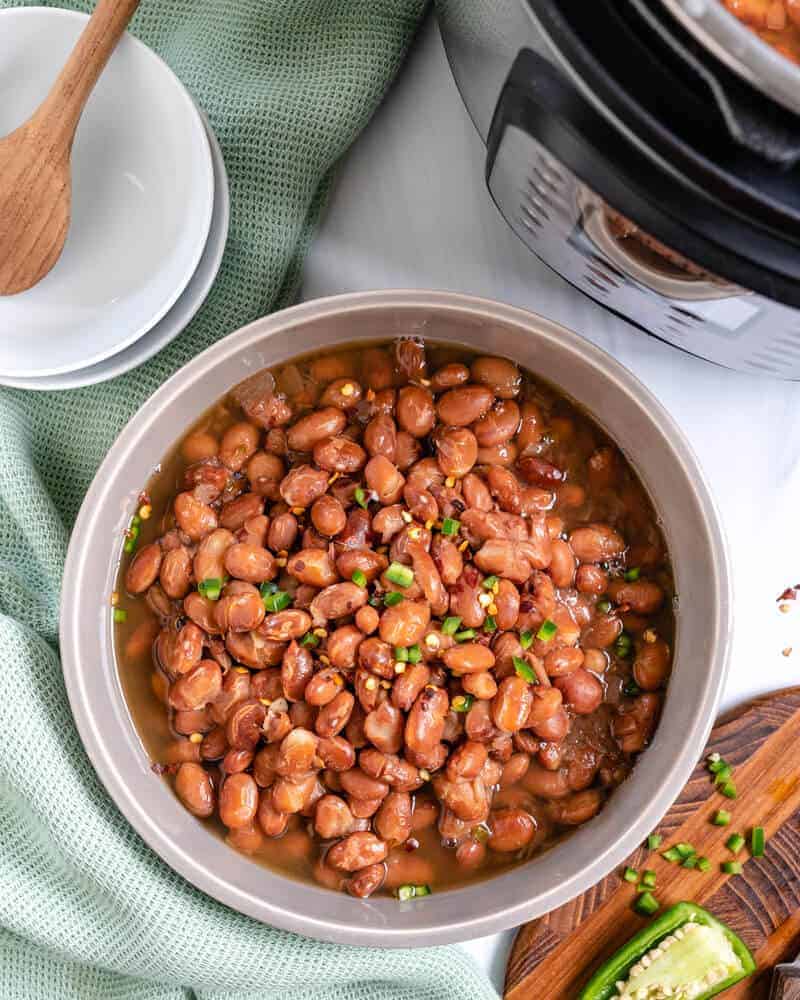 Smooth and creamy, dairy-free Instant Pot garlic mashed potatoes from Food Sharing Vegan in under 30 minutes! This pressure cooker mashed potatoes recipe is versatile and perfect for serving at Thanksgiving and alongside almost any meal!
Whip up a large batch of these tender, creamy beans from Cook Eat Live Love in just 30 minutes (cook time – 1hr 25 min overall) in an Instant pot (with no need to soak!). Enjoy as a side dish or add them to mains for plenty of plant-based protein.
If you're looking for a bean side dish with even more personality. Check out these black-eyed peas with collard greens from A Plantiful Path. They're packed with protein, fiber, and a ton of flavor. Enjoy it with a side of rice and cornbread for a simple, delicious plant-based meal!
Meal prep meets Instant Pot for this simple, 20-minute sweet potato recipe from The Short Order Cook. Perfect as a side dish or to add to soups, salads, or even whipped into a creamy mash!
This herby Instant Pot Potato Carrot Medley from Vegan In The Freezer has flavor to spare and all in under 30 minutes. This healthy vegan Instant Pot recipe makes for a delicious and nutritious side dish for all sorts of meals.
With an Instant Pot, making homemade plant-based yogurt is a breeze. And luckily, for vegans, making this dairy-free Instant Pot homemade cashew yogurt from My Quiet Kitchen also costs a fraction of the cost of store-bought kinds too!
More Vegan Recipe Round-ups