As an Amazon Associate I earn from qualifying purchases.
Since we are pretty head over heels in love with tofu, it only makes sense to bring you an amazing round-up of the best tofu recipes out there, right? It turns out that there are so many different ways to prepare this seemingly bland white block of plant protein. Get excited to hugely expand your culinary tofu repertoire with lots of interesting ways to make it taste incredible!
What is Tofu?
First things first, what exactly is tofu, and what is it made from? It might seem obvious, but it is quite possible that some of you have heard of it but never questioned where it comes from or how it's made. Tofu is made with soybeans (using condensed soy milk, it is pressed into a cheese-like block) and it is very high in protein.
It tends to be watery but you can easily get rid of the excess moisture by pressing it either with a tofu press or simply some heavy objects and a cloth (learn all about it on our How to Press Tofu Guide!).
When it comes to cooking it, flavors and texture are key. Tofu is like a sponge and it will absorb whichever delicious flavors you soak it with. Spices, sauces, and veggies can turn an unappealing white block of tofu into an amazingly flavorful dish!
It's time to dive right into all the amazing recipes based on this key plant-based ingredient!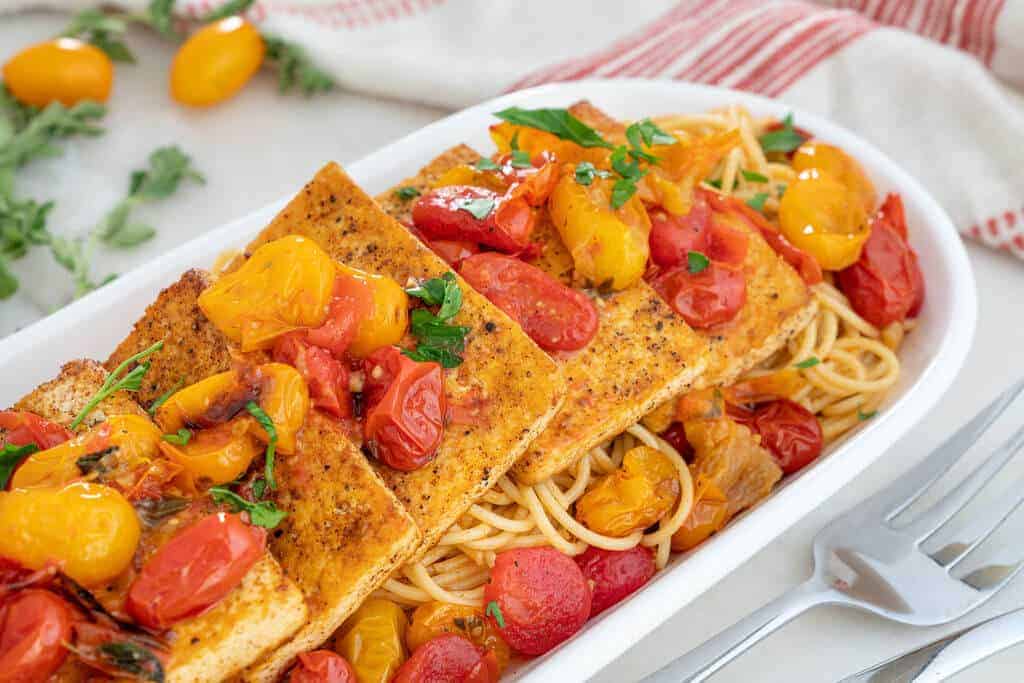 This Tofu Fillets with Tomato Herb Pan Sauce recipe is for all the Italian food lovers out there! This flavorful tofu goes hand-in-hand with some delicious pasta and it can turn into a seemingly fancy dish to serve your family on a special occasion.
Following the tofu Italian vibe, these delicious Stuffed Shells from The Friendly Vegan Cookbook are so good and easy to prepare! Stuffed with homemade tofu ricotta, these are sure to please everyone in the family, perfect for a homey Sunday lunch. Check them out on the World of Vegan website.

This super simple but truly amazing dish could be such a perfect dinner for those days when you don't really care to spend too much time in your kitchen. It's packed with protein and healthy veggies like green beans plus it can be an ideal companion to that white rice leftover you've been trying to use up.

If you're like me, and you miss having this classic tomato-based salad since you've been eating plant-based, you'll be delighted to dig into our Tomato and Silken Tofu Caprese Salad!

This amazing plant-based take on the classic Indian Butter Chicken by Two Spoons is rich and extremely delicious and flavorful! Spicy and warming, it is perfectly paired with a nice fluffy white basmati rice and some chopped coriander leaves on top. Enjoy!
This Udon with Spicy Tofu & Greens is a true comfort food recipe and we encourage you to give it a try. Packed with amazing flavors and textures, we think you'll keep on going back to them over and over again. So good!

If you missed the flavors and texture of ground beef in your food, this tofu-based Vegan Ground Beef Substitute by Plant You will be a God-sent recipe. You can add it to a vegan shepherd's pie or your favorite plant-based bolognese with spaghetti, get ready to be amazed!

It's time to veganize our favorite take-out appetizer. These Crispy Fried Tofu Wontons are so good (and seriously addictive!), you might think about it twice next time you are craving fast food and reach for your phone. Homemade is always best, you can adjust the levels of salt, it's more affordable, and swap ingredients that might not agree with you!

This juicy and saucy Sesame Tofu by Plantifully Based is definitely a keeper. The sweet and sticky sauce is the perfect combination for the nutty sesame flavors, and makes this tofu seriously delicious. Get your fluffy white rice ready and get on with this amazing tofu recipe!

Staying away from the traditional flavors we usually flavor tofu with, this Orange Ginger Tofu is juicy and packed with amazing tasty ingredients. Sweet and sour, this recipe has it all and can be eaten with rice or some rice noodles.

This amazingly delicious Peanut Curry with Smoked Tofu by Veggiekins is creamy and packed with fantastic flavors. Using smoked tofu, it has a smoky and nutty flavor while also containing varied textures (crunchy, creamy and chunky all at the same time!). You have to try it!

If you look back at your glazed ham holiday eating days with fondness, then you will be so pleased with this delicious Pineapple Glazed Tofu recipe. It will give you all the childhood family holiday dinners vibes but without the ham. Pin this one onto your holiday recipes Pinterest board!

If you're looking for some tofu recipes that are better-enjoyed al fresco, then this Oil-Free Tofu Satay with Peanut Sauce recipe by MegUnprocessed is an excellent choice. Eaten on a paper plate and with a squeeze of lemon, they could give a food truck by the beach vibe. We are all in!

These incredibly delicious Sweet & Salty Tofu Bites are a perfect option for those who are super keen on spicy dishes but still are looking to incorporate more tofu into their meals. They can be eaten as a snack, appetizer, or add to a veggie bowl for a protein kick.

This one goes to all the Mexican food lovers out there. These Tofu Chilaquiles are your perfect plant-based Mexican fix when you don't have too much time and have some tofu in need of use. Enjoy this crunchy, creamy and delicious tofu treat!
This super easy recipe by Sweet Simple Vegan is the perfect quick and lazy dinner for a busy weekday! You'll get healthy veggies with asparagus, the high protein tofu, and the good fats from the tahini, while not sacrificing at all on the flavor. Serve it over steamed white rice and enjoy!
That's a wrap! We hope that those of you who have been intimidated by the idea of cooking tofu break out of your soy shells and venture into our beloved tofu cooking ride. Let us know which one is your absolute favorite!