This collection of 35 vegan cake recipes is packed with vegan birthday cakes, fresh and fruity options, rich and decadent cakes, and more! If you're plant-based and a fan of cake, this round-up is the place to be to find your next favorite recipe!
Although free-from and vegan baking have reputations for being tricky, vegan cake recipes are often no more complicated than regular baking. Once you get to grips with a few simple ingredient swaps like egg replacements (like flax eggs/ chia seed eggs), milk replacements (with soy milk, almond milk, etc.), and butter/fat replacements (unsweetened applesauce or mashed banana!).
Jump to:
Vegan Cake Galore!
When baked correctly, these are the best vegan cake recipes for moist, fluffy, delicious, and moreish treats. Even better, hardly anyone will even guess that they're 100% plant-based! Luckily, the easy vegan cake recipes below will help you bake them perfectly every time!
Whether you're looking for a vegan birthday cake, simple chocolate vegan cake, something fresh and fruity, or more. There are plenty of options below to help you find the best vegan cake recipe for your needs! Plus, since these recipes are all 100% egg-free, you even get to safely lick the batter from the spoon (yummy!)
The Classics
Get to grips with the basics with The Hidden Veggies light and fluffy vegan sponge cake layered with strawberries and cream (in Victoria sponge style)! Thanks to soda water, this cake recipe for vegans is wonderfully light and airy too. Plus, it's perfect for serving for afternoon tea, potlucks, gatherings, or simply a light and fruity dessert!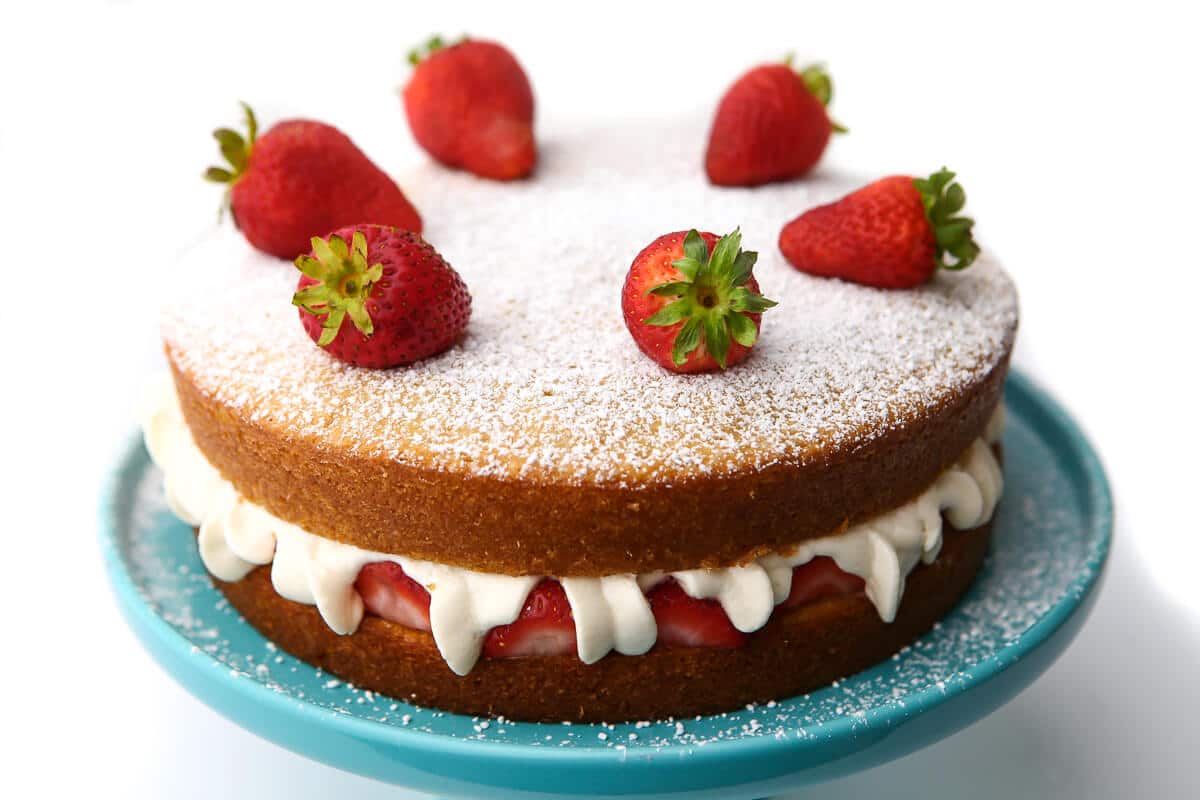 The Best Vegan Sponge Cake!
This easy vegan sponge cake recipe will amaze you! Light, fluffy, and spongy cake layered with strawberries and cream, this cake will not disappoint!
View Recipe
This simple vegan vanilla cake recipe from Steph Sunshine has a moist, tender crumb and rich vanilla flavor sandwiched with rich vegan vanilla buttercream. It's the perfect crowd-pleasing vegan birthday cake recipe, party cake, and for other special occasions!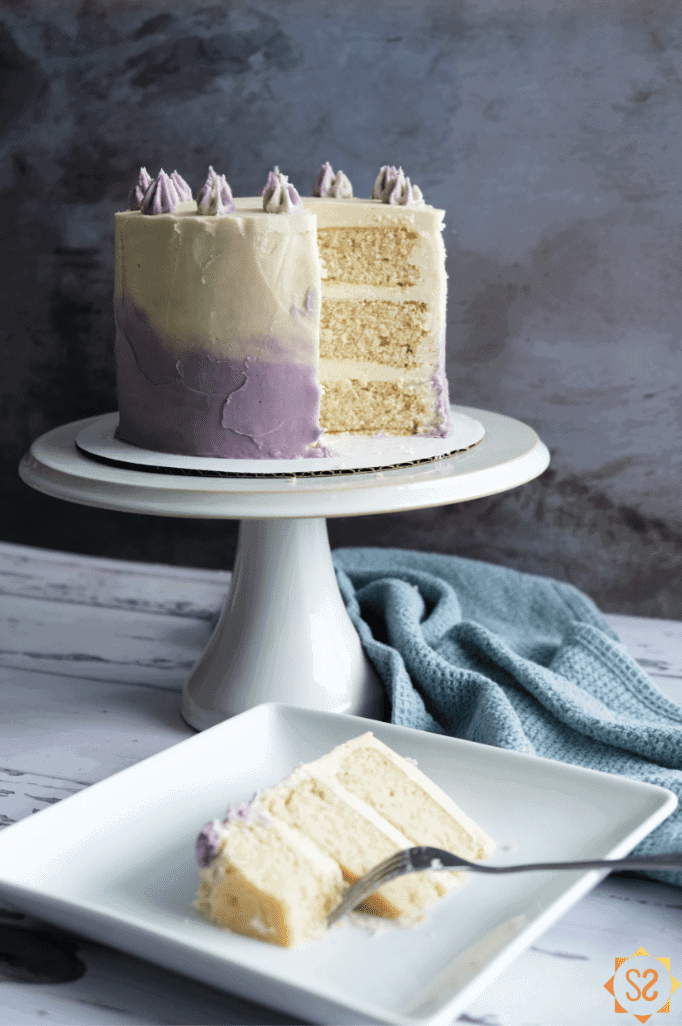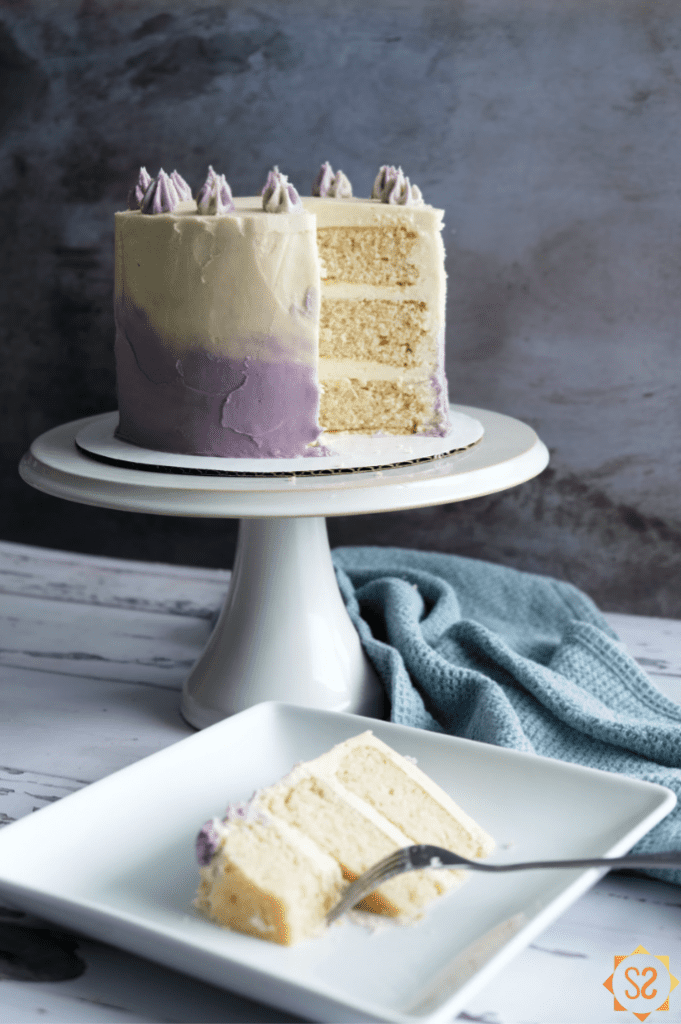 Everyone needs a good, classic vegan cheesecake recipe in their repertoire, and this one from Go Dairy Free doesn't disappoint. It's rich yet plant-based for decadent satisfaction. Top that off with the simple strawberry sauce, and you have a dessert you'll return to time and time again.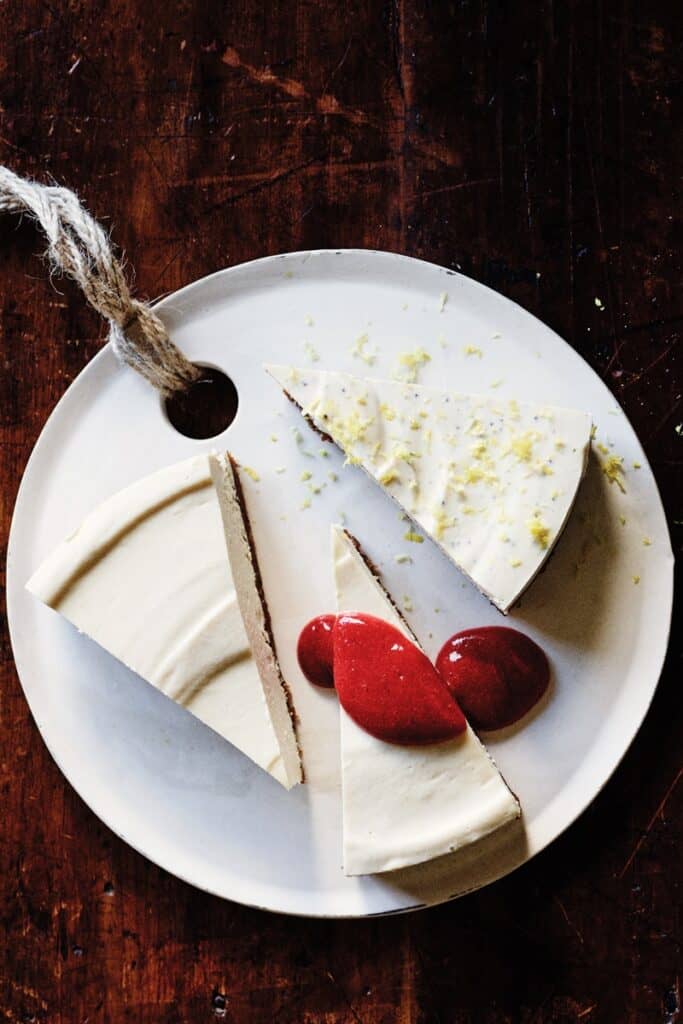 This incredible Vegan Carrot Cake from Health My Lifestyle is made gluten-free, oil-free, and refined sugar-free, but you wouldn't even know it! With the lightly spiced carrot cake and decadent cashew cream frosting, this could easily become one of your favorite vegan cake recipes!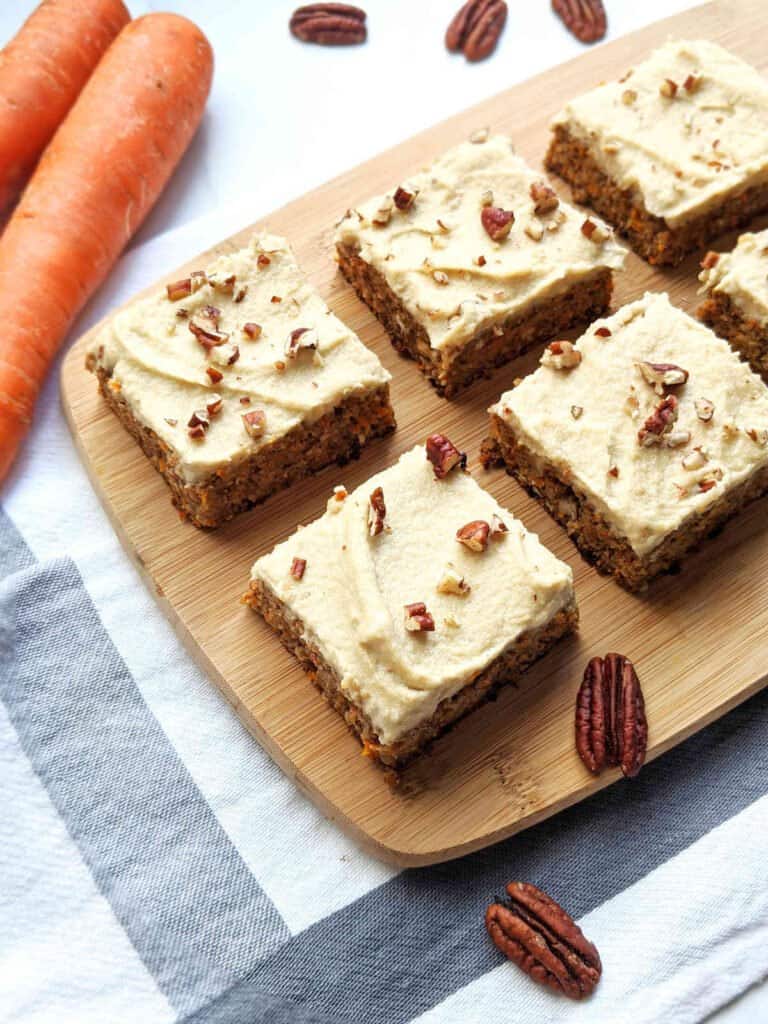 This homemade Vegan Coconut Cake from Vegan Huggs will surely impress your guests. It's soft, fluffy, tender, and brimming with delicious coconut flavor, thanks to a super creamy coconut frosting.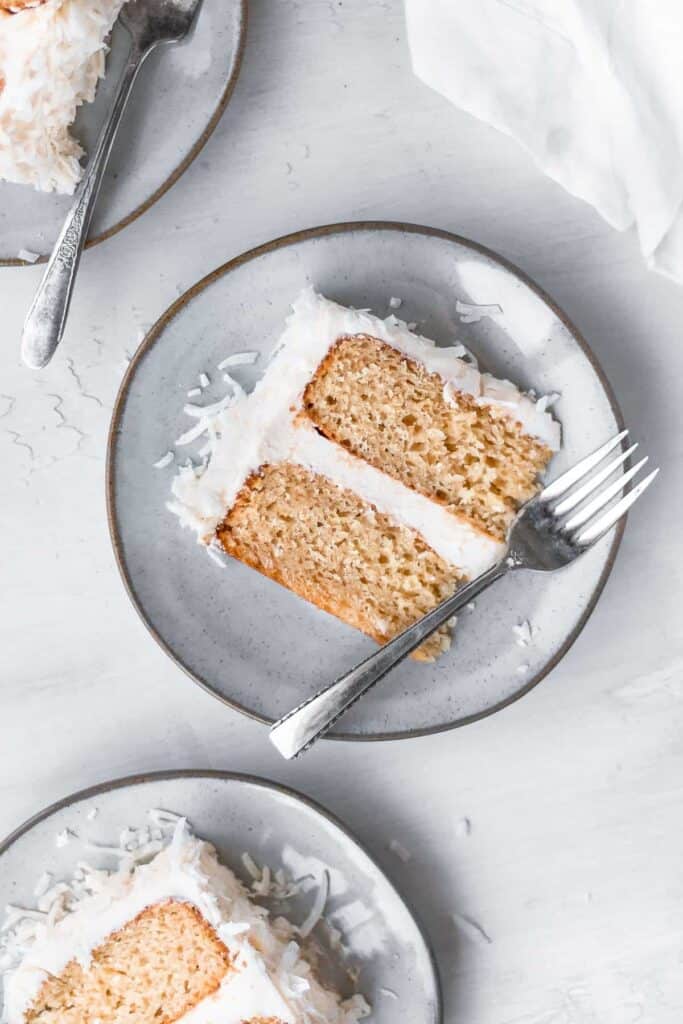 This simple vegan chocolate cake from Veggie Society may be the only one you'll ever need! The dark chocolate cake is wonderfully moist thanks to olive oil. It's then slathered with a rich vegan chocolate frosting and (optional) shredded coconut. It makes a great vegan birthday cake recipe, and it's ideal for bringing to a summer barbecue or holiday party.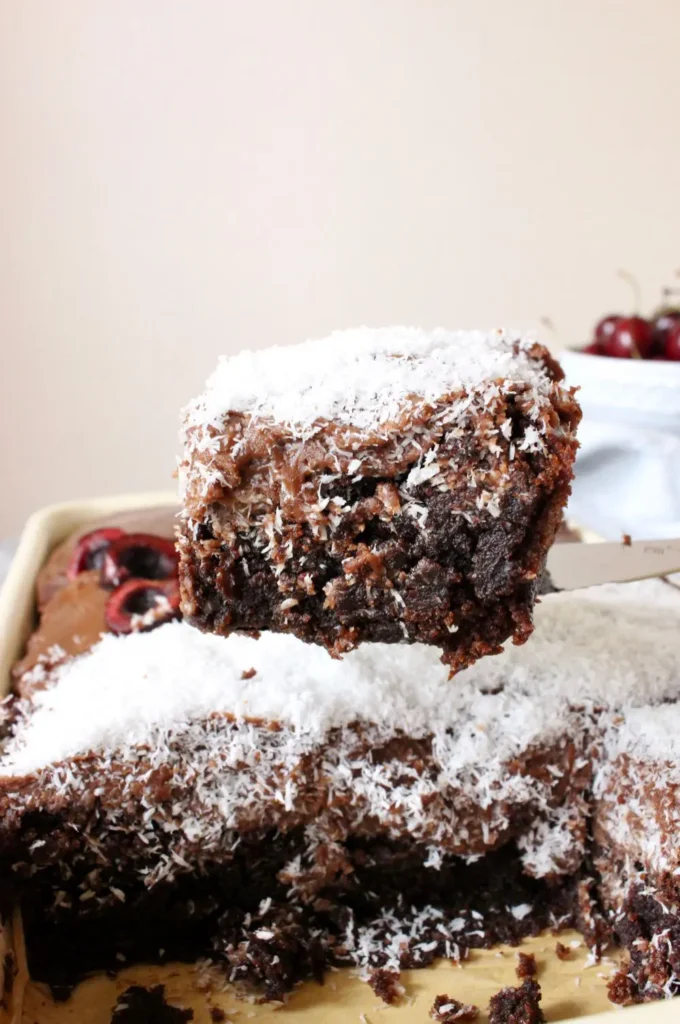 This easy vegan cake recipe combines classic banana bread flavors with bursting fresh blueberries and is egg-free, dairy-free, budget-friendly, and zero-waste!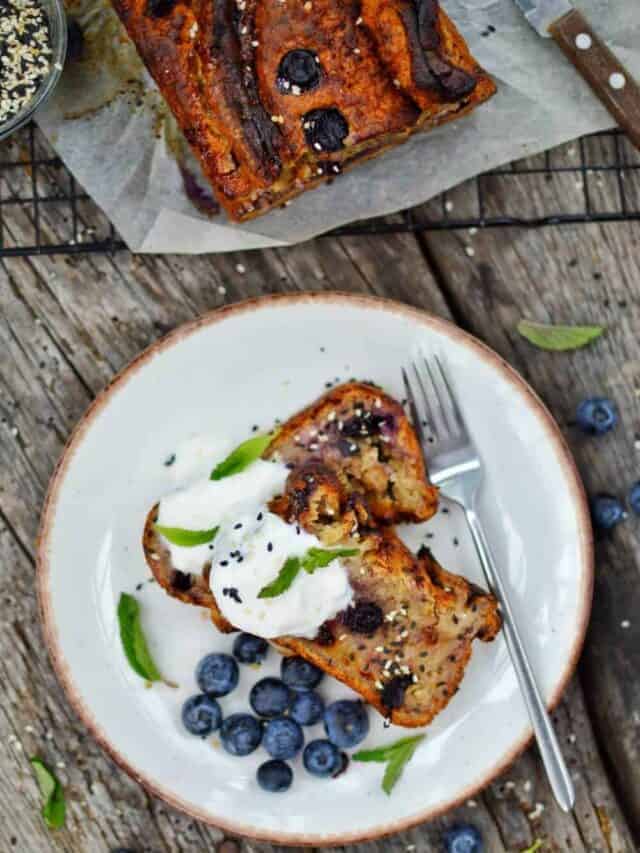 This chocolate vegan cake was designed decades ago as a Depression-era cake, allowing people to enjoy cake when animal products were harder to access. Luckily, the taste and texture hold their own, and this simple vegan cake recipe is wonderfully moist, delicious, AND can be prepped in less than 5 minutes directly into the cake pan!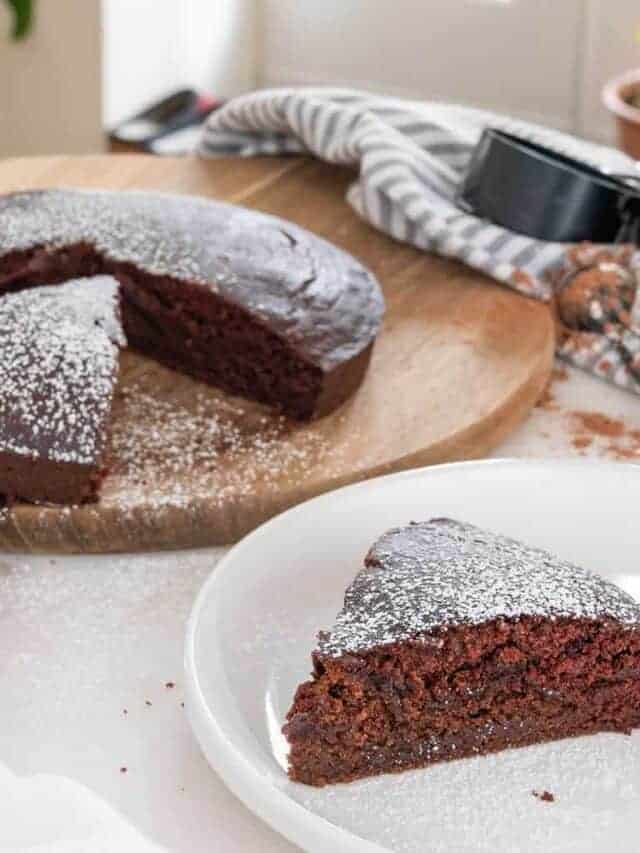 Fun and Fruity
This vegan Hummingbird Cake by A Virtual Vegan is fluffy, sweet, and full of banana, pineapple, and pecans, then smothered with vegan cream cheese frosting! Enjoy this easy vegan cake recipe for potlucks, parties, gatherings, and any special occasions!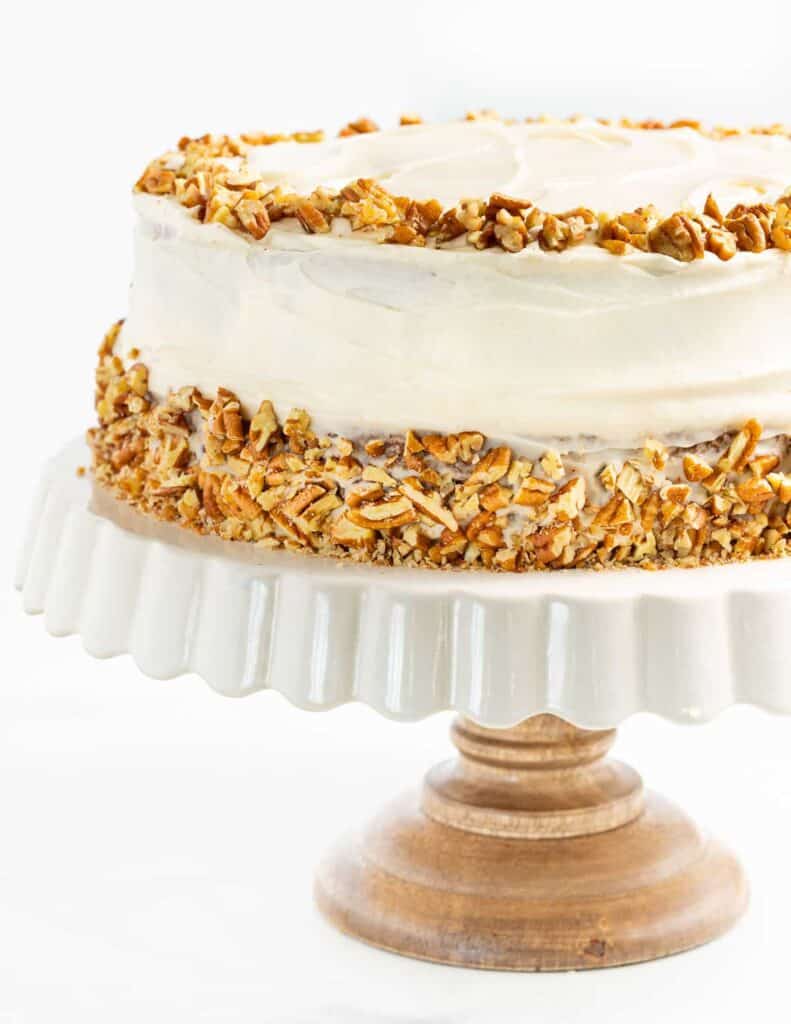 This fluffy vegan strawberry cake from Rainbow Nourishments uses fresh strawberries rather than extract. The result is a vegan birthday cake/special occasion cake that tastes as gorgeous as it looks (hint – a LOT!). Plus, you only need 7 ingredients and 1 bowl to prepare this perfectly pink and easy vegan cake.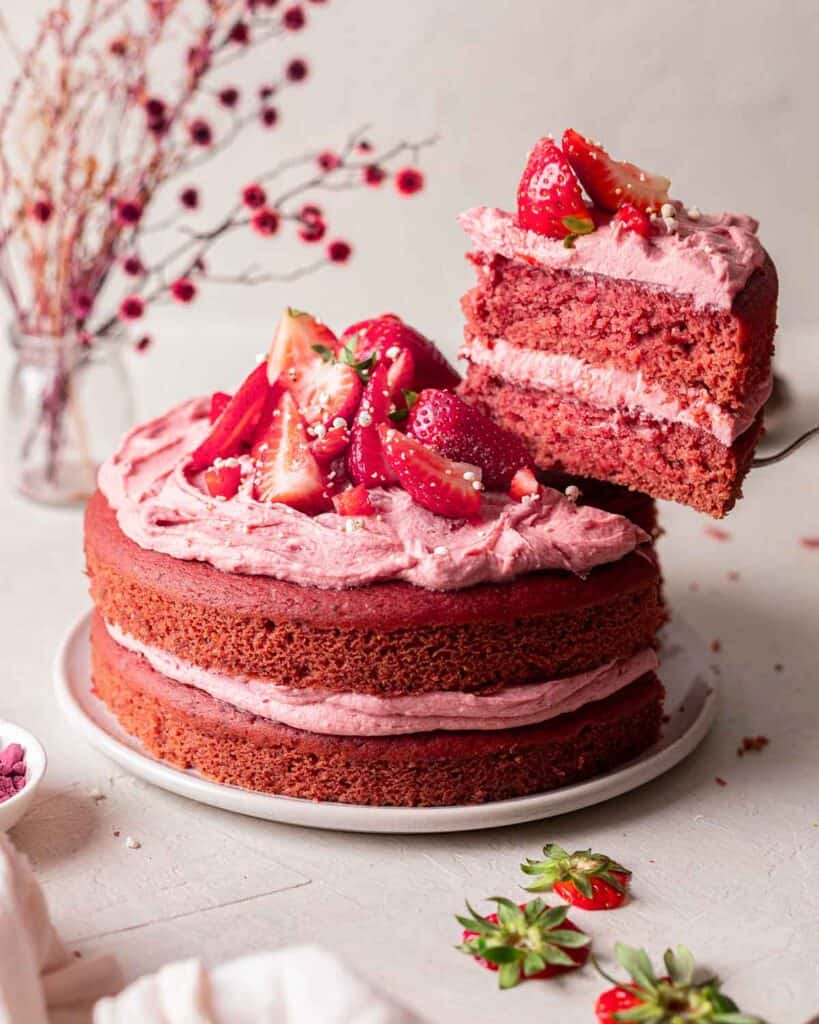 This vegan Black Forest Cake from Veggie Desserts has all the moist, delicious flavor of the 1970s classic gateau. However, it's 100% vegan and super easy to make. It combines a rich, fluffy vegan chocolate sponge filled with dairy-free cream and decadent cherries in syrup for a beautiful vegan showstopper!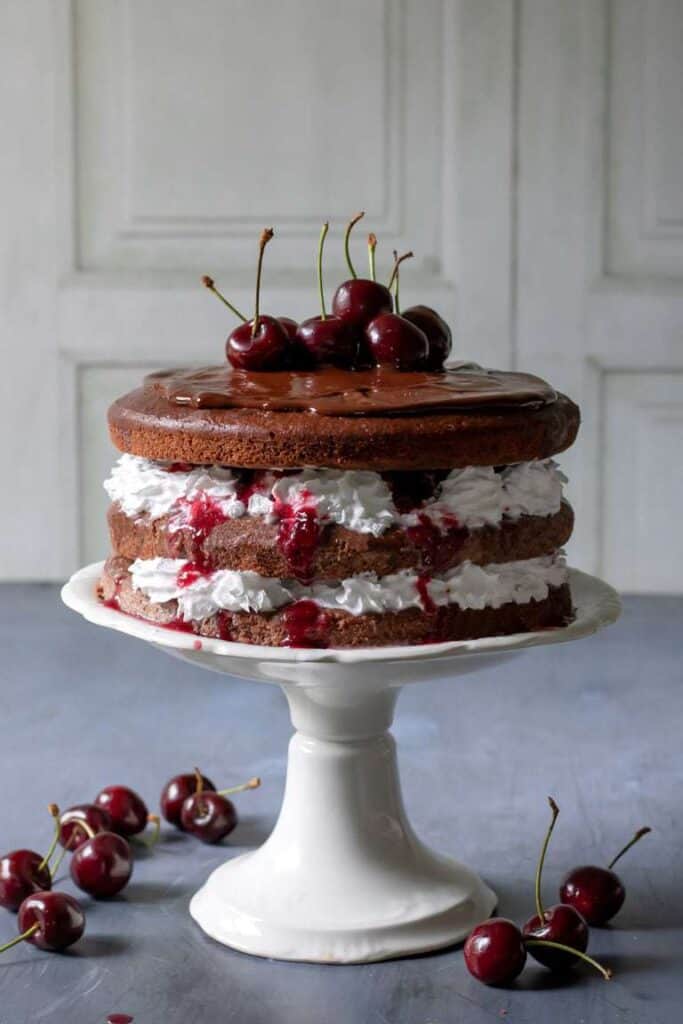 This one bowl, 7-ingredient, EASY vegan lemon cake recipe is super fuss-free and a wonderfully sweet-tart, moist, fluffy eggless lemon cake! Perfect for afternoon tea and special occasions, frosted or glazed!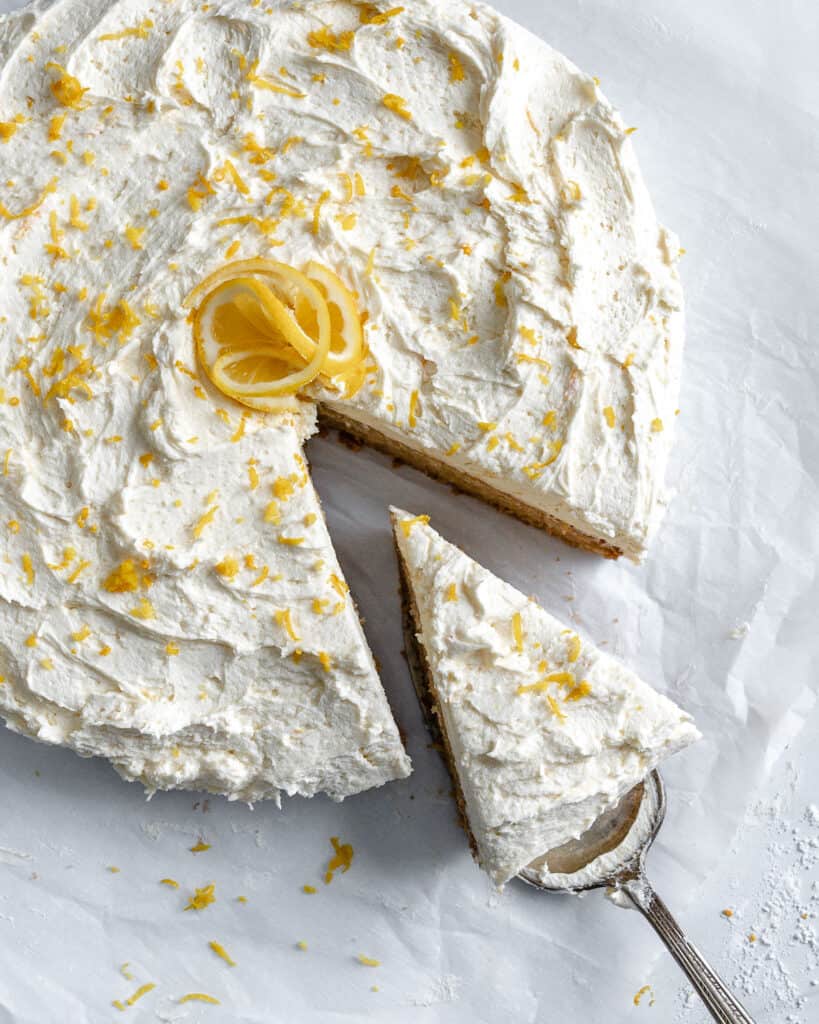 This vegan pear cake from My Vegan Minimalist is light, fluffy, moist, and wonderfully flavored with pears, cinnamon, maple, and a hint of lemon. Top it off with a simple golden maple glaze for a vegan cake recipe you can enjoy year-round!
This upside-down vegan chocolate blood orange cake from Resplendent Kitchen is a must-try during the short blood orange season. This chocolate vegan cake is rich and citrusy while remaining egg-free, dairy-free, soy-free, and nut-free! Perfect for impressing at parties and gatherings!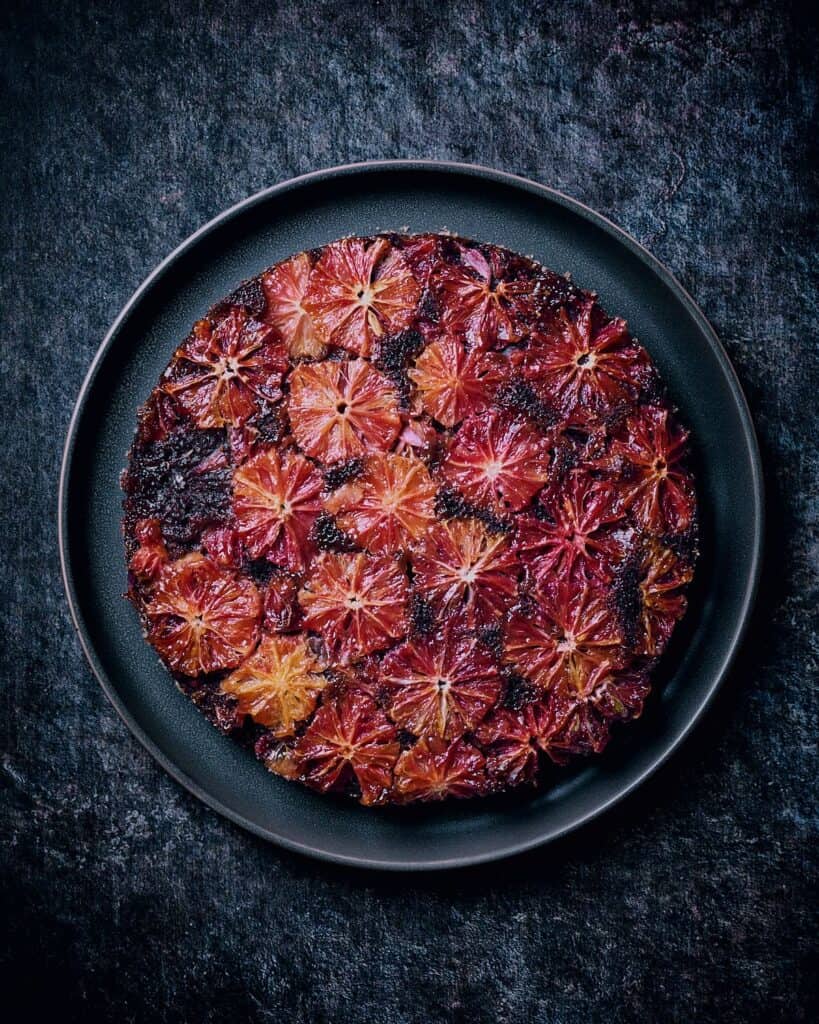 Lemon and poppy seeds are a classic match, and this sheet cake is soft and moist with a zesty citrus flavor and a slight crunch of poppyseeds. However, it's also healthier than regular lemon poppy seed snack cake with less sugar and fat.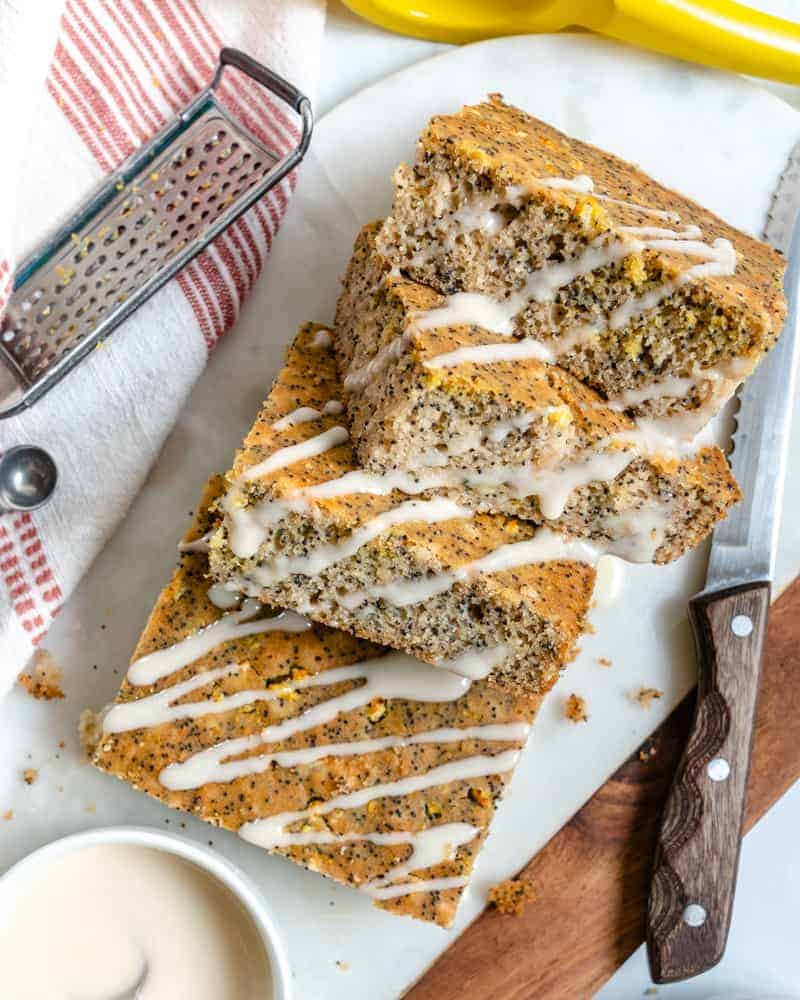 Pineapple upside-down cake is the very definition of fun and fruity; using canned pineapple for a simple fruity vegan cake recipe you can enjoy year-round! We love to pair it with vegan ice cream in the summer and creamy vegan custard in Fall/Winter!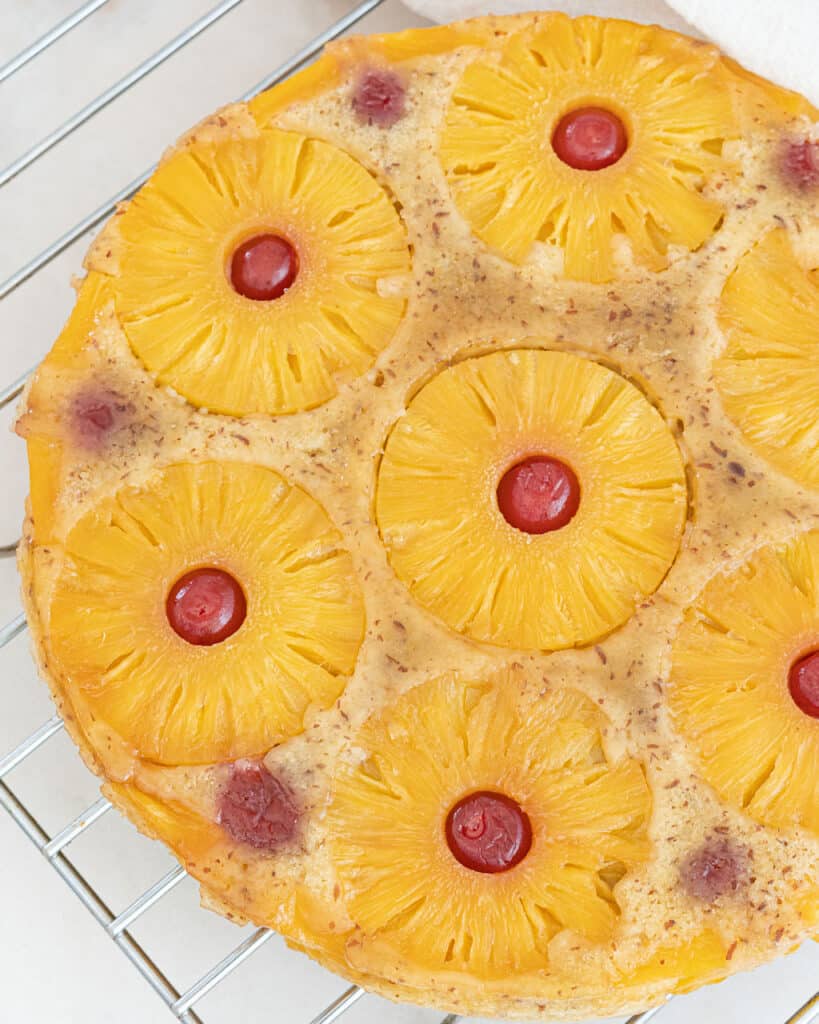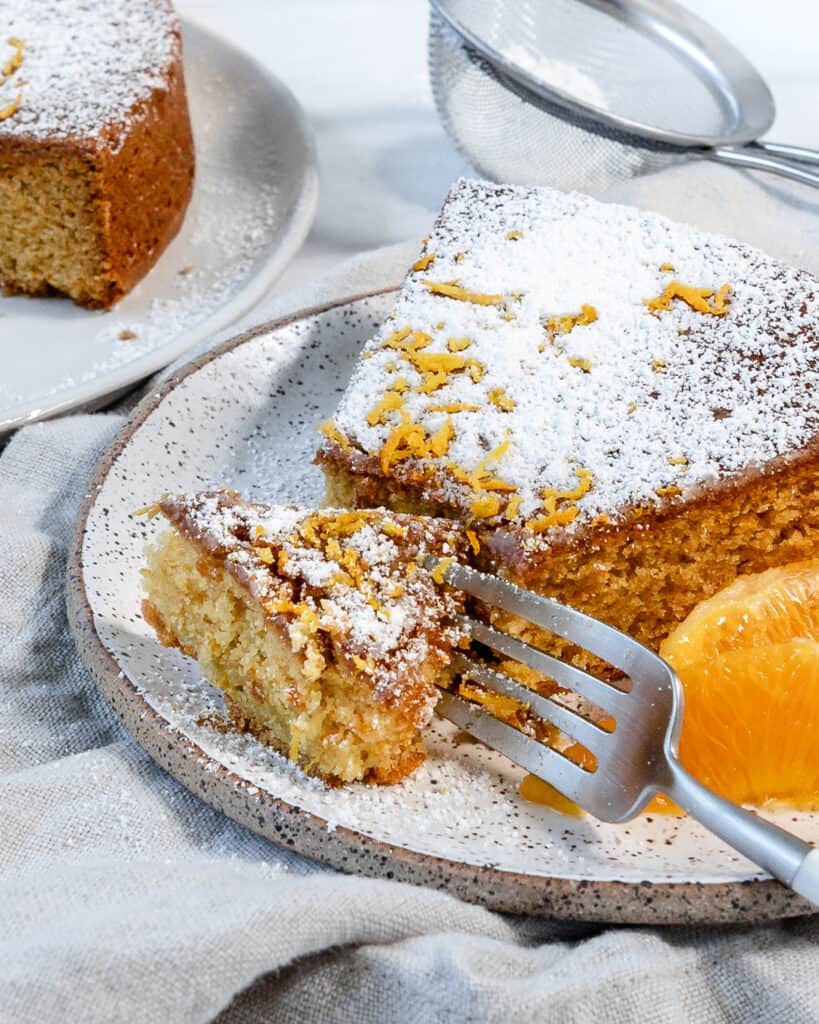 If you haven't tried olive oil in a cake recipe before, it may sound a little strange. However, this orange olive oil cake is wonderfully moist, bright, and citrussy-sweet. It makes for a delicious summery eggless cake or can help brighten your days for the rest of the year.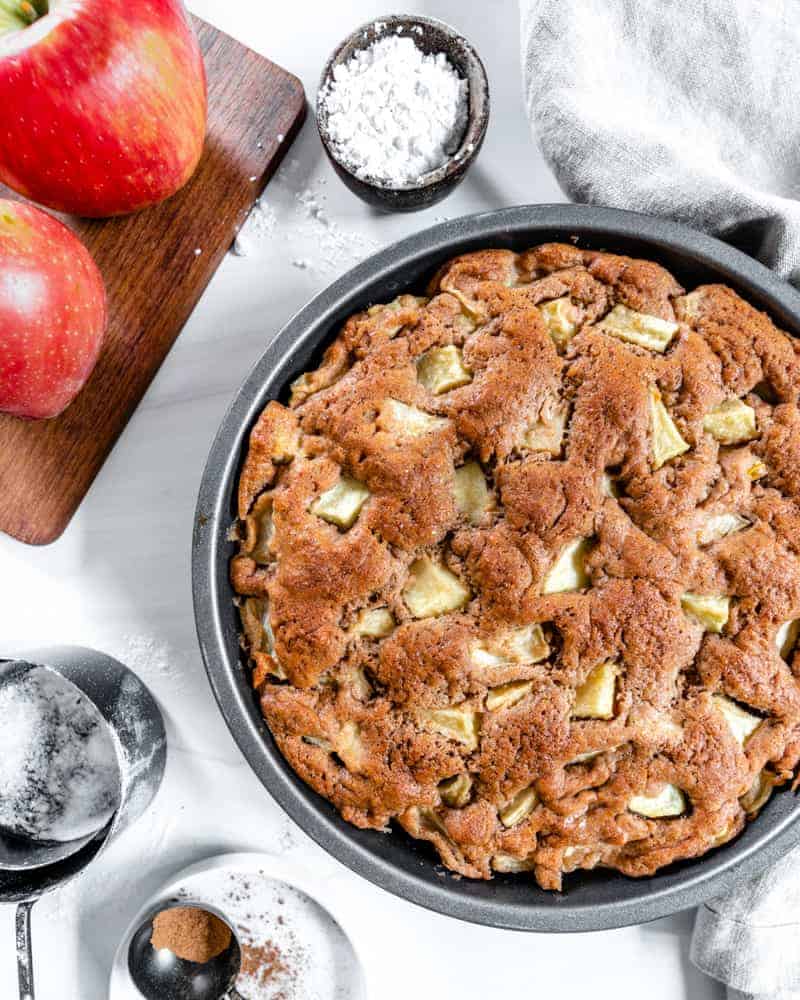 This warming, lightly spiced apple cake is super moist and tender, packed with apple chunks and applesauce for a warming, fall-favorite flavor. Enjoy a slice alone or with a scoop of vegan ice cream for a delicious plant-based treat!
This is the ultimate strawberry cake from My Quiet Kitchen. This beautiful 3 layer vegan cake is bursting with fresh strawberries and a decadent (yet simple) strawberry frosting. It's a sure crowd pleaser!
This dairy-free, egg-free, oil-free vegan chocolate chip banana snack cake from Veggie Inspired is a cross between a cake and quick bread, baked in a sheet pan with no frosting for a delicious snack!
Avoid warming your kitchen this summer by ignoring your oven entirely with this simple, moist Instant Pot strawberry Bundt cake from Simple Sumptuous Cooking. Plus, the strawberries are interchangeable with tons of other berries and fruit for a simple, versatile, easy vegan cake recipe!
Rich and Decadent
This vegan German chocolate cake recipe from Vegan Dollhouse contains a decadent caramel coconut pecan walnut filling and a vegan chocolate ganache drip, perfect for any occasion. Plus, it can be prepared in several sizes, including a 3-layer 6-inch cake or a 2-layer 8 or 9-inch cake.
This list of vegan cake recipes wouldn't be complete without a decadent, moreish vegan Biscoff cake. This vegan cake recipe from Loving It Vegan is rich, decadent, and packed with Biscoff flavor, all topped off with a decadent Biscoff buttercream and melted Biscoff topping!
With layers of vegan buttercream, date caramel, and plenty of fresh figs on top, this vegan cake recipe from Vegan Yack Attack is perfect for impressing at dinner parties and gatherings!
This easy vegan cake recipe from My Goodness Kitchen is a cross between a sticky toffee pudding, date cake, and salted caramel. It combines light and simple sticky date cake with a decadent salted caramel frosting for an explosion of flavor that will impress at potlucks, parties, and special occasions!
This Vegan Tres Leches layer cake from Paper and Heart tastes as good as it looks. Sweet vanilla cake topped with coconut cream frosting and strawberries – this one is a definite crowd-pleaser.
If you're looking for an ultra-indulgent vegan cake, try this Oreo cake from Cookie Dough Diaries. It layers moist and fluffy vegan chocolate cake with thick layers of Oreo buttercream frosting. It's perfect for serving as a vegan birthday cake or for any special occasion!
From the final bite of vegan cream cheese glaze to the very last cake crumb, this plant-based and gluten-free Pumpkin Spice Cake with Cashew Cream Glaze from Veeg is as comfortable served with morning coffee as it is as a delicious dessert. Even better, it's wheat, oil, dairy, and gluten-free, so everyone can enjoy a piece.
A delicious and easy 1 bowl Vegan Coconut Loaf Cake from The Cheeky Chickpea with a simple, moreish coconut cream glaze. This vegan cake recipe makes a lovely spring dessert perfect for any holiday or celebration!
Strength & Sunshine has made this lightened up, gluten-free, vegan, & top allergy-free vegan cake recipe for 'Pastel de Elote' Sweet Mexican Corn Cake! This traditional dessert is moist and dense, with a bread pudding-like texture. Baked in a bundt pan, with fresh corn, and topped with a light glaze. This treat will be gone in a flash!
This Espresso Vegan Cheesecake from The Home Baked Vegan is a delicious no-bake dessert. Infused with coffee flavor, this vegan cheesecake is rich and creamy (minus any eggs, dairy, and gluten). Plus, it's sure to be a favorite for coffee enthusiasts and dessert lovers alike.
Try out this easy and delicious Peanut Butter Cake from KiipFit. It's oil-free and baked until soft, moist, and lightly chewy. Even better, it's made healthier with whole wheat flour, naturally sweetened with dates, topped with peanut butter frosting; it's everything you crave for!
If you're looking for an ultra-indulgent vegan cake, you have to try this easy no-bake Oreo cake by The Daily Dish. This cheesecake-style vegan cake recipe combines an Oreo crumb crust with a super decadent cookies and cream layer topped off with a simple chocolate ganache and is sure to be a crowd-pleaser!
Turn this traditional French almond cake vegan with just a few simple ingredient swaps. This vegan cake recipe from Tin and Thyme combines a moreish, delicious almond frangipane filling with a crisp and flaky puff pastry shell for a New Year's treat you'll happily enjoy year-round!
This gluten-free, vegan Ras Malai Tres Leches Cake by Vegan Richa is the ultimate fusion make-ahead vegan celebration cake for parties and gatherings! It combines a light sponge soaked in cardamom and saffron-scented nut milk topped with whipped coconut cream!
More Vegan Recipe Round-ups