Welcome to the Plant Based on a Budget Family of 4 Challenge. I had a lot of fun putting this together. It was also fun going shopping and really paying attention to prices and making sure we could keep the bill under $100. I was really worried when we got to the check out, but we did it! The meals have been great and easy to put together. We did all of our shopping at Winco, which is a discount grocery store. And anything we could buy in bulk, we did.
A bit about me. In my home, it is myself, my wife, and our 4-year-old son. We always have left overs, so I knew I could make a plan for a family of 4. If you have older children or are large eaters, you may have to adjust the serving sizes.
I also separated the kids and adult lunches for weekdays. Usually, kids do not have access to microwaves at school, so I tried to plan for that.
I am not a doctor, or nutritionist, but we as a family try to eat as healthy as possible. There are a lot of oil free meals in here and most things could be changed to a gluten free version if needed. Although that may raise your cost a bit.
I hope you will enjoy the plan, and please let me know if you have any questions.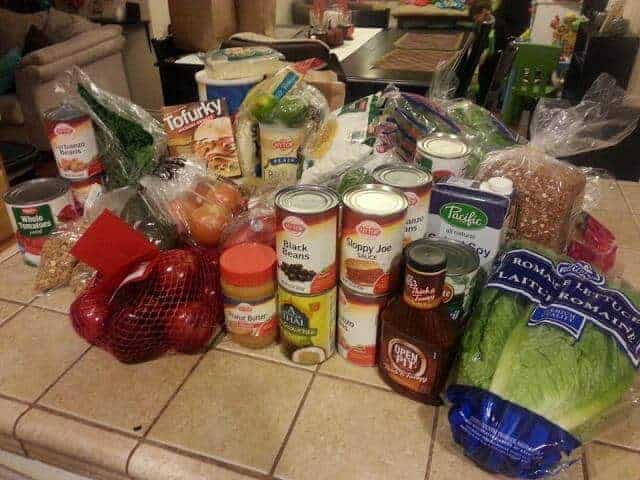 If you're looking for additional resources to help you with a plant-based diet: Check out this support group on Facebook where you can share tips and low-cost plant-based recipes. The New York Times bestseller called How Not to Die by Dr. Michael Greger is a fantastic resource to learn about plant-based nutrition. He also has a great website, Nutrition Facts, that has a ton of free resources. If you're interested in stopping your consumption of dairy, The Dairy Detox can help you out with an entire online detox guide for only $10!
Grocery List:
Loaf of whole wheat bread
Bread Crumbs
Package of 10 or 12 Tortillas
42oz Canister of Oatmeal
4 Bread Rolls (Bought in bulk section)
1 pound of Lentils
½ pound of Raisins
1 pound of Granola
¼ pound of unsalted peanuts
1 - 8oz Package of Macaroni
1 - 16oz Package of Garden Rotini
3 Bags of Frozen California Blend Vegetables (Carrots, Broccoli, and Cauliflower)
2 Bags of Frozen Stir Fry Vegetables
Small Bag of Frozen Corn
Bag of Frozen Carrot, Pea, and Green Bean Mix
Head of Kale
1 ¼ Pound of Tomatoes
Head of Celery
2 Heads of Romaine
Yellow Onion
1 Bunch of Cilantro
½ Pound of Mushrooms
2 Carrots
5 Sweet Potatoes
4 Cucumbers
3 Avocados
2 Limes
2 Red Bell Peppers
3 inch Piece of Ginger Root
1 Zucchini
2 Heads of Garlic
8 Red Apples
1 Package of Extra Firm Tofu
Peanut Butter
BBQ Sauce
Tofurky Italian Style Lunch Meat
4 -15oz Garbonzo Beans
Can of Sloppy Joe Sauce
3 - 15oz Cans of Black Beans
Jar of Pasta Sauce
28oz Can of Whole Peeled Tomatoes
8oz Can of Coconut Milk
2 15oz Cans of Diced Tomatoes
Jar of Tahini
Jar of Salsa
Box of Crackers
8oz of Rice Noodles
Soy Milk
1 Package of Vegetable Bouillon Cubes
Total Cost: $85.00 or 21.25 per person
Day 1:
Breakfast:
Oatmeal with Dried Fruit - We cooked some oatmeal and threw in some raisins.
Lunch:
Kids - Peanut Butter and Jelly Sandwich with Celery Sticks
Adults - Steamed Veggies and Peanuts with Spicy Peanut Butter Sauce.
Preparation - Steam a frozen bag of stir fry veggies. Take 2 tablespoons of peanut butter, a teaspoon of rice vinegar and a teaspoon of sriracha and mix them together. Toss the steamed veggies in the stir fry sauce and add in peanuts. Split the veggies between two people.
Dinner:
Black Bean & Corn Lettuce Wraps with Cumber, Tomato & Avocado Salad
Ingredients for Wraps:
2 cans of black beans

1 Cup of Frozen Corn
½ Cup of Salsa
1 Teaspoon of Garlic Powder
1 Teaspoon of Cumin
1 Teaspoon of Onion Powder
8 Romaine Leaves
Preparation of Lettuce Wraps:
Rinse and drain two cans of black beans.
Add beans to a pot and place in frozen corn.
Mix in Cup of Salsa, Garlic Powder, Cumin, and Onion Powder.
Cook until beans and corn are warmed.
Rinse and dry Romaine leaves.
Place Beans inside Romaine leaves, top with more salsa and wrap up.
Ingredients for Cucumber, Tomato & Avocado Salad
1 Cucumber

1 Tomato
2 Avocados
1 Lime
Preparation of Cucumber, Tomato & Avocado Salad
Day 2:
Breakfast:
Granola & Chopped Apple - We just cut up a few apples and tossed them in a bowl with some granola. Adjust serving sizes to the person eating it.
Lunch:
Kids - Hummus & Veggie Plate - Sliced Cucumbers, Crackers, and Celery.
Adults - Hummus and Cucumber Sandwich - Spread some hummus on the bread and top with sliced cucumbers.
Hummus Ingredients
2 Tablespoons of Tahini

2 Cloves of Garlic
4 Tablespoons of Lemon Juice
1 - 15oz Can of Garbanzo Beans
⅓ Cup of Water
Hummus Preparation
Dinner:
Double Batch of Garlic Ginger Soup. But I only used 8oz of noodles and 1 pepper. Double everything else though.
Day 3:
Breakfast:
Oatmeal and Dried Fruit
Lunch:
Kids- Tofurky and Veggie Sandwich
Adults - Left Over Garlic Ginger Soup and Half a Tofurky and Veggie Sandwich
Dinner:
Coconut Bacon Wraps with Steamed Veggies. Use one of your frozen California Blend Vegetables for this.
Day 4:
Breakfast:
Granola and Chopped Apples
Lunch:
Kids - Crackers, Chopped Tofurky Lunch Meat, and Tomato Slices. Basically, a healthy home made lunchable.
Adults - Kung Pao Steamed Veggies.
Kung Pao Steamed Veggie Preparation
Dinner:
Veggie Pasta & Salad
Ingredients:
Preparation:
Day 5:
Breakfast:
Oatmeal with Raisins
Lunch:
Kids - Peanut Butter and Jelly Sandwich and Carrot Sticks.
Adults - BBQ Chickpea Wraps
Dinner:
Lentil Sloppy Joes with Sweet Potato Fries
Day 6:
Breakfast:
Lunch:
Veggie Sandwiches. Make veggie sandwiches with left over veggies
Dinner:
Day 7:
Breakfast:
Toast with Peanut Butter
Lunch:
Dinner:
Macaroni and No Cheese Bake I left out the sausage.