As an Amazon Associate I earn from qualifying purchases.
Welcome to week 2 of the budget challenge. Hopefully, you enjoyed last weeks meals. This week was cheaper than last week. I was pretty excited when I finished at the checkout and saw the final price! I counted on the fact that you will still have some peanut butter, tahini, and bbq sauce left over from last week.
I know a lot of you are not into using canned foods, so please feel free to swap out canned food for something else. I use them because they are easier for me during the week. I did all my shopping at Winco again. I realize many of you do not have a Winco but hopefully, you have some type of discount grocery store.
For breakfast this week I alternated smoothies and oatmeal with banana slices. I also added a kids lunch again.
I heard from a few of you that there was not enough fruit for the week. I did not add snacks into this meal plan. We usually will add grapes or some type of fruit that is on sale to have as snacks. Usually, it will add 3-5 bucks onto the bill. Please feel free to add fruit in as a snack.
I hope you enjoy the plan this week. Please feel free to leave comments with any questions. Enjoy!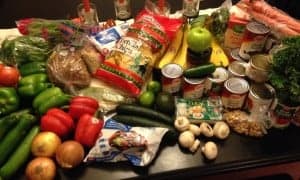 If you're looking for additional resources to help you with a plant-based diet: Check out this support group on Facebook where you can share tips and low-cost plant-based recipes. The New York Times bestseller called How Not to Die by Dr. Michael Greger is a fantastic resource to learn about plant-based nutrition. He also has a great website, Nutrition Facts, that has a ton of free resources. If you're interested in stopping your consumption of dairy, The Dairy Detox can help you out with an entire online detox guide for only $10!
Grocery List:
Bunch of Cilantro 2 Limes 4 Onions 3 Red Bell Peppers 4 Green Bell Peppers 5 Zucchini 3 Carrots Jalapeno 4 Tomatoes Head of Garlic Head of Celery 8 Button Mushrooms Bag of Shredded Cabbage Green Apple Bunch of Kale Bunch of Spinach Avocado 12 Bananas 2 Dried Peppers 3 Cans of Black Beans 3 Cans of Kidney Beans Can of White Beans 4 Cans of Chickpeas Can of Water Chestnuts 4 Cans of Fire Roasted Tomatoes 6oz Can of Tomato Paste Almond Milk Salsa Chips Whole Wheat Bread 12 Tortillas 2 Bags of Frozen Berries 2 Bags of Frozen Stir Veggies 3 Bags of Frozen Mixed Vegetables Total Cost: $75.00
Day 1:
Breakfast:
Oatmeal with Bananas Prepare Oatmeal and add sliced bananas
Kids Lunch:
Hummus and Cucumber Sandwich with Carrot Sticks
Adult Lunch:
Hummus and Cucumber Sandwich with Carrot Sticks
Dinner:
Grilled Veggie Fajitas
with Black Beans
Day 2:
Breakfast:
Kale & Berry Smoothie Recipe – Add 3 cups of almond milk, 1 1/2 cups berries, 1 frozen banana, 1 cup of kale Process – Add all ingredients into a blender, blend and split between 4 glasses
Kids Lunch:
Peanut Butter and Jelly Sandwich with Celery Sticks
Adult Lunch:
Steamed Veggies Process – Steam a bag of frozen stir fry veggies, mix with your favorite sauce and split between 2 people.
Dinner:
Gumbo
Day 3:
Breakfast:
Oatmeal and Bananas
Lunch:
Chickpea Salad Sandwiches
Dinner:
BBQ Tempeh Sandwiches
with Steamed Frozen Vegetables
Day 4:
Breakfast:
Kale and Berry Smoothie
Kids Lunch: Peanut Butter and Jelly Sandwiches with Carrot Sticks
Adult Lunch:
Steamed Stir Fry Veggies
Dinner:
Curry Chickpea
and Rice Bowls with Spinach Salad Spinach Salad – Toss Spinach, Tomatoes, and Cucumbers and add your favorite dressing or sauce.
Day 5:
Breakfast:
Oatmeal and Bananas
Lunch:
Hummus and Cucumber Sandwiches
Dinner:
Bean and Rice Burritos
with Chips and Salsa
Day 6:
Breakfast:
Kale and Berry Smoothie
Lunch:
Chickpea Salad Sandwiches
Dinner:
Veggie Kung Pao
Rice Bowls
Day 7:
Breakfast:
Oatmeal and Bananas
Kids Lunch:
Peanut Butter and Jelly Sandwiches with Celery Sticks
Adult Lunch:
Steamed Frozen Veggies
Dinner:
Low Fat Chili