As an Amazon Associate I earn from qualifying purchases.
This basic onion tomato chutney is frugal, fresh, and packed with sweet, spicy (optional), tangy flavor with only 7 ingredients and in under an hour! Perfect for serving with snacks, burgers, sandwiches, pasta, and more!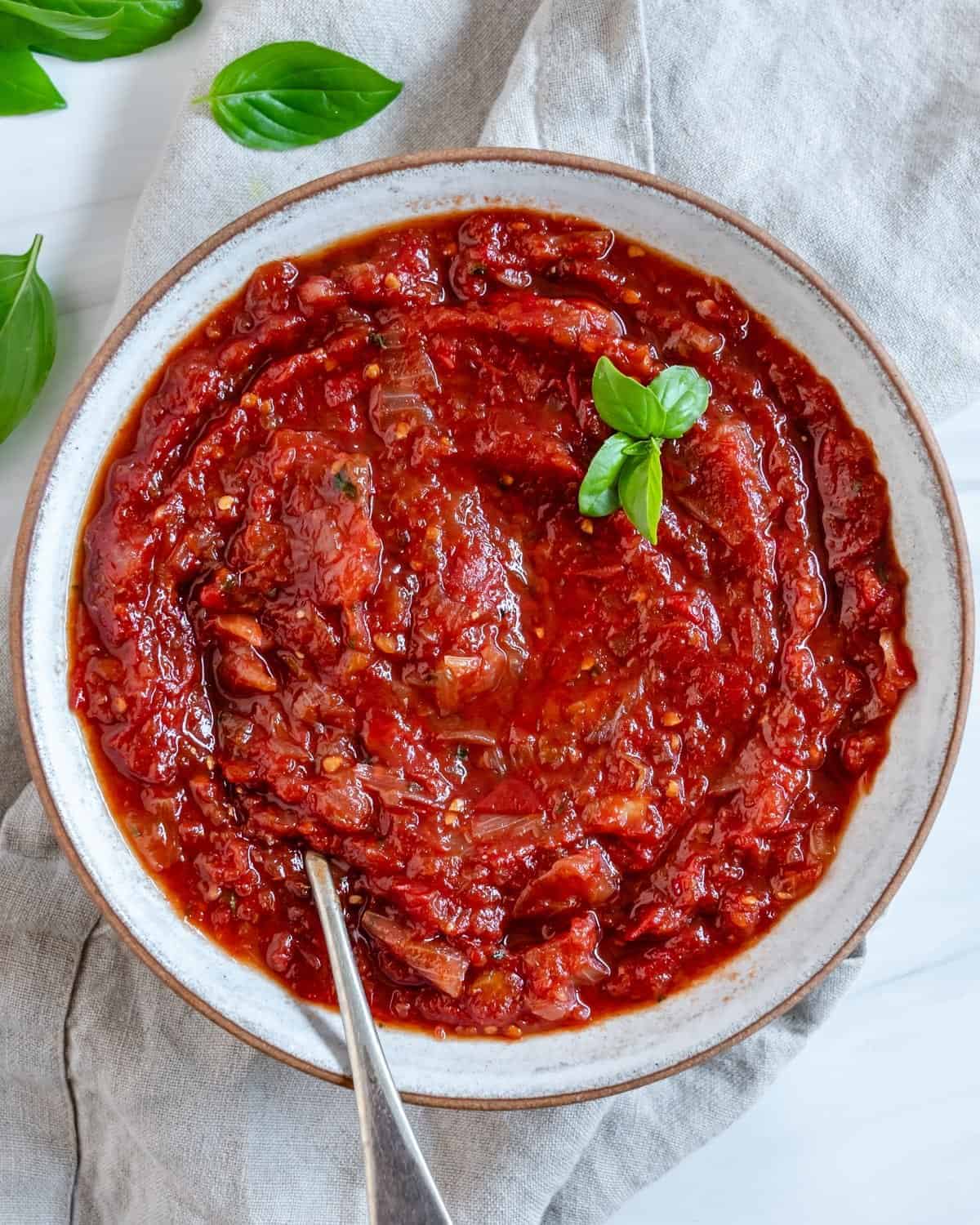 7 Ingredient Spicy Sweet Onion Tomato Chutney
When it comes to chutneys, relishes, and similar condiments, the flavor variations are practically endless. However, for those on a budget/ living frugally, it's fantastic to know that you can enjoy a flavor-packed tomato chutney from scratch without needing half your local grocery store's spice aisle.
In fact, this onion tomato chutney recipe requires just a handful of ingredients (perfect for using up a glut of homegrown tomatoes!) and a wonderfully sweet, spicy, tangy flavor that you'll want to use with everything.
What is Tomato Chutney/ Relish?
We use the terms tomato chutney and tomato relish interchangeably within this post. However, when trying to research the difference between the two, they're actually very similar products and, in fact, chutney is technically a type of relish. Both seem to contain either fruits or vegetables (or a combination of the two), combined with an acid, often sugar, and then optionally flavored with herbs, chili, and spices.
Tomato chutney is traditionally a classic Indian condiment made with tomatoes, ginger, chili, sugar, salt, and raisins/dates and served with dosa, idli, pakora, and other Indian dishes. However, this version was actually inspired by a friend's trip to South Africa, where this tomato chutney is a popular Braai (BBQ) relish.
If anything, this sweet tomato relish/ chutney is a bit like grown-up ketchup with (optional) spice. And luckily, even for those eating a plant-based diet, there are plenty of ways to enjoy this versatile condiment.
Best of all, though, it's surprisingly simple to make! You basically just throw all the ingredients into a heavy-based pan and simmer until it thickens into a jammy consistency.
The Ingredients
This tomato chutney recipe is super basic and requires just 7 ingredients, including:
Tomatoes: For the best flavor, use ripe, in-season fresh tomatoes. During the off-season, turn to cherry tomatoes, as they are the juiciest/most flavorful year-round.
Chili: (Optional) Use red chili peppers. You can adjust the type and amount according to your preference. Alternatively, you can use some chili powder.
Onion: You can use a red, yellow, or white onion, depending on what you have available.
Basil: (Optional) We love the subtle, fragrant freshness of the fresh basil leaves. Omit it, though, if preferred.
Lemon: Fresh lemon juice is best, but bottled will work in a pinch.
Red wine vinegar: Alternatively, you could use a combination of RWV and balsamic vinegar for an even deeper flavored tomato spicy chutney. Apple cider vinegar should also work, but we haven't tried.
Brown sugar: Not all brown sugar is vegan. To ensure that it is, it's best to use organic when possible. It's not recommended to substitute regular sugar for the best flavor in this tomato relish recipe.
Optional add-ins & Recipe Variations
As we've said previously, there's certainly no lack of options when it comes to flavoring this sweet and spicy tomato chutney. Here are just a few simple mix-ins you could experiment with.
Lemon zest (We've already used the juice, so feel free to add more zing with a spoonful of zest, too)
Ginger (1-2-inch pieces, minced OR a large pinch ground ginger—adjusted to taste)
Garlic cloves (Adjust the amount to taste. However, because of the risk of botulism, garlic tomato chutney should be stored in the refrigerator and eaten within a week)
Peppercorns (1- 1 ½ teaspoons. Black pepper or mixed peppercorns)
Bay leaf
Star anise (Just one or two)
Cardamom pods (4-6 pods, gently crushed)
Paprika (¼ tsp of sweet, smoked, or hot paprika)
Mustard seeds
Nigella seeds
Cumin seeds (¼-½ tsp)
Fenugreek seeds (¼-½ tsp)
Cloves (1-2. The latter will be powerful)
Apple (1-2 small apples for natural sweetness, you can reduce the sugar slightly)
Sultanas/raisins (regular or golden–2-3 tablespoons)
If you add any of the whole spices, we recommend 'blooming'/tempering them in oil first for extra flavor. Heat the oil in a pan and add all the spices, allowing them to sizzle and cook until fragrant. Then add the tomatoes, etc.
How to Make Tomato Chutney?
1) First, prepare the various ingredients. Finely dice the tomatoes, onion, and chili (discard the seeds for less heat), and juice the lemon.
2) Then, bring the vinegar and sugar to a boil over medium heat, stirring constantly, until the sugar dissolves.
3) Then, add the tomato, onion, and chili. Stir well and then reduce the heat to a gentle simmer, cooking until it becomes thick and jammy – around 45 minutes.
It's reached the right consistency when it clings to the back of a spoon, and/or it leaves a clear trail when running a spoon along the bottom of the pan.
4) Remove the tomato-onion chutney from the heat and stir in the basil and lemon juice. Then, either enjoy it immediately or mash/puree it slightly first (using an immersion blender/blender).
Though it's possible to enjoy the chutney/relish immediately, for the best flavor, we recommend allowing it to rest in your refrigerator for at least a few days to allow the flavor to meld and mature.
How to Store?
While many chutneys and relishes are canned for long-term pantry storage, this recipe wasn't designed with that in mind. For that reason, we recommend storing this sweet and spicy tomato chutney in a sterilized jar in the refrigerator for 2-3 weeks.
If you pour the sweet tomato chutney into the sterilized jar while it's still hot (both the chutney and the jar) and seal it tightly, then flip it upside down, the lid should naturally vacuum seal (and make a 'pop' noise, if you're using a button lid). This will help extend the shelf life.
It may surpass that amount by a long shot, but our jar is always empty when we hit the 3-week marker.
You can also freeze it. Leave about ½-inch of headspace in your jar and freeze it for 4-6 months. Allow it to thaw in the refrigerator before using.
Serving Suggestions
There are several ways you can enjoy this simple sweet tomato chutney. Our top picks are:
This spicy-sweet tomato relish also pairs with several Indian dishes like idli, dosa, pakora, parathas, and more (but usually best with less sugar)! Plus, it makes for a great gifting option during the holidays and for any foodie (especially when paired with some crackers!).
FAQs
Is it possible to can relish/chutney?
While it is possible, this recipe wasn't designed with that in mind. If you want to water bath can the tomato chutney, we recommend referring to the NCHFP guidelines.
Do I need to sterilize the jars for storage?
While you don't have to (the chutney will still last 5-7 days), it will help to extend the shelf life of the sweet tomato chutney. To sterilize the jar/s, simply wash them with hot, soapy water and then rinse well. Then transfer to a preheated oven (minus any plastic, rubber, metal bits) at 160C/320F for 10-15 minutes, or until completely dry.
What's the difference between chutney and jam?
They are actually very similar in method (with chutney/relish actually being EASIER to make) but largely differ in the ingredients used. Jam is typically sweet made from fruit. In comparison, chutney combines sweet fruit and sweeteners with tangy/savory elements like vinegar, chili, etc.
Do I need to peel the tomatoes?
Not unless you'd prefer to. We don't find them very noticeable (especially when using a food processor to chop the tomatoes). However, if you'd prefer to do so, cut a cross on the bottom of each tomato and blanch them in boiling water for a minute. Then, transfer to an ice bath but, while they're still warm, you should be able to peel all the skins off easily, chop, and continue with the recipe.
Top Tips, Recipe Notes, and FAQs
Adjust the texture: If you prefer a smoother tomato relish (like a smooth paste), then use an immersion blender/blender to pulse it to your desired consistency.
To adjust the heat: Simply swap out the type of chili used and how much you add. For a spice-free sweet tomato chutney, omit it entirely.
To adjust the sweetness: Reduce the sugar used in the recipe. However, note that this helps provide the correct texture AND plays a part in the shelf life as it's a natural preservative.
When is the tomato chutney ready? Be careful not to under-simmer the chutney/relish. It's ready when a spoon dragged over the pan leaves a trail that doesn't fill in immediately.
To reduce prep time: Use a food processor to chop the tomato, chili, and onion (separately).
More Vegan Tomato Recipes
Turkish tomato and red pepper bulgur soup
Photos by Alfonso Revilla
Sweet Tomato Chutney
This basic onion tomato chutney is frugal, fresh, and packed with sweet, spicy (optional), tangy flavor with only 7 ingredients and in under an hour! Perfect for serving with snacks, burgers, sandwiches, pasta, and more!
Ingredients
1

cup

of brown sugar

½

cup

of red wine vinegar

8

large

tomatoes

chopped

1

onion

chopped

2

red hot chili peppers

minced

10

basil leaves

chopped

juice of 1 lemon
Instructions
Boil the sugar and vinegar until the sugar is dissolved.

Add the tomatoes, onion, and chils and cook until it gets a jam-like consistency, around 45 minutes.

Remove from heat and add the basil and lemon juice.

Serve chunky or use an immersion blender or other mixer to smooth it out a bit.
Notes
If you prefer a smoother tomato relish (like a smooth paste), then use an immersion blender/blender to pulse it to your desired consistency.
Nutrition
Calories:
58
kcal
Carbohydrates:
14
g
Protein:
1
g
Fat:
1
g
Saturated Fat:
1
g
Polyunsaturated Fat:
1
g
Monounsaturated Fat:
1
g
Sodium:
7
mg
Potassium:
199
mg
Fiber:
1
g
Sugar:
13
g
Vitamin A:
630
IU
Vitamin C:
10
mg
Calcium:
18
mg
Iron:
1
mg
Disclaimer: Although plantbasedonabudget.com attempts to provide accurate nutritional information, kindly note that these are only estimates. Nutritional information may be affected based on the product type, the brand that was purchased, and in other unforeseeable ways. Plantbasedonabudget.com will not be held liable for any loss or damage resulting for your reliance on nutritional information. If you need to follow a specific caloric regimen, please consult your doctor first.
Additional Info