As an Amazon Associate I earn from qualifying purchases.
Low carb Spanish cauliflower rice made with chunky salsa for a delicious, low effort vegan side or main! Just a few minutes prep and 20 minutes from start to finish while only needing one pan! Gluten-free, dairy-free, grain-free, vegan, and easily adaptable too!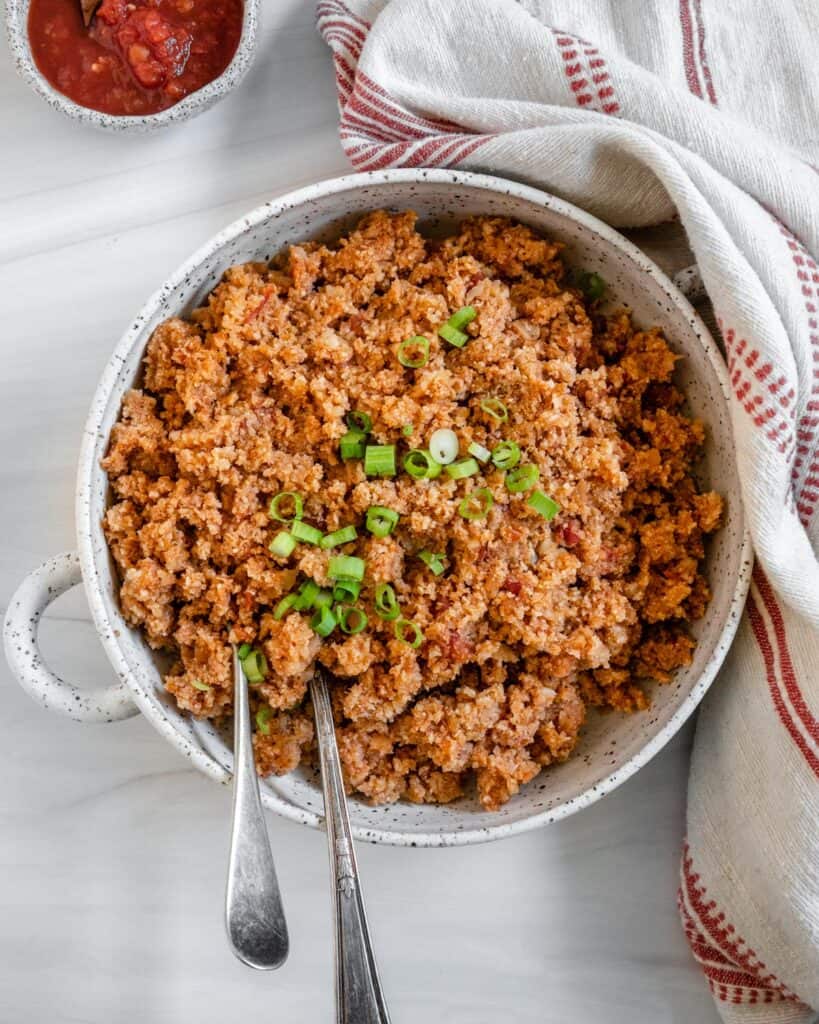 Easy, 20-Minute, Low-Carb Dish
I think we've all had that situation where there are just a few odds and ends in the fridge and you need to throw something together and hope it's edible. That's why we love making chow mein and stir-fries, but, it's also how we discovered this super easy Spanish cauliflower rice!
With just a head of cauliflower, a jar of salsa, and a few pantry staples, this easy cauliflower rice recipe requires just 6 ingredients, minimal prep, and costs under $.60 to make per portion. By using jarred salsa, this recipe cuts prep time to just minutes (and practically just seconds if you use pre-riced cauliflower). Follow the prep up with just one pan and 10 minutes for a light and fluffy side or main that will fill you up without weighing you down like carb-heavy dishes.
Best of all, you don't need to be on a low-carb diet to enjoy this Spanish-style cauliflower rice either. Easily adapt it to your dietary needs by using a salsa that is paleo, whole30, keto, etc., and enjoy getting extra veggies in your diet in a super delicious way. Perfect for serving alongside tacos, fajitas, burritos, and more.
What is Spanish Rice?
Spanish rice, also called Mexican rice or red rice (arroz rojo), is a simple rice side dish usually compromised of rice cooked in vegetable broth with tomatoes, garlic, onion, and several spices. Sometimes with the addition of extra vegetables, too, like corn, bell pepper, and beans.
For this version of Mexican rice, we've ditched the rice in place of low carb cauliflower rice, use no animal products, and utilize chunky salsa (homemade leftovers or store-bought) in place of several individual, fresh elements to cut down on prep time, cook time, and effort and use up leftovers.
Plus, if you love simple Mexican side dishes, you might also enjoy this mixed bean salad, vegan calabacitas, or summer zucchini and hominy.
The Ingredients
You only need 6 simple ingredients for this Spanish riced cauliflower, including:
Cauliflower: While it's possible to use pre-prepared cauliflower rice (fresh or frozen), we prefer to make our own from a head of cauliflower, since it's most cost efficient.
Salsa: Any chunky tomato-based salsa (like Pico de Gallo) or restaurant style salsa will work, so this is perfect for using up leftovers. Adjust the spice level to your liking, but definitely choose a good-quality salsa.
Spices: This Spanish riced cauliflower requires a simple blend of onion powder, garlic powder, cumin, and chili powder (or cayenne).
If you have garlic and some extra time, you could sauté fresh garlic until translucent before adding the cauliflower rice to the pan.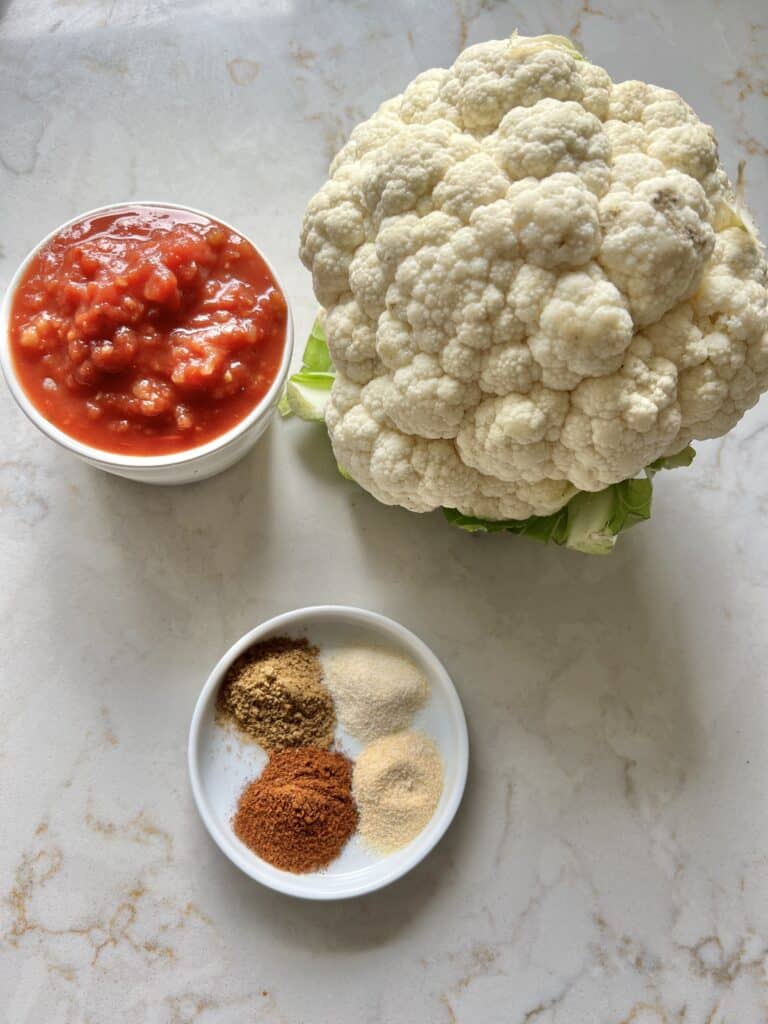 Optional add-ins & Recipe Variations
Whether you're having to rely on leftovers or have a few more ingredients to buy, there are several ways to experiment with this Spanish cauliflower rice recipe.
Salt: Adjust the amount to taste.
Lime juice: Just a little squeeze when serving.
Paprika: A pinch of smoked paprika complements the other seasonings well.
Oregano: To add depth to the salsa cauliflower rice.
Chilies: For a spicy cauliflower rice, add some diced canned green chili (or jalapeño for more heat).
Tomato paste: To add extra depth to the Spanish cauliflower rice.
Herbs: Finely chopped parsley, cilantro, or green onions will boost the fresh flavors in the dish. Check out this article to keep your hebs fresh for longer!
Vegan cheese: The slightly spicy, tomato flavor of this salsa rice pairs well with nutritional yeast/ vegan melty cheese.
Beans: Boost the protein with the addition of a can of black beans, kidney beans, or chickpeas. Here are some more canned beans recipes to check out.
Vegetables: There are several vegetables you could add to this cauliflower rice and salsa combination, including finely diced bell peppers, zucchini, corn, spinach/kale, olives, etc.
Plant protein: Turn this cauliflower Spanish rice recipe with salsa into a complete meal with your favorite plant protein, like tofu or tempeh.
Vegan butter: Add a small amount of vegan butter into the keto Spanish rice before serving for added richness.
How to Make Spanish Cauliflower Rice?
To Make Cauliflower Rice
While it's possible to buy bags of pre-prepared cauliflower rice (fresh or frozen), we prefer to make it ourselves, as it's much more cost-efficient.
1) First, peel away any outer leaves and give the cauliflower a quick rinse.
2) Then, chop it into small florets. No need to be too even with this.
Don't discard the stem as that makes for great cauliflower rice, though it may be easier to blend separately from the florets, as it's slightly harder.
3) Then, in batches, transfer some of the cauliflower florets to a food processor and pulse it until it's a rice consistency. Alternatively, you could use the shredding disk in your food processor.
The key is to avoid overcrowding, as that's when you'll end up with all different sized pieces and some that is mush. We recommend never filling your food processor jug more than halfway.
How to make cauliflower rice without a food processor?
Using a box grater: Pull/chop the cauliflower into large florets (they're easier to hold) and grate using the large holes on a box grater.
The Spanish/ Mexican Cauliflower Rice
1) First, prepare the cauliflower rice as written above.
2) Then, heat a non-stick large skillet and spray with some cooking spray (or a small amount of olive oil).
3) Add the cauliflower rice and spices, and sauté for five minutes.
4) Then, add the salsa, stir well, and cook for a further 5 minutes, or until the salsa has been absorbed.
Properly cooked cauliflower rice should be slightly chewy and slightly firm with a slight bite still. If it's soggy, you've gone too far.
Then, give it a taste and adjust any of the seasonings to your liking—Enjoy!
FAQs
How to use frozen cauliflower rice?
The best way to cook frozen cauliflower rice is to follow the same method as fresh, adding a few extra minutes to the cook time. There's no need to thaw it first, as that can make it mushy.
Can I substitute the salsa?
You could try the recipe with tomato sauce (a plain one, not Italian style) OR canned chopped tomatoes and sauté some onion and garlic beforehand. However, the flavors will vary.
How many carbs are in cauliflower rice?
A cup of cauliflower rice provides just 3 grams of net carbs, compared to the 40+g found in rice.
What does cauliflower rice taste like?
Cauliflower, once cooked, has a fairly subtle flavor, especially when served with strong flavors (like Buffalo cauliflower wings). In the case of cauliflower rice, its small size allows it to soak up all the surrounding flavors, making it so the rice tastes of your add-ins and seasonings, with a very subtle cauliflower flavor.
What is the difference between Spanish rice and Mexican rice?
Absolutely nothing. Same thing, different name. In fact, I've used them interchangeably within this post.
Where can I buy cauliflower rice?
It's available in many large grocery stores now. You can find it fresh in the produce section or in the frozen section.
Top Recipe Tips and Notes
To cut down on prep time: Use pre-prepared cauliflower rice.
Don't over-process the cauliflower: Otherwise, you'll end up with mush rather than a rice consistency.
Cauliflower rice yield: Note that 1lb of cauliflower will yield around 3 cups of cauliflower rice.
Adjust the seasoning: You can adjust all the spices to taste based on your preferred intensity.
Use high quality salsa: It's providing the majority of flavor to the Mexican cauliflower rice, so it's worth making sure it's a good one.
If it seems dry: Some salsa may not be as wet. If needed, add a few spoonfuls of veg broth to help it distribute better and provide a little moisture.
How to Store?
You can prepare cauliflower rice up to 5 days in advance, making it great for meal prep. Store it in a bowl in the fridge, loosely covered. Alternatively, freeze it for up to 3 months.
Once cooked, allow the Mexican cauliflower rice to cool and then store it in an airtight container in the fridge for 3-4 days. Alternatively, store it in an airtight container in the freezer for 3 months. Allow it to thaw in the refrigerator overnight before reheating.
Reheat it either in a skillet on the stovetop or in the microwave until warmed through.
Serving Recommendations
This Spanish cauliflower rice with salsa is the ultimate side dish for all sorts of Mexican dishes, and is perfect for a lower carb Taco Tuesday or Cinco de Mayo!
We love to make a Spanish cauliflower rice bowl with slices or chunks of avocado, an extra dollop of salsa or vegan sour cream, tortilla chips, and a protein (shredded or marinated tofu, usually). You can also add other cooked veggies like roasted zucchini, corn, bell peppers, etc.
More Vegan Cauliflower Recipes
Photos by Alfonso Revilla
Easy Spanish Cauliflower Rice with Salsa
Low carb Spanish cauliflower rice made with chunky salsa for a delicious, low effort vegan side or main! Just a few minutes prep and 20 minutes from start to finish while only needing one pan! Gluten-free, dairy-free, grain-free, vegan, and easily adaptable too!
Ingredients
1

head

of cauliflower

1

cup

of chunky salsa

1

teaspoon

of chili powder

1

teaspoon

of cumin

½

teaspoon

of onion powder

½

teaspoon

of garlic powder
Instructions
Chop cauliflower into chunks.

Place cauliflower in a food processor, and let it run until the cauliflower has been diced up. It will look like rice.

Heat a non stick or pan coated with cooking spray.

Add cauliflower and spices and saute for 5 minutes.

Add salsa to cauliflower and cook for 5 more minutes. Or until salsa has been absorbed.
Notes
Make sure you don't pulse the cauliflower too much or it will turn into a paste.
Nutrition
Calories:
60
kcal
Carbohydrates:
12
g
Protein:
4
g
Fat:
1
g
Saturated Fat:
1
g
Polyunsaturated Fat:
1
g
Monounsaturated Fat:
1
g
Sodium:
511
mg
Potassium:
641
mg
Fiber:
4
g
Sugar:
5
g
Vitamin A:
467
IU
Vitamin C:
71
mg
Calcium:
59
mg
Iron:
1
mg
Disclaimer: Although plantbasedonabudget.com attempts to provide accurate nutritional information, kindly note that these are only estimates. Nutritional information may be affected based on the product type, the brand that was purchased, and in other unforeseeable ways. Plantbasedonabudget.com will not be held liable for any loss or damage resulting for your reliance on nutritional information. If you need to follow a specific caloric regimen, please consult your doctor first.
Additional Info