As an Amazon Associate I earn from qualifying purchases.
This easy-to-assemble Christmas Wreath Charcuterie Board is the perfect holiday centerpiece! An edible wreath with a stunning assembly of sweet fall and winter fruits, chewy cookies and dried fruits, crunchy nuts and crackers, fresh herbs, jams, and delicious briny olives from our friends at California Ripe Olives. It is a vibrant and joyous display of our favorite finger food delights in a group-sized platter.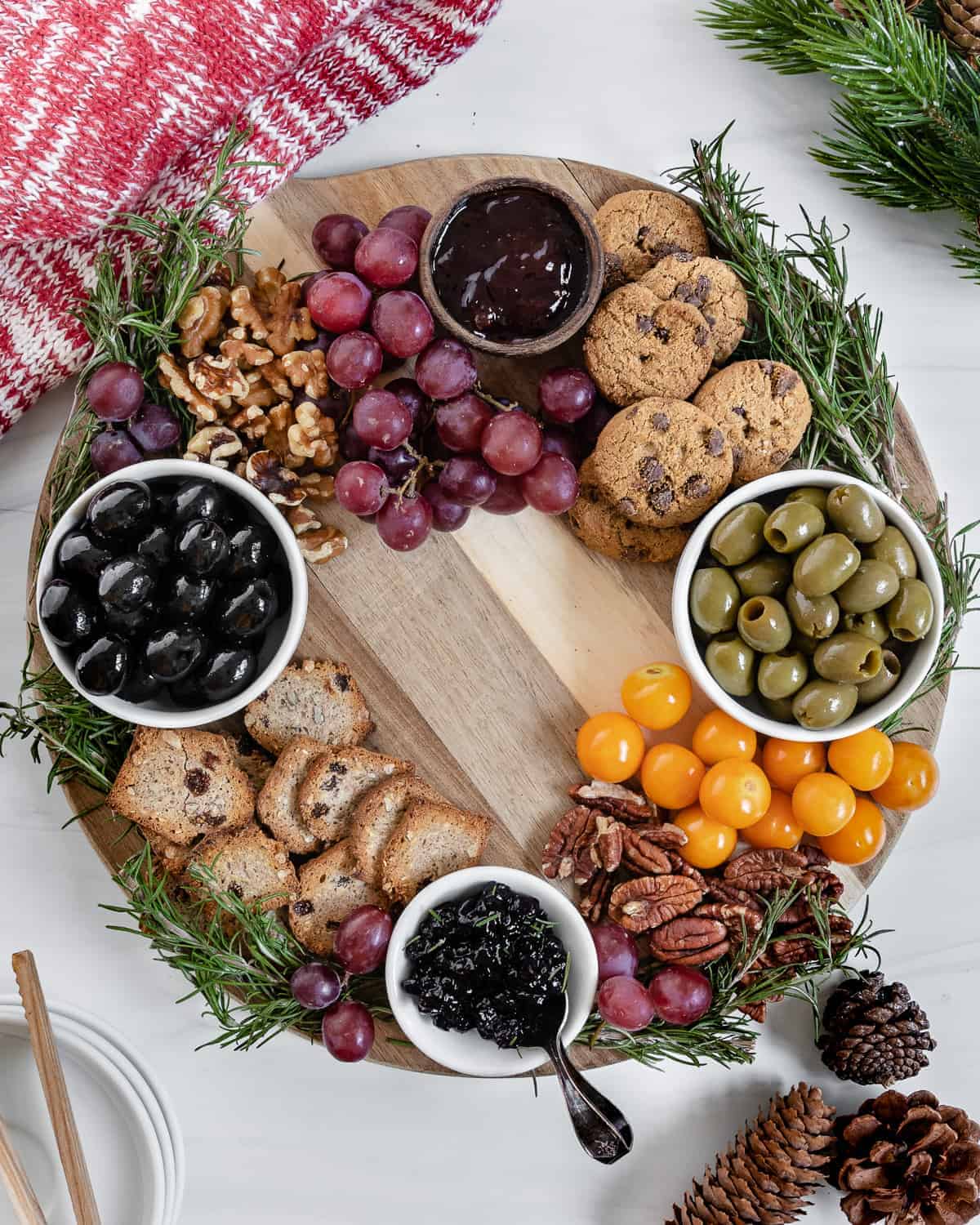 If you need a quick yet impressive appetizer or snack for your guests but do not have the time to cook one, then this Christmas Wreath Charcuterie Board recipe will be your new best friend! A quick rummage into your pantry, fridge, and goody jars is all it takes to come up with a festive platter of plant-based goodies that everyone will enjoy. If you are looking for an exclusively vegetable version, try our Holiday Wreath Vegetable Tray too!
What is a Charcuterie Board?
Despite its recent reemergence as a stylish food trend, Charcuterie boards have been around for quite a while now.  In fact, it was initially used very commonly pre-refrigeration days. However, it has evolved to include a more diverse selection of veggies, fruits, vegan cheese, and nuts. Seeing an array of colorful fruits, vegan cheese, antipasto, crackers, etc., is undoubtedly one of its appeals.
Why are they so popular?
Aside from its visual allure, Charcuterie boards are now in rage because they require minimum preparation and no cooking.  All it takes is strategically placing your selected goodies to make one. It is also an exciting concept to design it in any way you like it. It can be created and customized to fit any occasion with ease. The board used to make them varies, and it can depend on the theme you are following. I used a round wooden chopping board which gave my wreath a rustic appeal that I love! But feel free to use whatever you like. A big round plate or a cake stand will also work.
My Christmas Wreath Charcuterie Board Selection
This board is packed with a variety of deliciousl foods while also eliciting a cheerful feeling with each bite. Here's what we've got for this dish.
Olives.  We love using green and black olives from California Ripe Olives. They are traditionally part of an antipasto. Their salty-tangy taste is the perfect contrast for the sweetness of grapes and other fruits.
Fruits.  You can use any fall or winter harvests such as grapes, cranberries, figs, and strawberries. Bigger fruits like apples, oranges, passion fruit, and plums need to be cut into bite sizes.
Nuts.  We used walnuts and pecans for our board. But feel free to use others like macadamia, cashew, almonds, and peanuts. If you are allergic to nuts, you can swap them with pumpkin or sunflower seeds instead.
Cookies.  We added some vegan cookies for the kiddos! You can use different types of vegan cookies to use. Stick with the classic chocolate chip cookies or oatmeal cookies. But if you are looking to amp your board up, try these Vegan Holiday Cookies too!
Jams.  Give your guests some variety of choices. Blueberry and Strawberry jams are great options.
Greens.  Small bunches of fresh rosemary make it look Christmas-y on the board. They are mostly there for decoration and aroma.
Other options:
Feel free to add whatever you feel makes your board better. Some also add dried fruits like prunes, dates, and sliced figs. Add some vegan chocolates and Christmas candies too.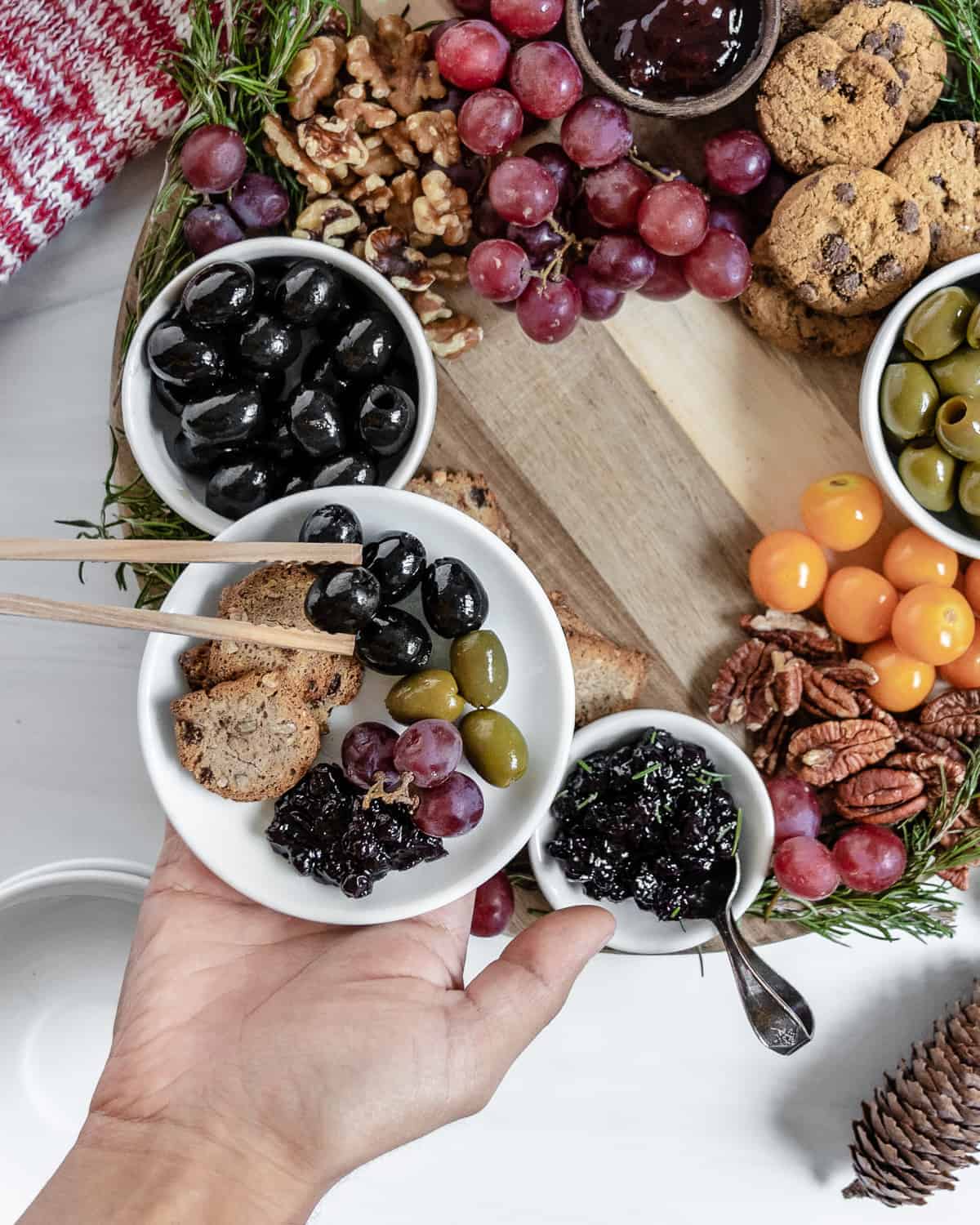 How to Assemble a Christmas Wreath Charcuterie Board!
Now on to the most exciting part! This is where you can let your creativity and imagination run free!
Jams and olives look lovely when placed in a small bowl or shallow dishes.  For that aesthetic look, you can utilize some rustic or wooden bowls.
Place the crackers and fruits around the board, fanning them out along with the other pieces.
To fill small spaces and gaps, add a handful of nuts and grapes.
Use sprigs of fresh rosemary around the platter to create the wreath.
Serve the charcuterie board immediately or chill it in the fridge until it's ready to serve.
Add-ons and Variations
You can use vegan faux meats to bulk up your board and make it into a classic antipasto board. Check out our Guide to plant-based meats to know more about them.
If you are a certified cheese lover, do not fret! You can add your favorite dairy-free cheese on this board too! There is a list of vegan cheese to choose from!
Add some fresh veggies like cherry tomatoes, cucumbers, celery, and carrot sticks with an extra bowl of a classic French onion dip to go with them.
Make your Charcuterie board more decadent by adding Chocolate-dipped Strawberries, Candied Rosemary Walnuts, Pumpkin Stuffed dates, and Peanut butter bonbons.
Storing Tips for Christmas Wreath Charcuterie Board
Serve it right away! However, if you make it in advance, wrap it in plastic cling wrap and place it in the fridge until ready to serve.
You can easily store leftovers in the fridge for 3-5 days by packing them individually in a tightly sealed plastic bag.  Re-invent and create a salad out of the leftovers.
Store your excess fruits and veggies in the freezer and turn them into yummy smoothies the morning after.
The herbs are there for decorative purposes, but make sure to keep them for future use. Wrap them in a damp paper towel loosely to not crush the leaves. Keep them bundled up in your fridge's crisper drawer in an airtight container or resealable bag.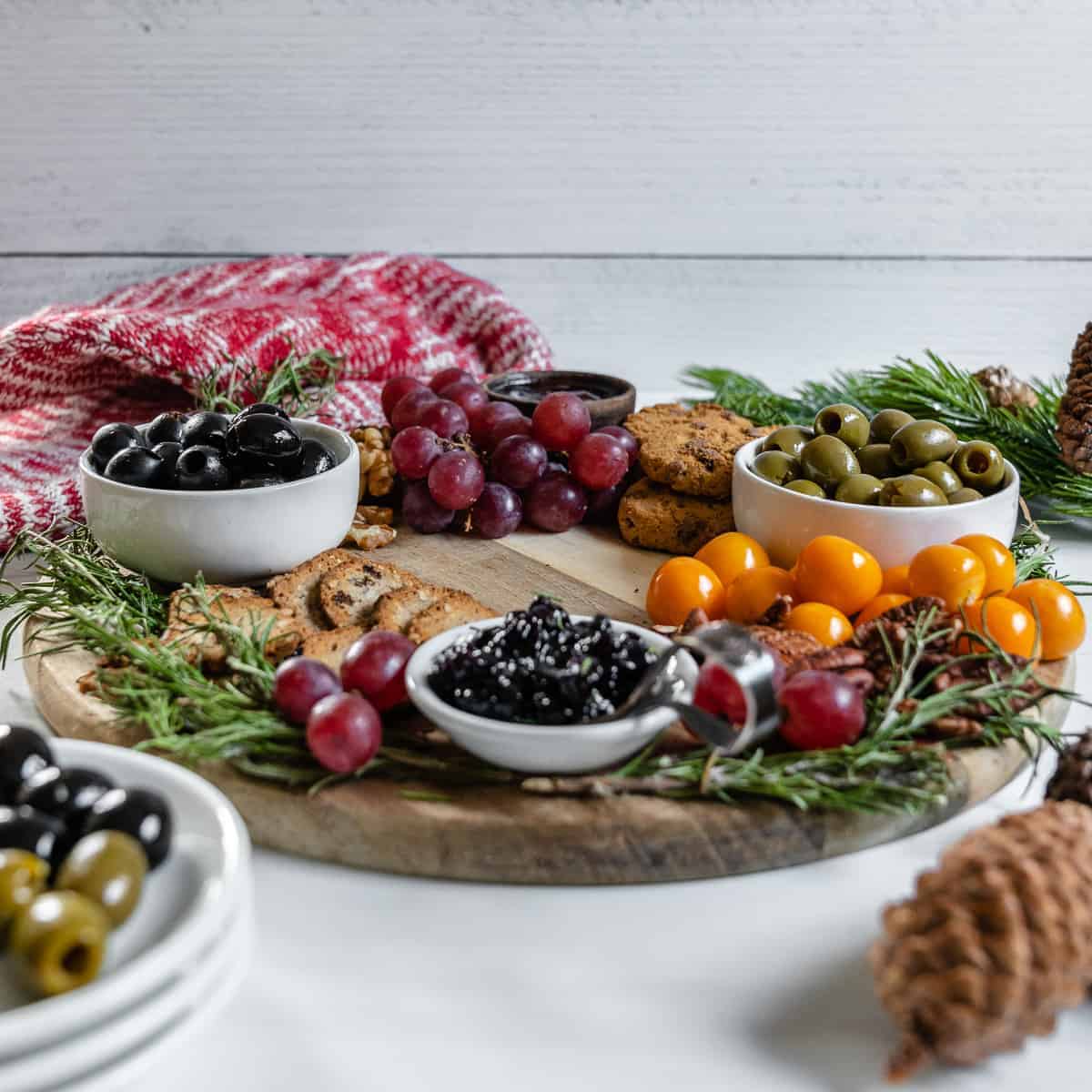 Other Charcuterie Themed Boards that you might like!
Charcuterie boards are great to have on hand for any occasion. If you're looking for ideas for themed boards to go with any upcoming party, these recipes are a great way to start.
4th of July Charcuterie Board – We've made charcuterie boards with red, white, and blue accents for this recipe. When it comes to making this multicolored board, the possibilities are unlimited. Make your own according to your tastes.
Valentine's Day Charcuterie Board –  This wonderful dessert tray will certainly add to the cozy and romantic atmosphere that this love month has to offer. This explosion of flavors and textures will satisfy your sweet tooth.
Christmas Wreath Charcuterie Board
This easy-to-assemble Christmas Wreath Charcuterie Board is the perfect holiday centerpiece! An edible wreath with a stunning assembly of briny olives, sweet fall and winter fruits, chewy cookies and dried fruits, crunchy nuts and crackers, fresh herbs, and jams.
Ingredients
1

cup

CA green olives

1

cup

CA black olives

2

cups

purple grapes

handful

Cookies

handful

fall or winter fruits

½

cup

walnuts

½

cup

pecans

2

tablespoons

Blueberry jam

2

tablespoons

Strawberry jam

handful

crackers

salty or plain

10

bunches

fresh rosemary

or more

handful

prunes

or dates, sliced figs
Instructions
Place olives and jams into small bowls or shallow dishes and place on the board.

Add crackers and fruits spacing them out on the board.

Fill in gaps on your board with nuts and more grapes.

Add the fresh rosemary around the platter to design the wreath and serve immediately or chill until ready to serve.
Nutrition
Calories:
160
kcal
Carbohydrates:
14
g
Protein:
2
g
Fat:
12
g
Saturated Fat:
1
g
Polyunsaturated Fat:
4
g
Monounsaturated Fat:
6
g
Sodium:
424
mg
Potassium:
148
mg
Fiber:
3
g
Sugar:
9
g
Vitamin A:
247
IU
Vitamin C:
3
mg
Calcium:
41
mg
Iron:
1
mg
Disclaimer: Although plantbasedonabudget.com attempts to provide accurate nutritional information, kindly note that these are only estimates. Nutritional information may be affected based on the product type, the brand that was purchased, and in other unforeseeable ways. Plantbasedonabudget.com will not be held liable for any loss or damage resulting for your reliance on nutritional information. If you need to follow a specific caloric regimen, please consult your doctor first.
Additional Info