As an Amazon Associate I earn from qualifying purchases.
Welcome to the final week of the challenge! This has been a really great experience for me, and I hope that it has been so for you as well. My partner David and I have been able to save almost half of our income for the month, which has never happened. We never realized just how much money we were spending on food!
To be honest, we eat a rotation of food in our household, so this week there are a lot of repeats. I also admittedly ate more pasta than usual this week, because it's getting cold and all I want are comforting foods! The list came out to a lot less this week, so feel free to add extra side veggies and fruit!
If you're looking for additional resources to help you with a plant-based diet: Check out this support group on Facebook where you can share tips and low-cost plant-based recipes. The New York Times bestseller called How Not to Die by Dr. Michael Greger is a fantastic resource to learn about plant-based nutrition. He also has a great website, Nutrition Facts, that has a ton of free resources. If you're interested in stopping your consumption of dairy, The Dairy Detox can help you out with an entire online detox guide for only $10!
—————————————————————————————–
1 jar marinara: 1.28
2 stalks celery: .68 for 1 bunch
1 can tomato paster: .18
2 zucchinis: .78
½ cup panko bread crumbs: .75
1 can black beans: .65
3-4 carrots: .98 for 2 lb bag
1 bunch cilantro: .58
2 cups cornmeal: .60
2 Avocado: 1.76 (optional)
3 onions: 1.04
1 head garlic: .48
28 oz can diced tomatoes: 1.04
2.5 cups lentils: 1.21
2 pkgs xtra firm tofu: 2.96
Bag of fresh spinach: 1.69
Manicotti noodles: 1.62
1 lb elbow pasta: .78
5 sweet potatoes: 2.75
Almond milk: 1.99
1 lime: .20
1 pkg mushroom: 1.69
2 bunch kale: 1.96
2.5 cup barley: 1.26
1 pkg bouillon: 1.00
1 can chickpea: .65
2 lbs oats: 2.42
1 bunch 7 bananas: 1.60
1 lb granola: 2.20
1 lb cornflakes (cheapest brand): .82
37.60
—————————————————————————————–
Friday, November 22, 2013

Breakfast: Granola and 1 banana divided
Lunch: Lentil Soup
Because I am a creature of habit and I like what I like, this barley lentil soup made another appearance on my list.
Dinner: Chickpea tacos
I also made the chickpea tacos from week 1 again as well, with this recipe for tortillas. If we are being honest, I would eat these everyday. I ate these with one avocado and a handful of baby spinach.
——————————————————
Saturday, November 23, 2013
Breakfast: Oatmeal and banana
Lunch: Leftover tacos
Dinner: Black Bean Burgers with Zucchini Fries
Here is another recipe that I modified from Chloe Cosscerelli's wonderful cookbook Chloe's Kitchen. These burgers were THE BEST.
I made 4 big patties out of this batch, cooked two of them and put the other two in the fridge for tomorrow's lunch. I added sliced avocado, and veganaise and a tomato that I found in the fridge and was probably too old to consume.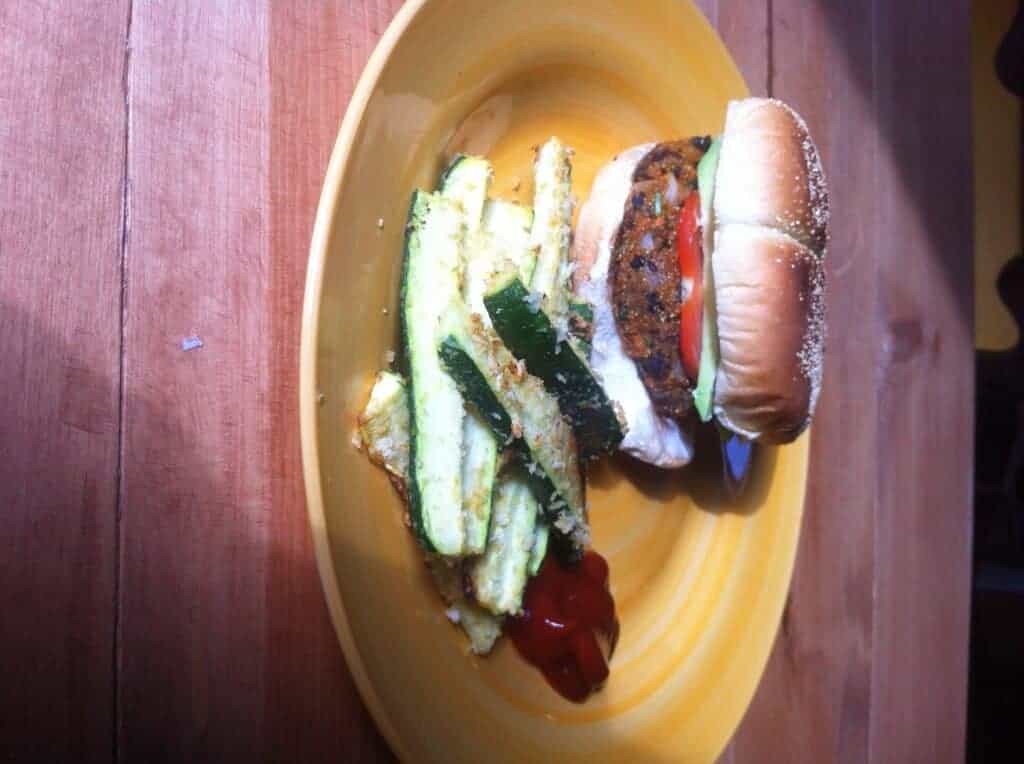 Black Bean Burgers

About 4 tablespoons olive oil, divided
1 onion, finely chopped
1 15oz can black beans, rinsed & drained
1 carrot, peeled and rougly minced
½ cup cornmeal
½ cup bread crumbs
1 tablespoon chili powder
1 teaspoon sea salt
¼ cup chopped fresh cilantro (optional)
¼ cup of water
Directions
In a large non-stick skillet, heat 2 tablespoons oil over medium heat. Add onions and let cook until tender and slightly caramelized. Transfer onions to a large bowl and set aside.
Add beans carrots, cornmeal, breadcrumbs, chili powder, salt, cilantro and water to bowl of onions. Use a large spoon or your hands to mash it all together (I used a food processor and pulsed it a few times, this was much easier than using my hand or spoon). If the mixture is too dry to hold together, add water, 1 tablespoon at a time.
Instead of fries, I made Margaret's zucchini fries sans nutritional yeast because I didn't have any!
——————————————————
Sunday, November 24, 2013
Breakfast: Cornflakes, almond milk, banana
Lunch: Black bean burgers with sweet potato fries
Dinner: Manicotti
Manicotti is one of my all time favorite things to eat, and is relatively easy to make. Follow the ziti marinara recipe prep exactly and make the ricotta but stuff it into manicotti shells instead on piling on top of ziti, and pour sauce over manicotti noodles.
*Instead of frozen spinach, I used fresh baby spinach
——————————————————
Monday, November 25, 2013
Breakfast: I had one banana and David had oatmeal
Lunch: Manicotti
Dinner: Meaty Lentil Sauce Sloppy Joes
I made Margaret's Homestyle "Meaty" Tomato Sauce but put it on the toasted buns I had left over from the black bean burgers. Of course, it would be delicious over pasta as well.
——————————————————
Tuesday, November 26, 2013
Breakfast: Dry granola
Lunch: Sloppy joe leftovers
Dinner: Sweet Potato Mac
While preparing for Thanksgiving I made the Sweet Potato Mac from last week, because it's easy, festive, and delicious.
——————————————————
Wednesday, November 27th, 2013
Breakfast: Oatmeal with divided banana
Lunch: Sweet Potato Mac
Dinner: Barley Mushroom Kale Pilaf
It's gotten cold here in California over the last week, and all I want is comfort food. Which is why I made one of my favorites.
——————————————————
Thursday, November 28th, 2013
Breakfast: I had oatmeal, and David had oatmeal with a banana
Lunch: Leftover pilaf
Dinner: Mashed Sweet Potato, Kale, and Skillet Corn Bread
3 pounds sweet potatoes
1/2 teaspoon salt
1/2 teaspoon cinnamon
1/4 teaspoon allspice
1/4 teaspoon nutmeg
1/4 teaspoon ginger
2 tablespoons maple syrup or agave
1 tablespoon vegetable oil (Not olive oil)
1 bunch kale, chopped
1 tbl spoon olive oil
2-3 garlic cloves, minced
Mashed Sweet Potatoes:
Being that it was Thanksgiving and all, this is the dish I prepared appropriately.
I adapted this sweet potato recipe from Veganomicon by Isa Chandra Moskowitz & Terry Hope Romero
You can preheat the oven to 400 and place sweet potatoes directly on racks (no need to poke holes) for between 45-60 minutes. Because I am the world's laziest, I poked them full of holes and put them in the microwave for 10ish minutes
Once you can easily poke through the potatoes in the center, they are done. Remove from the oven/micorwave and split them lengthwise; leave them opened to speed up cooling.When still warm but not too hot to handle, scoop out the sweet potatoes with a spoon and place in a mixing bowl or pot. Add the salt, spices, maple syrup, and oil and mash everything together.
Kale:
There is no real wrong way to cook kale. I way I do it is: heat oil in a pot on medium heat, add garlic and saute for 2 minutes, add kale and mix to incorporate. Add 1/4 cup water, lower heat, cover and let steam until wilted to your liking. I then season with salt and pepper.
Cornbread: