50 Easy vegan appetizer recipes for impressing at parties and events. Including dips, platters, vegan finger foods, and more that even meat eaters will love!
Whether you're vegan, vegetarian, plant-based, or simply looking for appetizers to impress a crowd, look no further. We've got 50 easy appetizers that are sure to impress your guests! In the list, we've shared a selection of 50 vegan appetizer recipes that you can choose from. Get ready to impress at dinner parties, holidays, game days, and more!
Even better, while we compiled our list of best vegan appetizers, we've made sure that they're all also budget-friendly and easy to prepare. Most importantly, they're all ready to impress a crowd. After all, no party is complete with delicious snacks and apps!
Jump to:
Tips For Pulling Together A Party Appetizer Spread
Variety is the spice of life: Especially for a large gathering as it's important to cater to various dietary needs and flavors, so there's something for everyone. All in all, create a mix of colors, textures, and temperatures.
Meal prep is your friend: Many of the easy vegan appetizers below can be prepared partially (or entirely) in advance. Henceforth, meaning less stress on 'the day of.'
Two hands are better than one: Want to take some of the pressure off yourself? Why not celebrate potluck style?! For example, prepare a list of recipes for guests to choose from. Alternatively, allow it to be a surprise (a theme can help, though!)
Read the room: There's a time and a place for vegan buffalo wings, and it's not (usually) a fancy, exclusive soiree. All in all, match the appetizers to the event for a successful evening.
Don't forget the 'tools': If you're serving lots of dips, make sure there are plenty of tools for dipping. Have bread and vegan butter? Ultimately, make sure there are several knives, serving plates, etc.
Platters and Boards
An easy way to cater to many events and tastes is with a charcuterie board/ appetizer platter. With a combination of dips, nibbles, and other bits and pieces, there's something for everyone. Plus, it's really easy to adapt them to theme, event, holiday, and more!
A simple how-to for putting together a vegan charcuterie board. Ultimately, there's something for everyone with a selection of fruit, nuts, vegan cheese, and even meat alternatives.
How to Make a Vegan Charcuterie Board
My favorite way to beautify my fall tablescape is to whip up a charcuterie board with lots of color and texture. I love how they're really customizable, and use a combination of my favorite fruits, bulk staples, and vegan products.
View Recipe
This Valentine-themed vegan dessert board is perfect for impressing chocoholics and those with a sweet tooth. Above all, with a combination of fruits and vegan chocolate-dipped treats, this board is simple to assemble but ready to impress!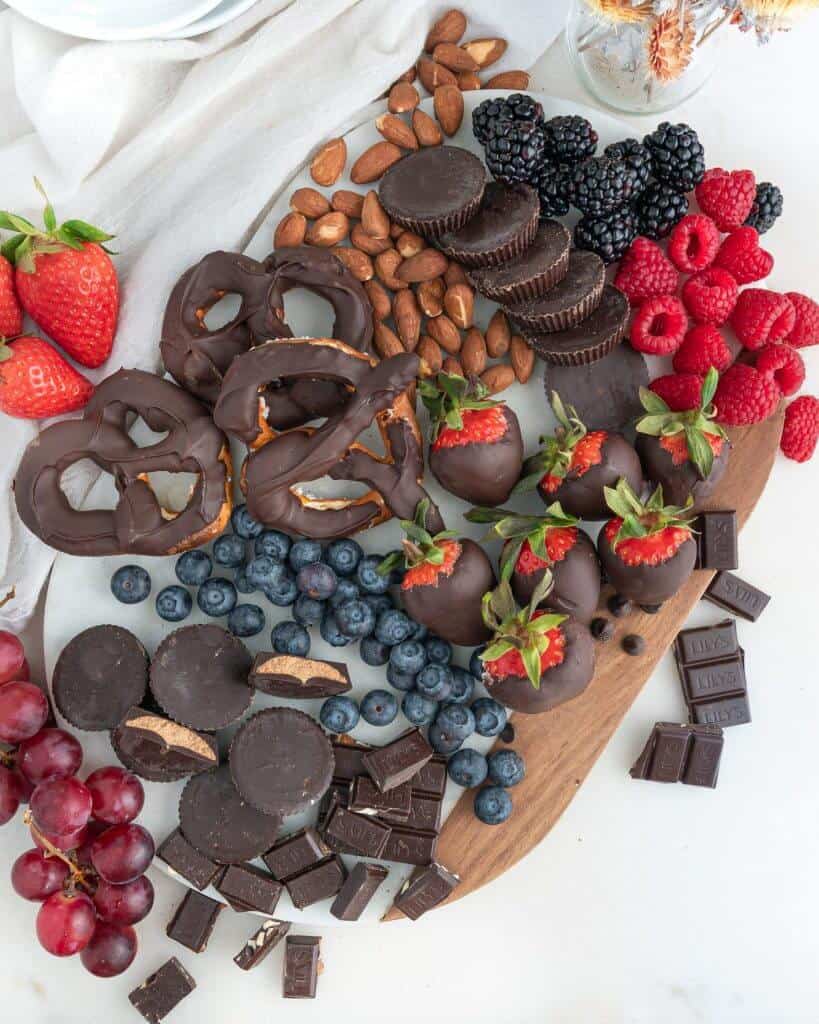 No Independence Day celebration would be complete without the telltale signs of red, white, and blue, both in the decorations and the vegan appetizers. For this reason, this holiday-themed platter is full of a variety of flavors, textures, colors, and a diverse spread of crackers, dips, fruits, and veggies.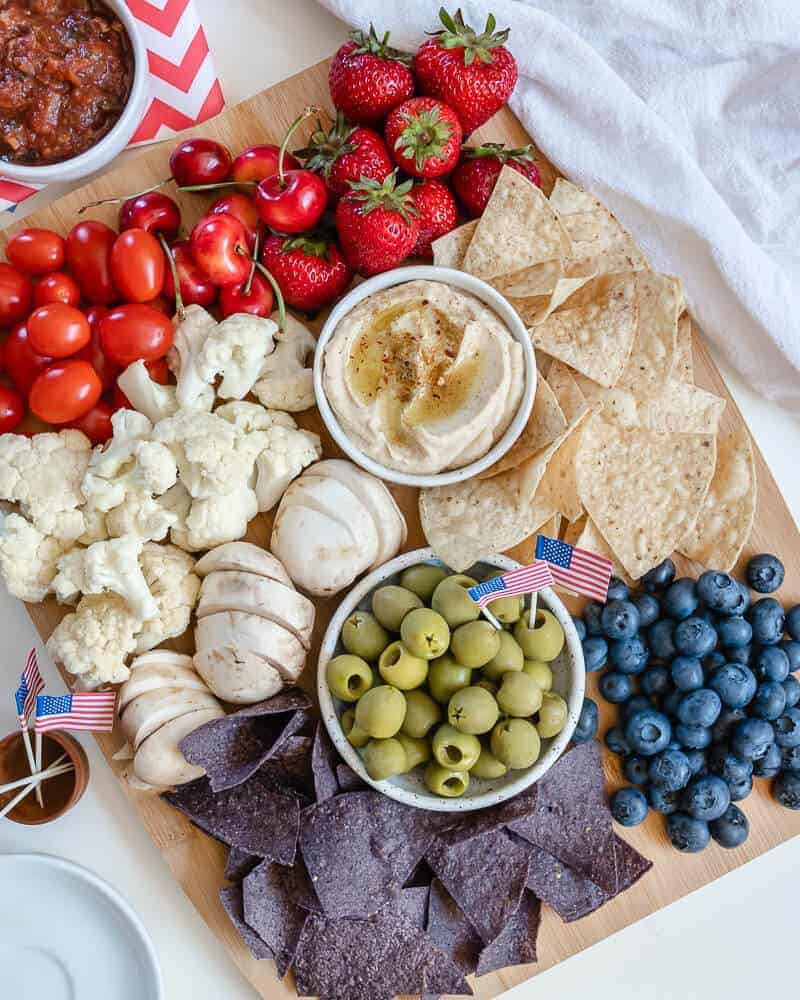 This simple turkey-shaped mixed crudites and dip platter is perfect for a healthy, plant-based Thanksgiving celebration. So, all you need is a few fun, fresh ingredients to sneak in extra veggies on a day of overindulgence. Speaking of which, you might also enjoy our list of 45 Thanksgiving recipes too!
The idea behind this easy vegan appetizer is simplicity and versatility while making a great table centerpiece. All in all, choose your favorite option of dip and veggies (green and red will put you in the holiday spirit!). Then, shape it like a wreath for a simple, nutritious, plant-based appetizer!
This vegan charcuterie board is the perfect centerpiece for any holiday celebration. It includes a combination of fruits, veggies, nuts, sweet treats, and more.
As a bonus addition to this category, this simple 4-ingredient free-formed bread is a low-budget, delicious addition to any charcuterie board or vegan appetizer platter.
Vegan Dip Recipes
What party would be complete without chips and dips?! With a combination of several plant-based household favorites and new vegan appetizers, there's something for everyone.
This classic dip is smooth, creamy, flavorful, and made with a handful of pantry staples. Serve it up with veggies, warm pita bread, and crackers. All in all, it's a simple, wholesome, easy vegan appetizer that tastes far better than any store-bought version. Even better, we also have roasted red pepper, pistachio, and yellow lentil versions!
Alongside hummus, guacamole is one of our top must-have dips for any gathering. It's super creamy, versatile, pairs with tons of meals, and packs in a bunch of nutrients too! Even better, this recipe is easy to adapt and ready in just minutes.
This Spicy Lentil Kalamata Spread is creamy, salty, sweet, and savory. Enjoy it warm to dip or allow it to cool and enjoy it as a spread with pita bread and crackers. Altogether, it's a hearty, wholesome, protein-dense vegan appetizer recipe!
This spinach artichoke dip from A Sweet Alternative is absolutely loaded with flavor. At the same time, it's thick, creamy, and absolutely delicious served warm and melty with crackers, bread, or crudités.
With caramelized onion, garlic, chives, and vegan sour cream, no one will believe this onion dip from My Quiet Kitchen is dairy free and made with wholesome ingredients. Nevertheless, it's also fantastic with burgers, sandwiches, and baked potatoes.
This Buffalo Chickpea Dip from No Sweat Vegan is an easy and delicious vegan appetizer that's perfect for sharing. Above all, it's thick, creamy, and packs in a flavorful punch with just the right amount of spice. Then, pair with chips or raw veggies for a colorful party platter.
Made with roasted beetroot, this perfectly pink roasted beetroot hummus from Resplendent Kitchen is a healthy and tasty snack that you and your guests will love. Altogether, it's slightly sweet, savory, earthy, and pairs well with all sorts of crudités and crackers.
This smooth roasted cauliflower dip from Heart Beet Kitchen is a delicious, flavor-packed, bean-free alternative to hummus. Undoubtedly, it's creamy and slightly sweet, thanks to the natural caramelization of the roasted cauliflower. In addition, it's enhanced further with the addition of tahini, lemon, and garlic.
Vegan Finger Foods
No matter the occasion, here are some vegan finger food options that are sure to impress. With options like cauliflower wings, tater tots, fries, and more, there is sure to be something that takes your fancy.
With more protein, fiber, antioxidants, and nutrients than regular tater tots, these quinoa tots are an excellent addition to any vegan finger food spread. All in all, with a combination of quinoa, mushroom, and chives, these dairy-free, egg-free, and optionally oil-free tots are a diet-friendly crowd pleaser.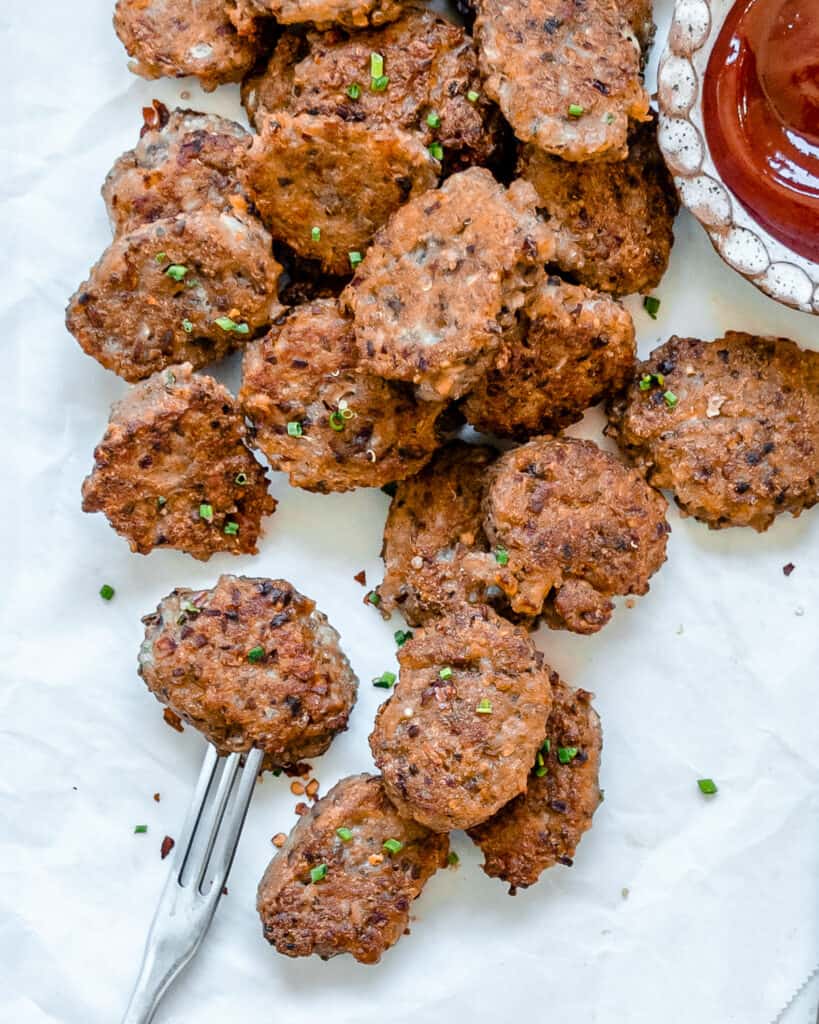 These easy garlic baked potato wedges (air fryer method included) are tender and fluffy in the middle with a lightly spiced, crispy shell. Simply, they are perfect for tossing with garlic and parsley for an addictive vegan appetizer, side, or snack!
With a simple sweet and savory seasoning, these tofu bites are just at home in this list of veg appetizer recipes. Moreover, they're perfect for serving with a dip like roasted red salsa or tomato chutney, as they are a part of a salad or grain bowl.
These oven-baked Potato Fries are sprinkled with sesame seeds and baked until they're crunchy and golden-brown. Then, enjoy with all your favorite dips for a simple but reimagined version of a crowd-pleasing plant-based appetizer.
Swap out the usual spuds for these super crispy, tender in the middle, crunchy baked zucchini fries. With a savory bread crumb coating, these zucchini fries are a delicious vegan finger food to serve with the condiments of your choice. You might also enjoy these baked carrot fries.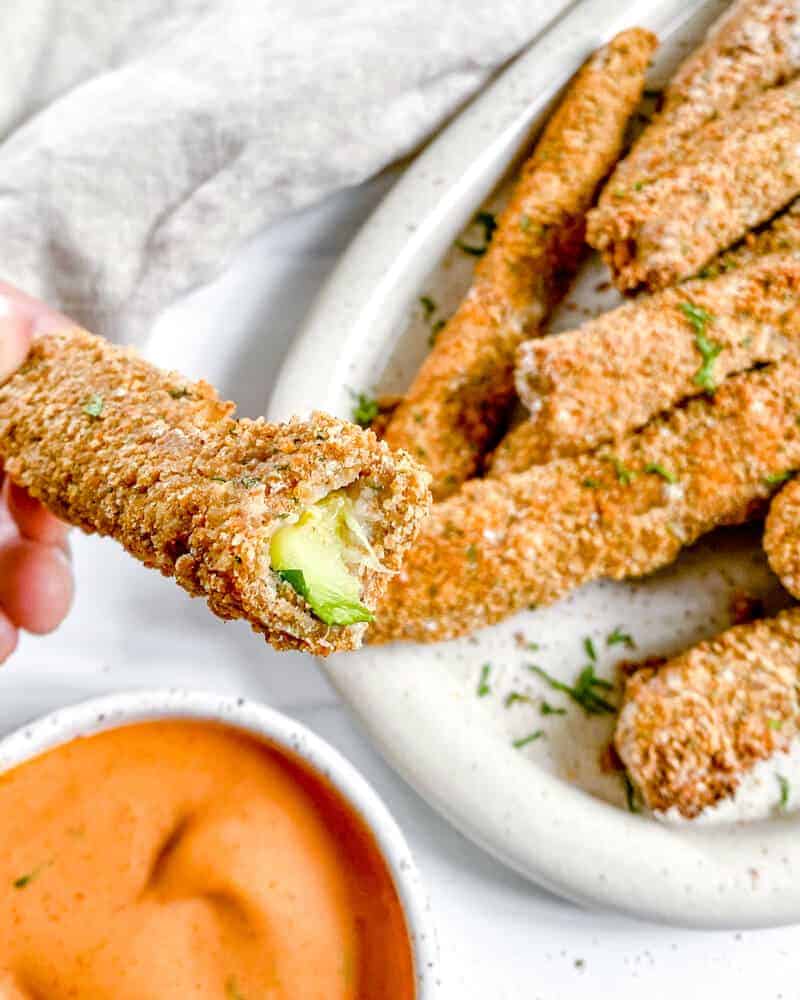 This simple, high-protein vegan finger food works well as an appetizer or side, ready to dip into your condiment of choice.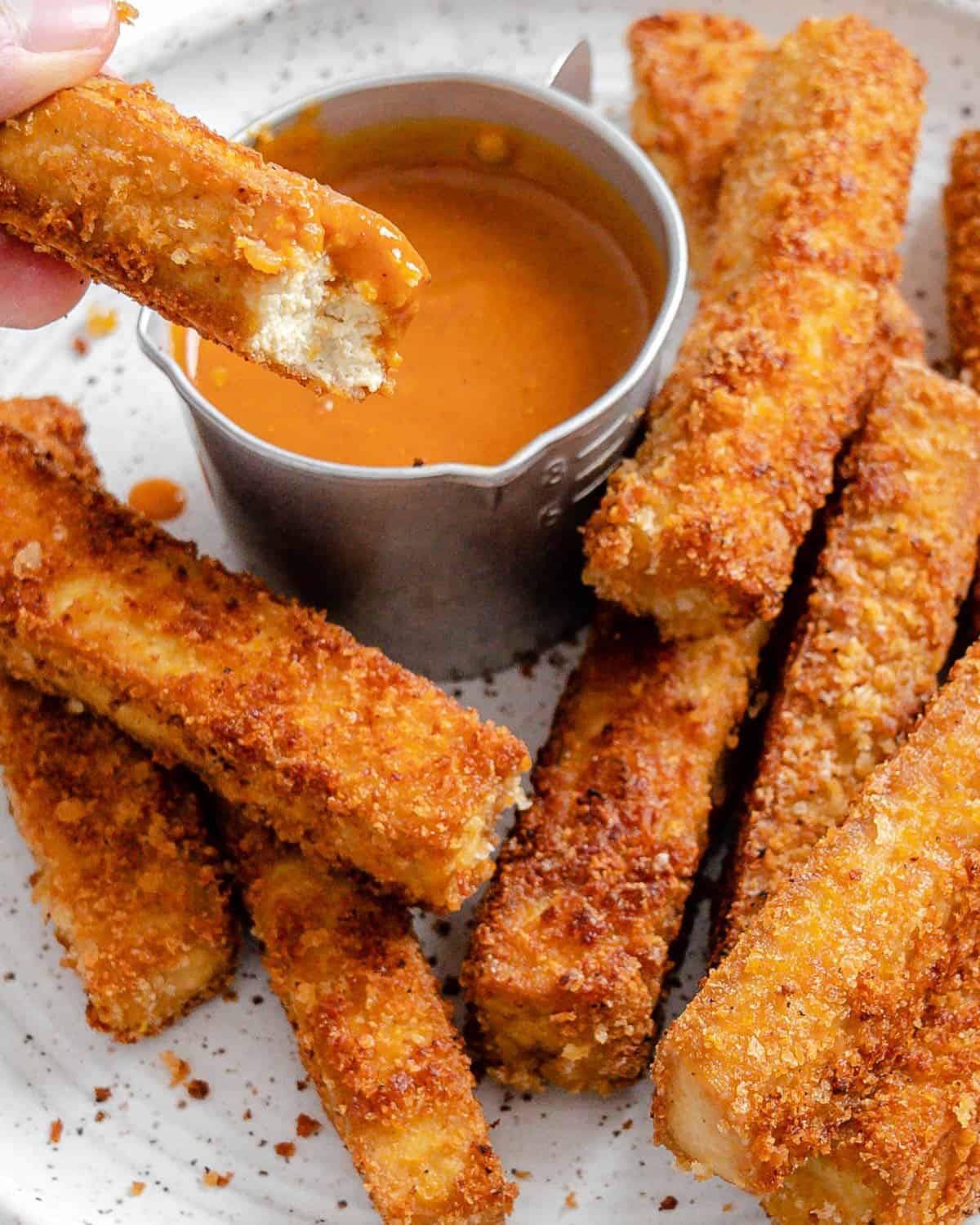 This recipe for vegan pigs in a blanket from Rescue Dog Kitchen is so easy to make, and they're the perfect finger food for any occasion! With a combination of grocery store pastry and vegan hotdogs, these are a simple veggie super bowl snack (or for other events) that the entire party will enjoy.
When you're looking for a lighter, low-carb alternative to pizza, these zucchini pizza bites from Debra Klein have your back! They're simple to prepare, flavorful, versatile, and won't be out of place as part of any vegan finger food spread.
If you're looking for veggie super bowl snacks, buffalo wings are a must. However, this version from Delish Knowledge ditches all meat for a lighter yet still flavor-packed cauliflower version. These buffalo cauliflower wings are super crispy thanks to the use of an air fryer without the need for tons of oil and will impress vegans and non-vegans alike!
These cucumber bites by Veggie Inspired are easy to make and a super versatile easy veggie appetizer. Combining chunky cucumber slices with a sun-dried tomato topping, these bite-sized snacks are perfect for BBQs and summer entertaining. Swap out the spread for a store-bought hummus for an even quicker vegan, gluten-free appetizer.
These easy Vegan Croquettes from Kiip Fit are a delicious veg appetizer recipe for any party or occasion. They're crispy on the outside with a tender middle, packed with hidden veggies, and perfect for dipping. Even better, they're oil-free and can be oven-baked or air-fried.
For any pizza lovers (so everyone!), let us introduce you to this stromboli from A Plantiful Path. Fill the pizza roll with all your favorite pizza toppings, roll, and bake to perfection. The result is a centerpiece-style vegan appetizer recipe ready to impress!
These tasty thin-cut French fries from Beautiful Ingredient are oil-free, quick, and easy, thanks to an air fryer (oven method included)! A whole-food plant-based, oil-free, vegan, gluten-free appetizer that's a must-have at all sorts of parties, game day celebrations, and events!
Shane and Simple's vegan buffalo tofu wings are the perfect vegan finger food, game-day snack, or comfort food. Covered in a crunchy panko bread crumb mixture, then tossed in a spicy buffalo sauce, they're baked to crispy perfection and completely oil-free!
Southwest and Mexican Recipes
This easy vegan nacho sauce requires just 7 ingredients and under 20 minutes to make and is creamy, 'cheesy', and packed with hidden veggies for a nutrient boost. Enjoy it with crudites, crackers, and chips for dipping, or pour it (liberally) over nachos. Delicious!
This fresh and fruity salsa is summery and bright, perfect for enjoying with tortilla chips as a light and healthy plant-based appetizer.
Ditch some carbs for lettuce with these light yet nourishing Southwestern lettuce wraps with beans, corn, avocado, and added punch from a simple, spicy sauce. A simple vegan gluten-free appetizer you can enjoy year-round!
Enjoy these crispy Vegan Baked Taquitos from Vegan Huggs filled with savory jackfruit and melted vegan cheddar cheese. Ultimately, serve them with a delicious dip and watch your guests devour them!
This Creamy Tomatillo Avocado Salsa Verde is spicy, smoky, and ready in under 15 minutes. A delicious and nutritious veg appetizer recipe perfect for serving with chips and crudités. You might also enjoy this homemade roasted red salsa.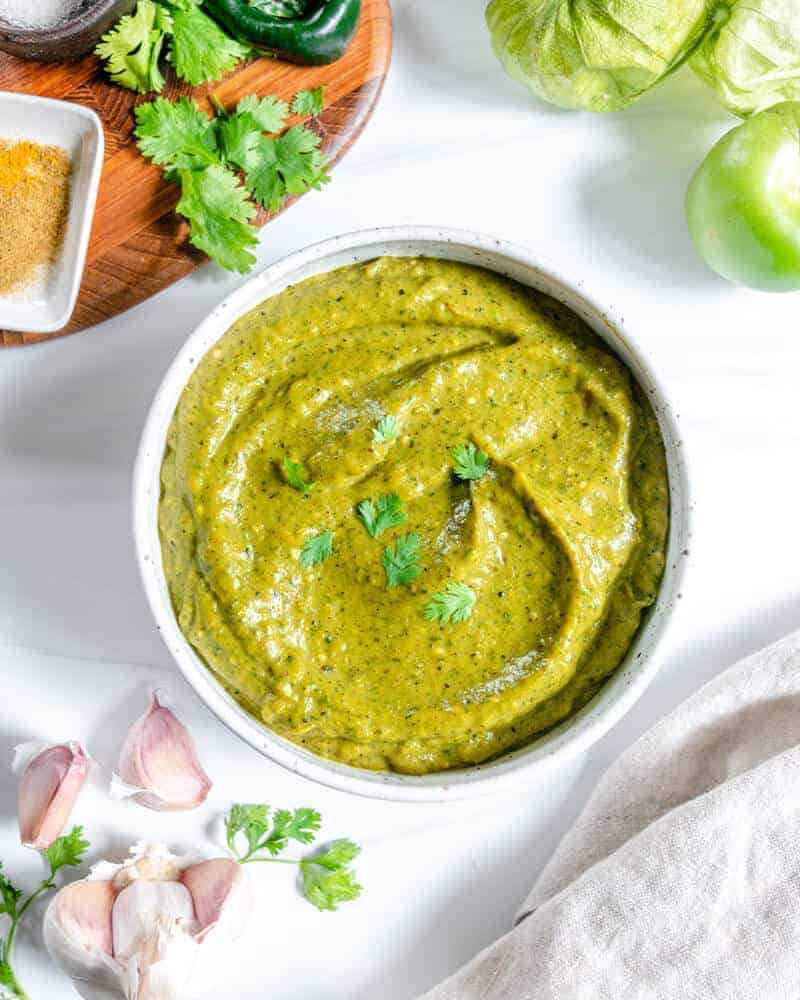 Whether it's taco Tuesday or you're looking for simple but hearty and nutritious vegan appetizer recipes for game days and other events, tacos are never a bad idea. Not only is the roasted veggie filling highly versatile, but we've also posted recipes for Chipotle lime street-style tacos, breakfast tacos, cauliflower tacos, lentil tacos, etc.
Veggie Based Appetizers
These versatile, easy veggie appetizers include crispy cauliflower, stuffed mushrooms, soup, and more. Whether you want small vegan finger foods or something a little heartier, below are plenty of veg appetizer recipes to boost any meal or event.
Blistered shishito peppers are mildly sweet, spicy, smoky, and ready in just minutes. All in all, they're perfect for enjoying tapas-style for dinner parties and gatherings.
Enjoy this crispy, lightly caramelized cauliflower smothered in a sauce or for dipping as a low-carb alternative to bread and crackers.
Use an air fryer for super crispy Brussels sprouts. They're lightly caramelized, crispy, and packed with flavor. Perfect for enjoying as a healthy plant-based appetizer or side dish.
While we love enjoying large stuffed peppers as a main, these rice stuffed baby peppers make for a nutritious vegan appetizer for everyone to enjoy that will fill you up without weighing you down. Best of all, they're highly versatile and quick and simple to prepare.
Simple and flavorful vegan pakora require just a handful of ingredients (and versatile veggies), are easy to make, baked or air-fried, naturally gluten-free, and ready in under 30 minutes! Above all, it's a delicious veg appetizer recipe to enjoy with chutney.
This zesty, herby potato salad combines parsley and almonds and is versatile and perfect for serving as a flavorful veg appetizer recipe at BBQs, potlucks, and dinner parties.
This plant-based version of an Italian classic makes for a wonderful vegan super bowl appetizer and for dinner parties. Additionally, the pasta shells are super 'cheesy' and covered with a marinara sauce for a simple yet flavor-packed treat.
This plant-based version of a Thai classic swaps out meat for tofu, combining it with cilantro, onions, soy sauce, and jalapeno for a fresh, delicious, and nutritious mixture delicious for serving in lettuce wraps.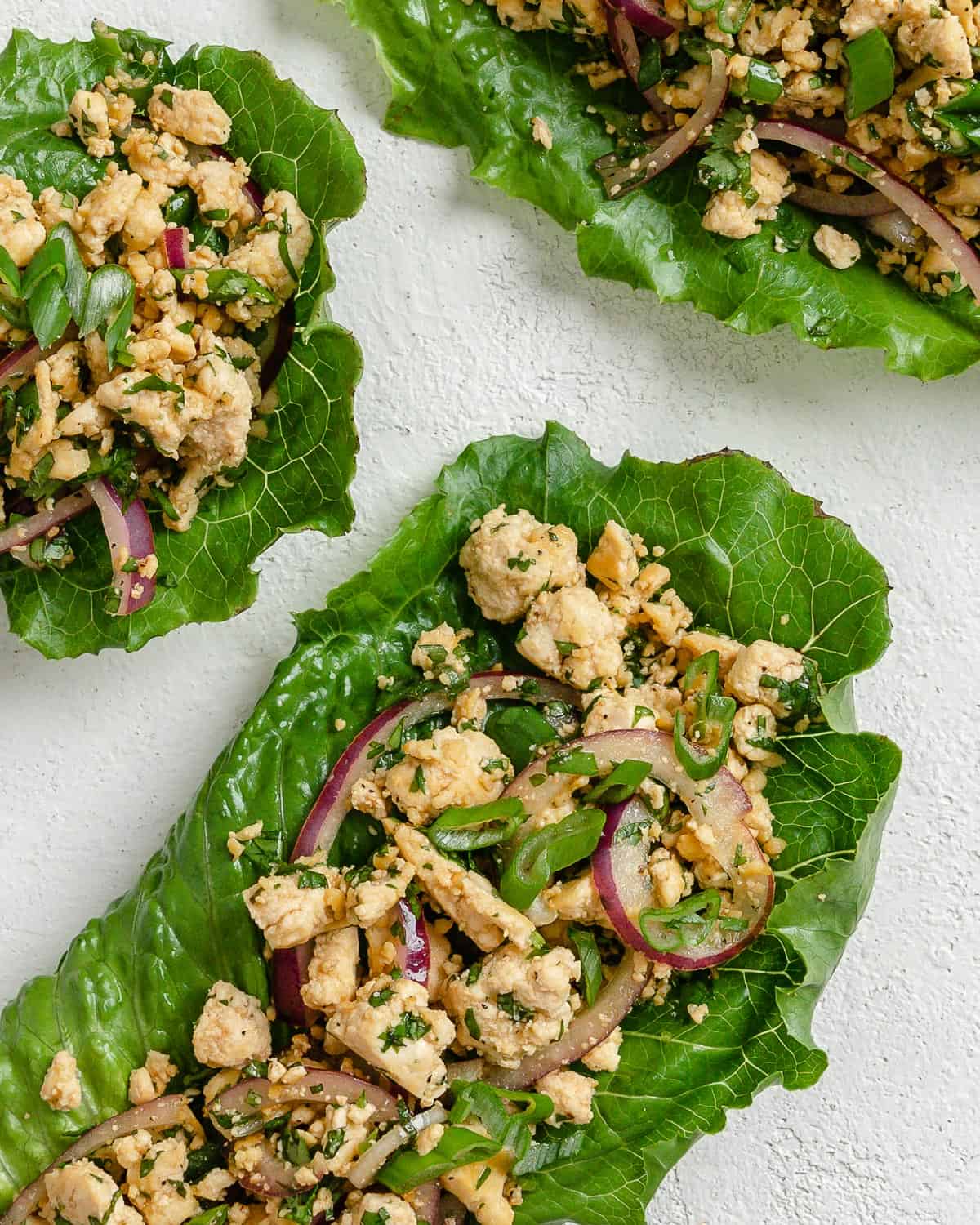 If you're looking for a simple, fuss-free vegan appetizer ready in just minutes but packed with fiber, protein, and several vitamins and minerals (including potassium, vitamin K, and folate), you've found it. Even more, this edamame salad is fresh, flavorful, and a great green vegetable salad for dinner parties and potlucks.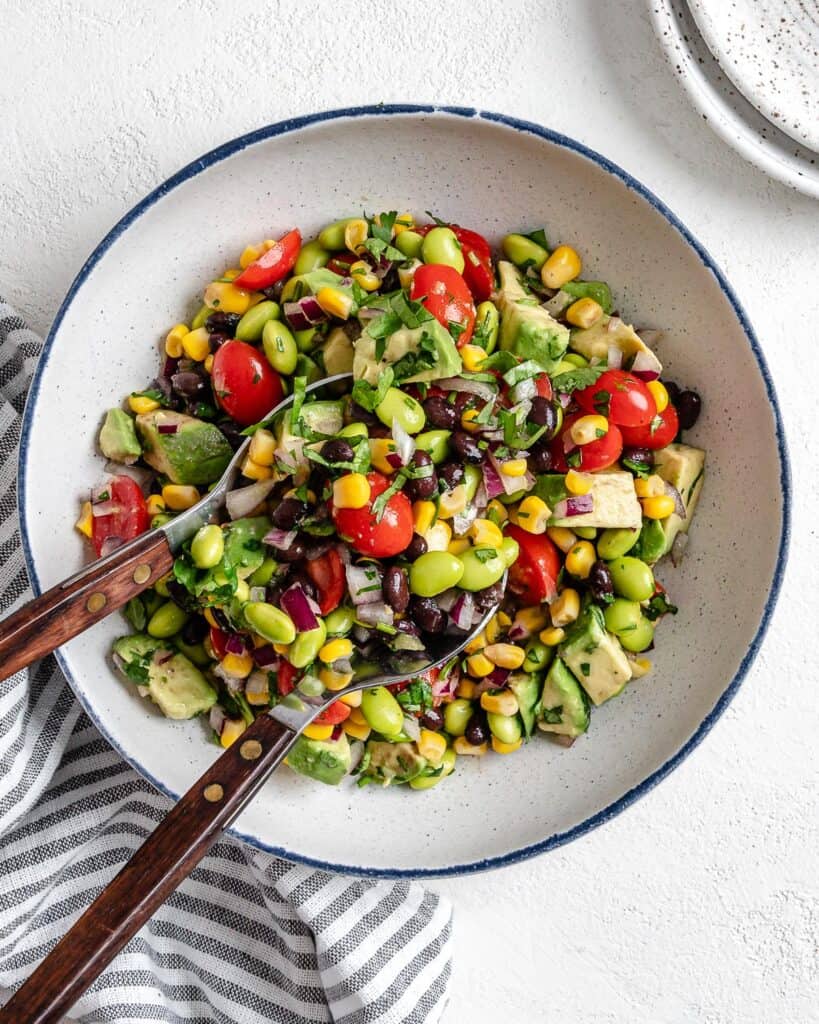 These quinoa, black bean, and artichoke stuffed tomatoes make for a nourishing and hearty easy vegan appetizer or main. Even better, they're simple to prepare, too.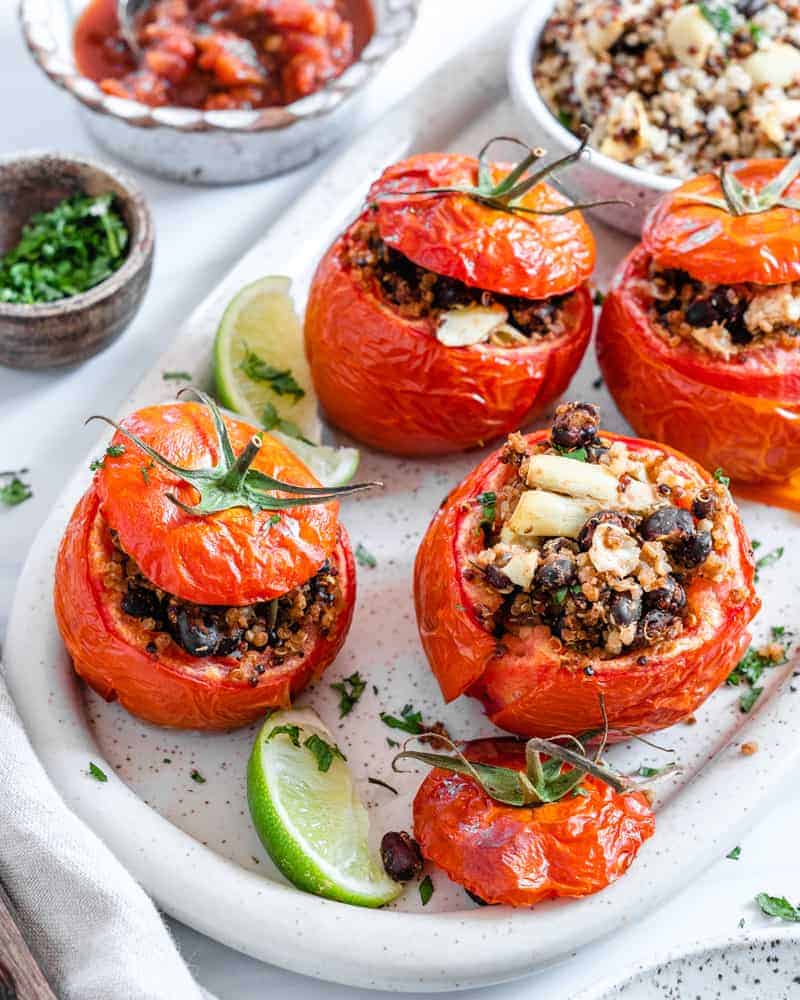 Transform humble, low-budget carrots into a light, creamy, and delicately spiced carrot soup. Altogether, it requires minimal ingredients, simple steps, and can even be meal prepped and reheated as needed.
If you're interested in more simple, plant-based soup recipes, you might enjoy this mushroom pasta soup, vegan matzo ball soup, or this round-up of 23 cozy vegan soup recipes.
Stuffed mushrooms are a classic party food. They're hearty, filling, simple to prepare, and packed with flavor. Altogether, it's an easy vegan appetizer for the holidays, dinner parties, and all sorts of events. This version stuffs the mushrooms with their stems. However, you may also enjoy this sweet potato grain stuffed version, pumpkin seed pesto version, or pesto pasta filled mushrooms.
Swap out carby frozen mini pizzas for these juicy and delicious pizza mushroom bites. Stuffed with tomato sauce and melty vegan cheese, these mushroom bites are simple to prepare and packed with your favorite pizza flavors. Above all, they're a delicious vegan finger food for potlucks, game days, dinner parties, and the holidays!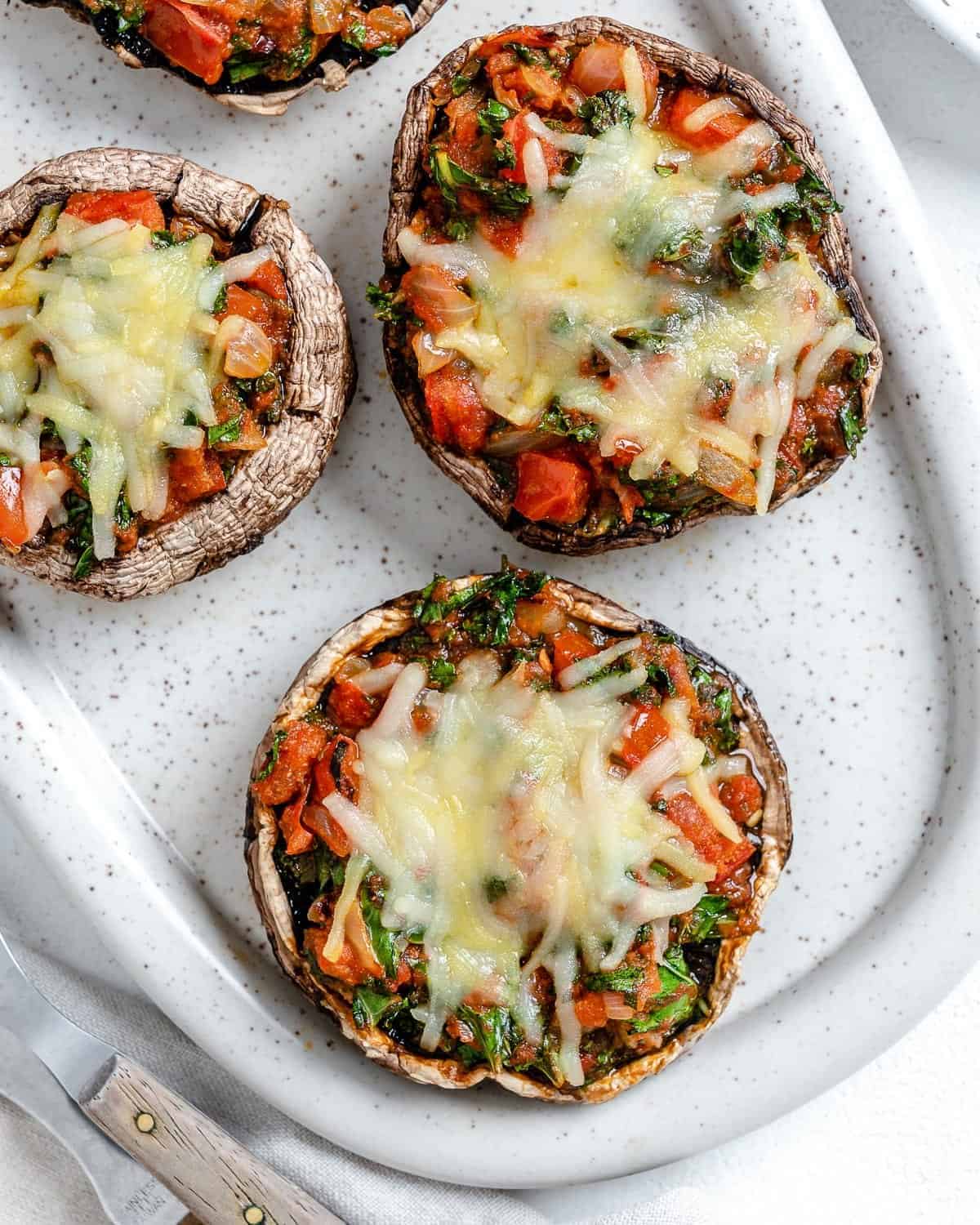 If you're looking for a plant-based appetizer to impress, why not try these Roman-style artichokes from Our Plant Based World? Above all, not only do they look amazing when presented on a plate, but they're wonderfully flavorful, too.
Tender and juicy fried oyster mushrooms from Vegan with Curves make the ultimate vegan appetizer! Moreover, they are the perfect fried chicken substitute and will be a hit at any game day or holiday event!
More Vegan Recipe Round-ups