As an Amazon Associate I earn from qualifying purchases.
Sunflower seed pesto is a delicious, 6-ingredient, frugal homemade pesto without pine nuts you can make in just 5 minutes! Perfect for pasta, sandwiches, wraps, pizza, and more!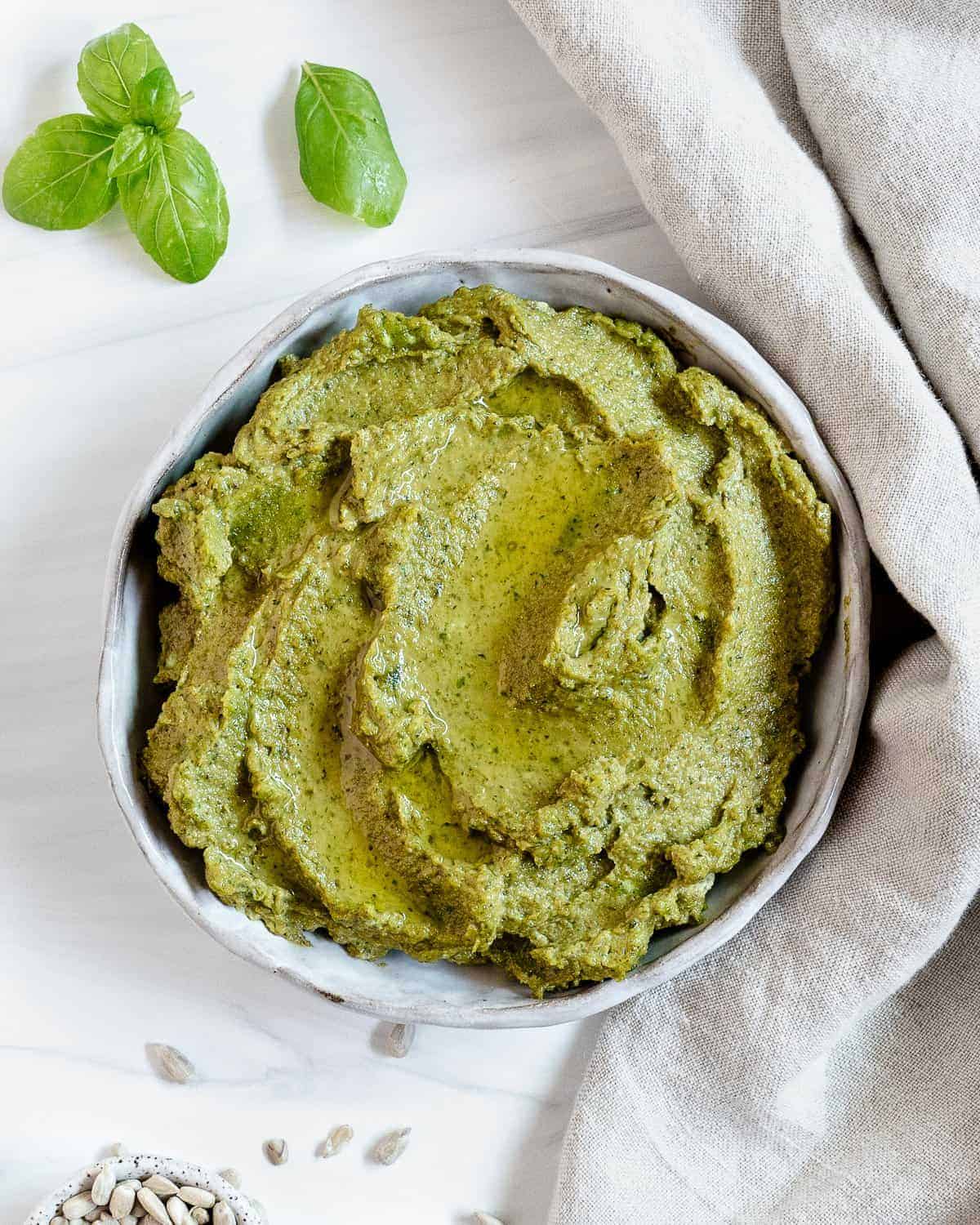 6-Ingredient Fresh Basil Sunflower Seed Pesto
As delicious and versatile as it is, traditional pesto is packed with expensive pine nuts and dairy-based parmesan. These ingredients are less than ideal for those who are plant-based on a budget. Luckily, you can make several ingredient swaps for a frugal pesto without pine nuts OR dairy-based cheese. We've already shared walnut pesto, arugula pesto, and parsley-arugula vegan pesto recipes. Now it's the turn of this inexpensive vegan basil sunflower seed pesto that tastes just as good as regular pesto but is far easier on your bank balance!
Sunflower seeds are not only inexpensive (sometimes up to 75% discount of the cost of pine nuts!), especially when bought in bulk in Mediterranean/Asian stores), but they also boast plenty of fiber, heart-healthy fats, and several vitamins and minerals, including vitamin E, folate, manganese, copper, etc.
More so, they make a wonderfully smooth and creamy pesto we absolutely love! When combined with fresh basil, olive oil, garlic, lemon, and nutritional yeast, this pesto really captures the essence of summer!
Best of all, this nut-free pesto takes just minutes to prepare in a food processor and is fairly diet-friendly (gluten-free, dairy-free, vegan, low-carb, whole30, etc.). You can even reduce waste as it's also meal-prep and freezer-friendly (for up to 6 months!). Not that we often have leftovers of this versatile dip/sauce/drizzle/spread!
The Ingredients and Substitutions
Basil: You'll need plenty of fresh basil leaves for this nut-free basil pesto. Alternatively, you can experiment with using other greens too. i.e., parsley, arugula, baby kale, spinach, etc. Use one or a combination of greens.
You can also help to reduce food waste by adding 'alternative' greens to the sunflower seed pesto, including well-washed carrot top greens, beet greens, etc.
Sunflower seeds: Use unsalted, raw sunflower seeds. Walnuts or sunflower seeds would also work.
Olive oil: Use a good-quality extra-virgin olive oil. This helps create a silky, smooth texture.
Garlic: If you prefer a more mellow garlic flavor, use roasted garlic, soak the raw garlic in ice water for 10 minutes, or swap out the fresh garlic for garlic powder (to taste). Adjust the amount to taste.
Salt & black pepper: Adjust the amount to taste.
Sugar: It may sound odd, but a pinch of sugar enhances and balances the flavor in this sunflower seed pesto. Adjust the amount to taste.
Nutritional yeast: To take the place of dairy-based parmesan cheese, we've used nutritional yeast for a slightly nutty, 'cheesy', umami-rich flavor in the vegan nut-free pesto.
Lemon juice: Adjust the amount to taste. Fresh lemon juice is best, but bottled juice will also work. For additional zing, add a small amount of lemon zest, too.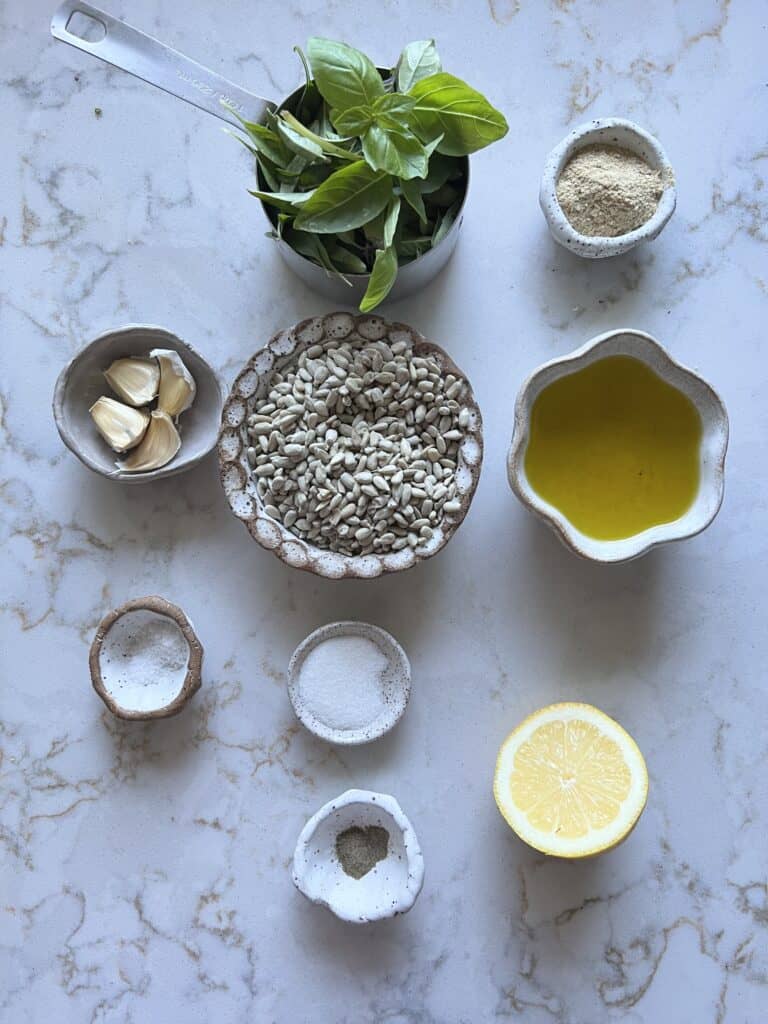 How to Make Sunflower Seed Pesto?
1) Combine all the ingredients in the bowl of a food processor and process until creamy, scraping down the sides as needed. The entire process usually takes 1-2 minutes at most.
2) Give it a taste and adjust any elements (garlic, lemon, nutritional yeast, etc.) to taste.
And that's it. The nut-free basil pesto is ready to enjoy; keep reading for all our favorite serving recommendations!
How to Make Ahead and Store?
Not only is sunflower pesto super versatile (as you're about to find out if you keep reading), but it's also fantastic for preparing in large batches and storing in the freezer!
Once prepared, you can store the fresh pesto with sunflower seeds in the refrigerator for 5-7 days. Alternatively, you can freeze it for between 4-6 months!
What is the best way to freeze pesto?
To freeze it, we like to spoon it into 1-2 tablespoon portions in an ice-cube tray, freeze until solid, and then transfer them to an airtight container. Then, when needed, allow the pesto cube/s to thaw at room temperature for 30 minutes. Alternatively, you could add them directly to certain dishes (i.e., into a sauce on the stovetop).
Note that basil pesto can darken because of oxidization; this is normal. If you want to keep it as vibrant as possible, keep the pesto stored in the ice cube tray (when freezing) or your jar/container of choice (in the fridge) with a thin layer of olive oil over it.
How to Use Pesto?
Pesto is one of our favorite versatile condiments for the sheer volume of options you have to use it up (and avoid food waste!). Here are just our top 12 ways to use pesto!
Pasta (warm or cold): Like vegan stuffed shells, gnocchi, mac n' cheese, spaghetti squash, lasagna, chilled pasta salad, etc.
Grains: Toss a few spoonfuls into any grain side or salad (like a quinoa salad, couscous, etc.)
Bread: Use the sunflower seed pesto with crostini, bruschetta, spread over sandwiches, toasties/paninis, wraps, burgers, etc. Like this tofu and pesto sandwich, a vegan grilled cheese sandwich, creamy mushroom sandwich, hearty pesto bagels, white bean burgers, etc. It tastes fantastic in any bread recipe with grilled veggies, too!
Veggies: Drizzle over grilled or roasted vegetables — like crispy cauliflower.
Stuffed vegetables: Like pesto pasta stuffed mushrooms (or pumpkin seed pesto stuffed mushrooms) and stuffed sweet peppers.
Soups: Either stir into or garnish soups like zucchini basil soup, broccoli soup, and kale bean soup
As part of a vegan cheese board/ charcuterie board or any grazing platter.
Dips: Mix this vegan nut-free pesto into (or garnish) hummus, white bean dip, vegan ricotta dip, a dairy-free yogurt-based dip, etc.
Dollop or drizzle it over pizza, like this Mediterranean hummus pizza or vegan calzones.
Salads: Turn into a dressing/ pesto sauce or mix into potato salad and drizzle over options like vegan caprese salad.
FAQs
Should I soak the sunflower seeds?
If your tummy is sensitive to raw nuts/seeds, feel free to soak them first. This activates them and makes them more easily digestible.
To soak the sunflower seeds, add them to a large bowl with plenty of water and leave to soak overnight. Then drain, rinse, and spread the seeds across a large baking sheet to allow them to dry (or use an oven on the lowest temperature) to dry out the seeds again before using them in this recipe for pesto with sunflower seeds.
Can I use salted sunflower seeds?
Technically, yes. However, you then can't easily control the sodium levels in this pesto with sunflower seeds, which means it may be overly salty.
Can I reduce the amount of olive oil?
The easiest way to adapt the amount of olive oil is when using a food processor with a chute. Slowly drizzle the olive oil in, bit by bit, until the pesto reaches your desired consistency.
Do I need to add sugar?
Feel free to taste the pesto with sunflower seeds before adding any sugar. However, we've found that it adds depth to the pesto that you can't necessarily tell is there, but it definitely makes a difference.
Top Tips, Recipe Notes, and FAQs
To avoid darkened basil: Basil can become dark when oxidized or heated. To avoid this, you can start by processing the remaining ingredients, adding the basil at the end to your desired consistency. Alternatively, you could blanch the basil for 30 seconds in boiling water (then transfer to an ice bath).
Adjust the texture: Adjust the point at which you stop processing the pesto to adjust the texture.
Alternative blending method: You could also prepare this sunflower pesto with an immersion blender. Place all the ingredients in a tall container and add a splash of water to help blend if needed. You could also make this pesto machine-free with a mortar and pestle.
Frugal top tip: Purchasing/growing your own herbs (like basil) is a great way to save money in the long run. Pick off the leaves you need and allow them to replenish rather than having to buy it every time it's needed.
To thin the pesto: You can add a small amount of water. However, note that this can affect the shelf life and should be eaten within 2-3 days.
For extra flavor: Feel free to experiment with lightly toasted sunflower seeds for additional nutty flavor.
More Vegan Dressings
Photos by Alfonso Revilla
Vegan Basil Sunflower Seed Pesto (Without Pine Nuts)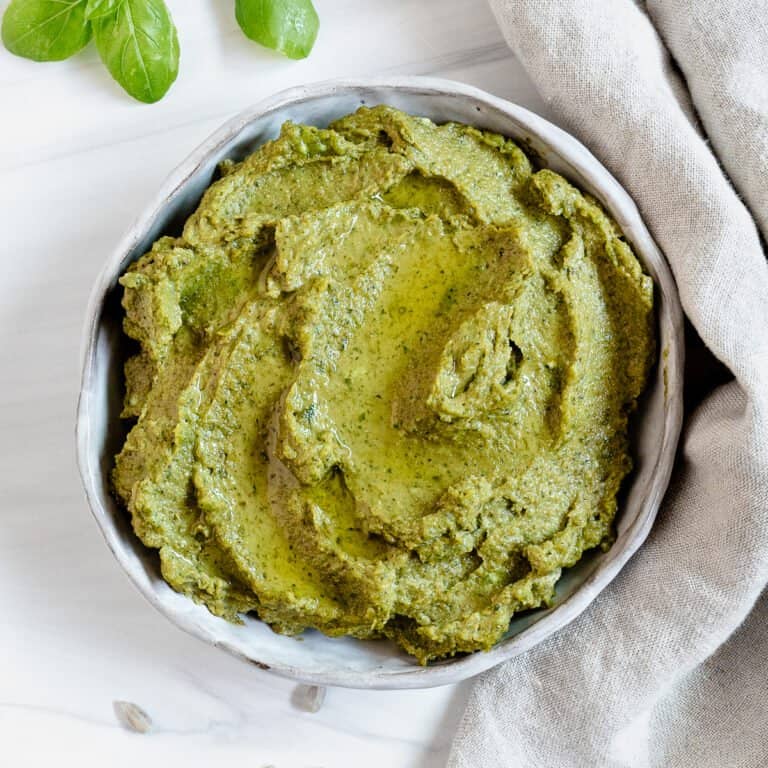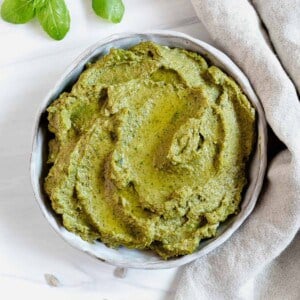 Sunflower seed pesto is a delicious, 6-ingredient, frugal homemade pesto without pine nuts you can make in just 5 minutes! Perfect for pasta, sandwiches, wraps, pizza, and more!
Ingredients
1

cup

of basil

½

cup

of raw sunflower seeds

¼

cup

of olive oil

3-4

cloves garlic

¼

teaspoon

of salt

¼

teaspoon

of sugar

¼

teaspoon

of black pepper

1

Tablespoon

of nutritional yeast

1

Tablespoon

of fresh lemon juice
Instructions
Combine all ingredients in a food processor and process until creamy. Usually, 1-2 minutes, stopping to scrape down the sides as needed.

Toss with warm pasta, spread on toast or pizza, or use as a dip.
Notes
All of the ingredients can be adjusted to taste!
Read the blog post for more FAQs, notes, and serving recommendations!
Nutrition
Calories:
462
kcal
Carbohydrates:
11
g
Protein:
10
g
Fat:
45
g
Saturated Fat:
5
g
Polyunsaturated Fat:
11
g
Monounsaturated Fat:
26
g
Sodium:
296
mg
Potassium:
356
mg
Fiber:
4
g
Sugar:
2
g
Vitamin A:
652
IU
Vitamin C:
7
mg
Calcium:
58
mg
Iron:
3
mg
Disclaimer: Although plantbasedonabudget.com attempts to provide accurate nutritional information, kindly note that these are only estimates. Nutritional information may be affected based on the product type, the brand that was purchased, and in other unforeseeable ways. Plantbasedonabudget.com will not be held liable for any loss or damage resulting for your reliance on nutritional information. If you need to follow a specific caloric regimen, please consult your doctor first.
Additional Info