As an Amazon Associate I earn from qualifying purchases.
Make homemade chili lime seasoning (Tajin) with just 5 ingredients – a vibrant, savory, spicy, salty, zesty addition to fruit, salads, pasta, vegetables, proteins, snacks, and more!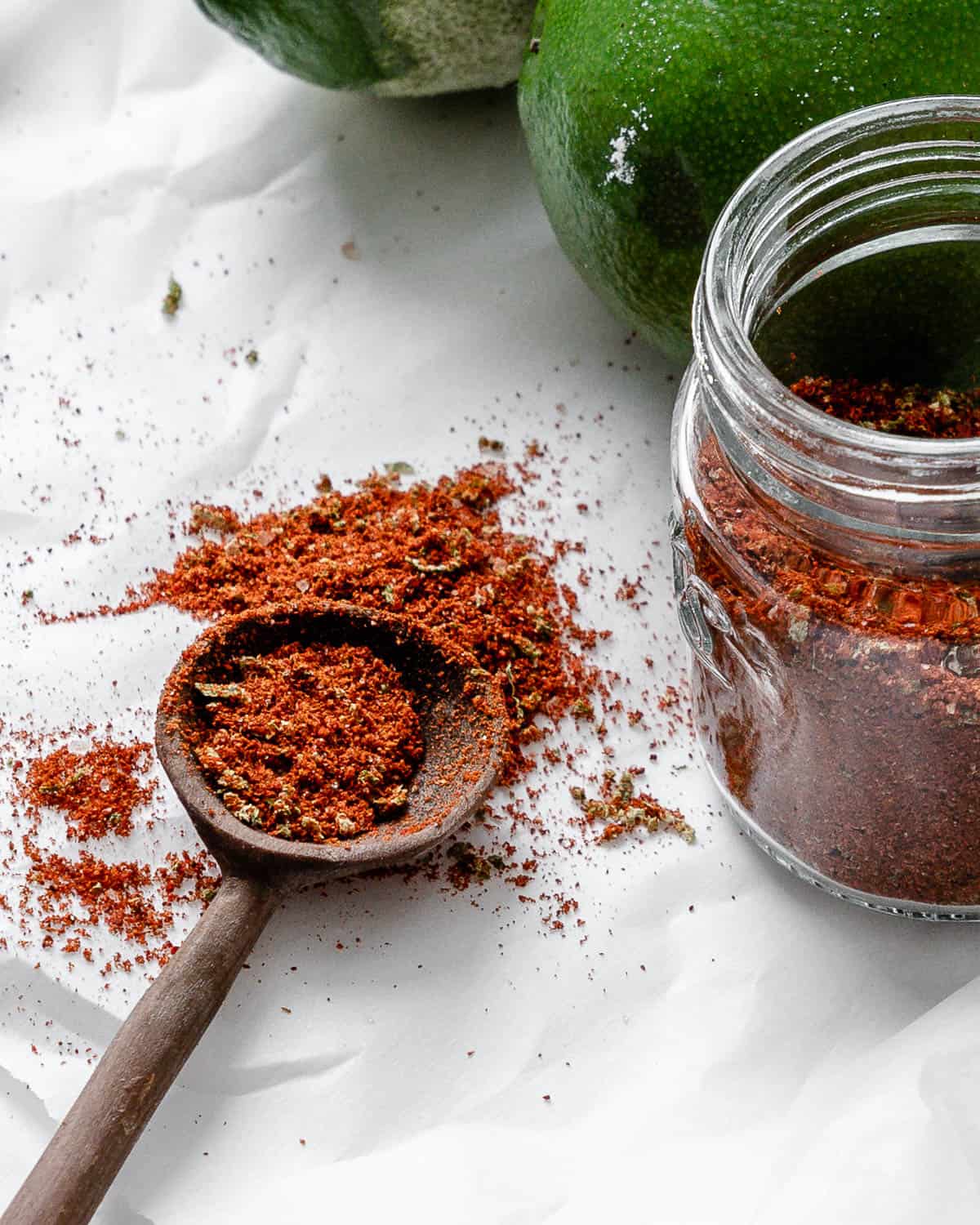 What is Tajin Seasoning?
Tajin (originally called Tajín Clásico – pronounced ta-heen- named after the brand) is a popular Mexican chili lime seasoning blend with vibrant color and flavor. It combines dehydrated lime and chile peppers (usually chili de arbol, which are mild-moderately spiced) with salt for a seasoning that's savory, slightly spicy, and salty, with a zesty kick.
It contains no artificial colors or flavors and is sugar-free, too. The flavor combination is well-balanced and adds a spicy, refreshing kick, particularly to sweet ingredients – like pineapple, watermelon, and mango. However, this tajin seasoning recipe also complements/elevates savory ingredients and dishes like cucumber slices, grilled vegetables, over snacks like crispy chickpeas, etc.
Why Make Homemade Chili Lime Seasoning?
Obviously, it's simple enough to wander into a store and buy Tajin powder. However, we love making homemade tajin seasoning now that we've realized:
You have 100% control of the ingredients (which means you can adjust it to your desired heat, sodium amount, and overall flavor)
It's additive-free (just natural pantry ingredients – no preservatives, additives, MSG, or other chemicals)
It's quick and simple (you only need a few pantry ingredients and a few minutes of hands-on prep time)
The seasoning tastes fresher (because it is! Make sure to use fresh spices)
Making homemade spice blends can also be more cost-effective in the long run, especially if they're made from spices you already have at home.
Tajin Ingredients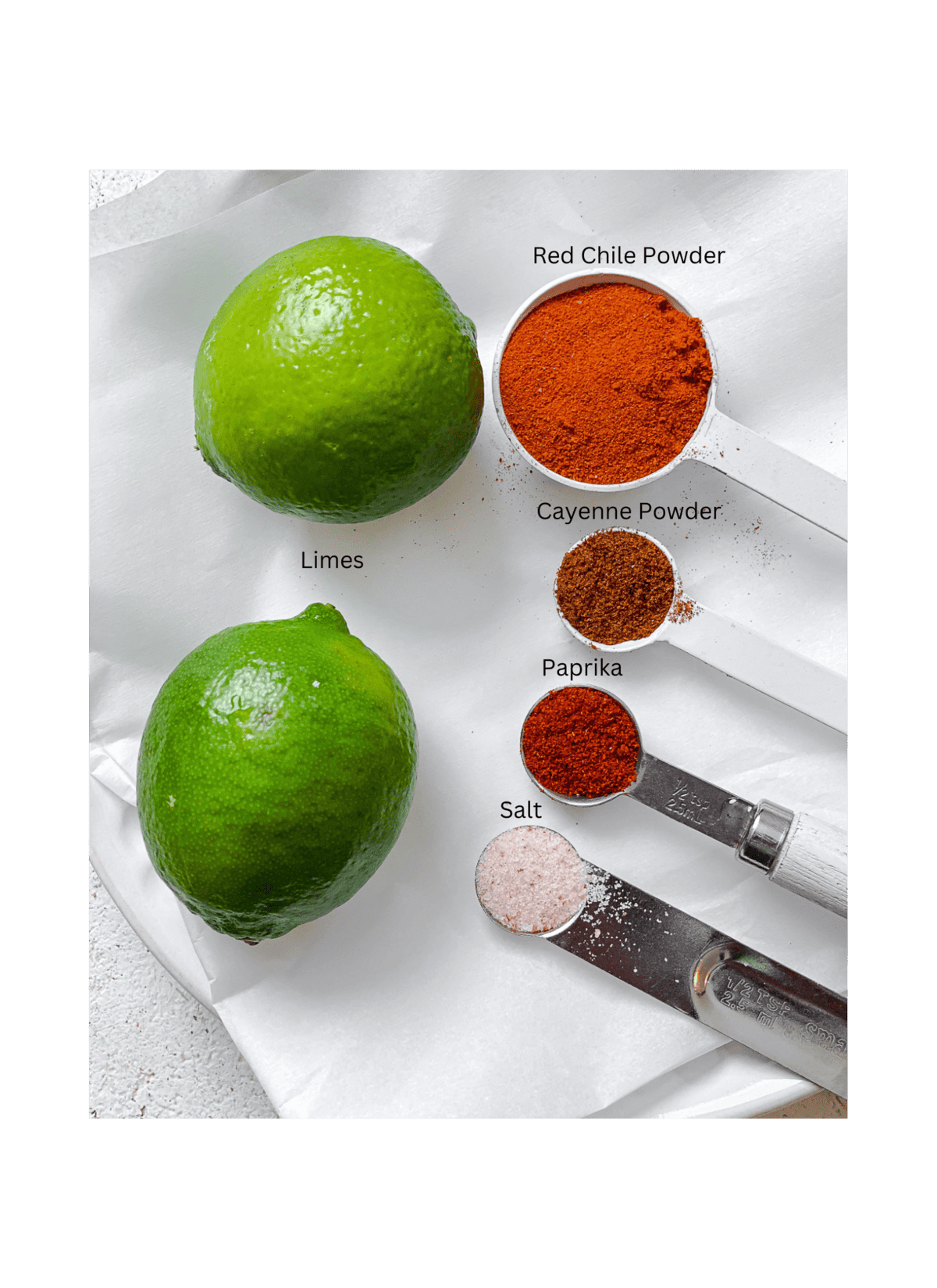 Limes: It's best to use unwaxed limes since we're using the zest for this tajin recipe. Alternatively, you could use dehydrated lime powder (about ⅓ the amount). This adds a bright and tangy flavor to the chile lime seasoning.
Chile powder: You can use either mild red chile powder (traditionally, chile de arbol, which are mild-moderate heat) and/or guajillo (earthy, slightly fruity, with mild-medium spice).
Cayenne powder: To increase the heat. Add it to taste.
Paprika: (optional) You can use sweet or hot paprika for extra flavor.
Salt: Adjust the amount to taste.
What could I add To This Chili Lime Seasoning Recipe?
Other chiles: Feel free to experiment with dried peppers/powder, like guajillo, ancho, chipotle (which are slightly smoky), chile California, etc. Process them in a spice grinder (after removing seeds/ribs) if using whole peppers.
Fine sugar: Optional for a little sweetness. A sugar alternative will work, too.
Citric acid: For extra tart flavor minus the bitterness of lime.
Cumin: A pinch of cumin will add a savory, earthy flavor to the chilli lime seasoning.
How to Make Tajin (Chili Lime Seasoning)
1) First, use a micro plane to zest the limes and spread the zest across a plate covered with parchment paper. Leave them to sit overnight and 'dry out.'
Alternatively, use the oven or a dehydrator to dehydrate the lime, then optionally grind it in a spice grinder for a finer powder.
2) The following day, combine all the tajin ingredients in a jar, stir/shake well, and then store.
FAQs
Is chili lime seasoning spicy?
Traditionally, Mexican Tajin uses milder chiles for a mildly spicy flavor. However, adjust this with your choice of chile powder and optional additional cayenne pepper.
Does lime make chiles less spicy?
Acidic ingredients can neutralize the 'burn' in chilies slightly, yes.
Can I use whole dried peppers?
For the best flavor, toast the chilies in a skillet until aromatic (after removing the seeds/ribs). Then grind them in a spice grinder.
Is Tajin bad for you?
The ingredients themselves are fine, though, like anything, it's best to consume this _ in moderation (especially if you're watching your sodium consumption levels). Having said that, when making homemade tajin, you can use as much salt as you want in the recipe.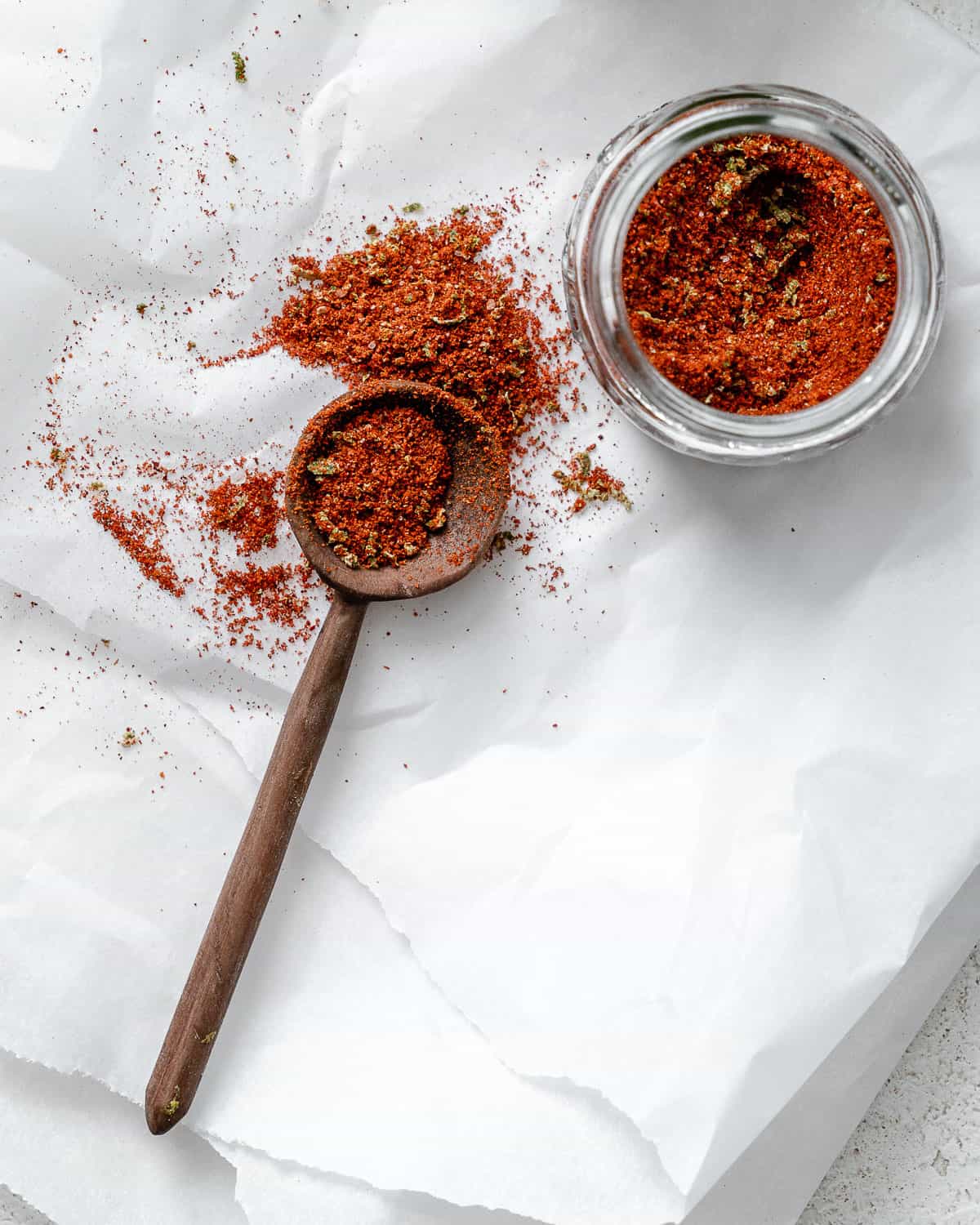 Storage Information
It's important to ensure the lime zest is dry. Store the jar of chile lime seasoning (homemade tajin) in a cool, dark location (like your pantry or a kitchen cupboard) for up to 6 months, though it will be best in the first 3.
How to Use Tajin Seasoning?
Not only is this tajin seasoning recipe simple to prepare, but it's super versatile.
As a fruit topping: Enjoy Tajin seasoning on fruit like mango, pineapple, watermelon, and oranges for a vibrant contrast and kick to their natural sweetness.
Likewise, this chili and lime seasoning will taste delicious in fruity popsicles, mangonada, dairy-free yogurt bowls, etc.
In salad/salsa: Add a tangy, spicy kick to cucumber salad and other leafy green/veggie-heavy salads, fruit salad, and fruity salsa, like this mango salsa.
Over corn: i.e., Vegan elote (Mexican street corn) or regular corn on the cob.
Grilled/Roasted vegetables: For a savory, spicy kick – like cauliflower, carrots, sweet potato, etc. Grilled pineapple or mango will be delicious, too.
BBQ: Keep this Mexican lime seasoning on hand on grilling days to sprinkle over kebabs, tofu steaks, etc.
With avocado: To add depth to creamy, tangy avocado-based guacamole, sauce, or avocado crema. It's also great to sprinkle over avocado toast.
Over savory snacks: Like chips, popcorn, roasted chickpeas (or nuts/seeds), etc.
For glass rims: i.e., for mocktails like this Virgin Bloody Mary.
You could also sprinkle this chili lime powder over vegan burgers, nachos, pizza, scrambled tofu, ramen, pasta salads, use it to make Chamoy sauce and more!
More Mexican-Inspired Vegan Recipes
Photos by Alfonso Revilla
Homemade Chili Lime Seasoning (Tajin)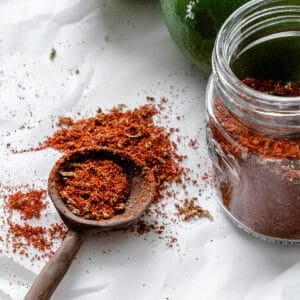 Make homemade chili lime seasoning (Tajin) with just 5 ingredients – a vibrant, savory, spicy, salty, zesty addition to fruit, salads, pasta, vegetables, proteins, snacks, and more!
Ingredients
2

limes,

washed and dried

1

tablespoon

of mild red chile powder or guajillo powder

½

teaspoon

of cayenne powder

½

teaspoon

of paprika

½

teaspoon

of salt
Instructions
Zest the limes and spread it on a plate covered with parchment paper. Allow to sit overnight.

Combine all the ingredients and store in a spice jar.
Nutrition
Calories:
69
kcal
Carbohydrates:
19
g
Protein:
2
g
Fat:
2
g
Saturated Fat:
0.3
g
Polyunsaturated Fat:
1
g
Monounsaturated Fat:
0.3
g
Sodium:
1298
mg
Potassium:
336
mg
Fiber:
7
g
Sugar:
3
g
Vitamin A:
3348
IU
Vitamin C:
40
mg
Calcium:
75
mg
Iron:
2
mg
Disclaimer: Although plantbasedonabudget.com attempts to provide accurate nutritional information, kindly note that these are only estimates. Nutritional information may be affected based on the product type, the brand that was purchased, and in other unforeseeable ways. Plantbasedonabudget.com will not be held liable for any loss or damage resulting for your reliance on nutritional information. If you need to follow a specific caloric regimen, please consult your doctor first.
Additional Info