As an Amazon Associate I earn from qualifying purchases.
Learn how to roast mushrooms to transform them into super savory, juicy, tender, umami-rich flavor bombs! Baked mushrooms are fuss-free, hands-off, and make for a diet-friendly (Paleo, Keto, Whole30, Low Carb, Vegan) appetizer, side, or main!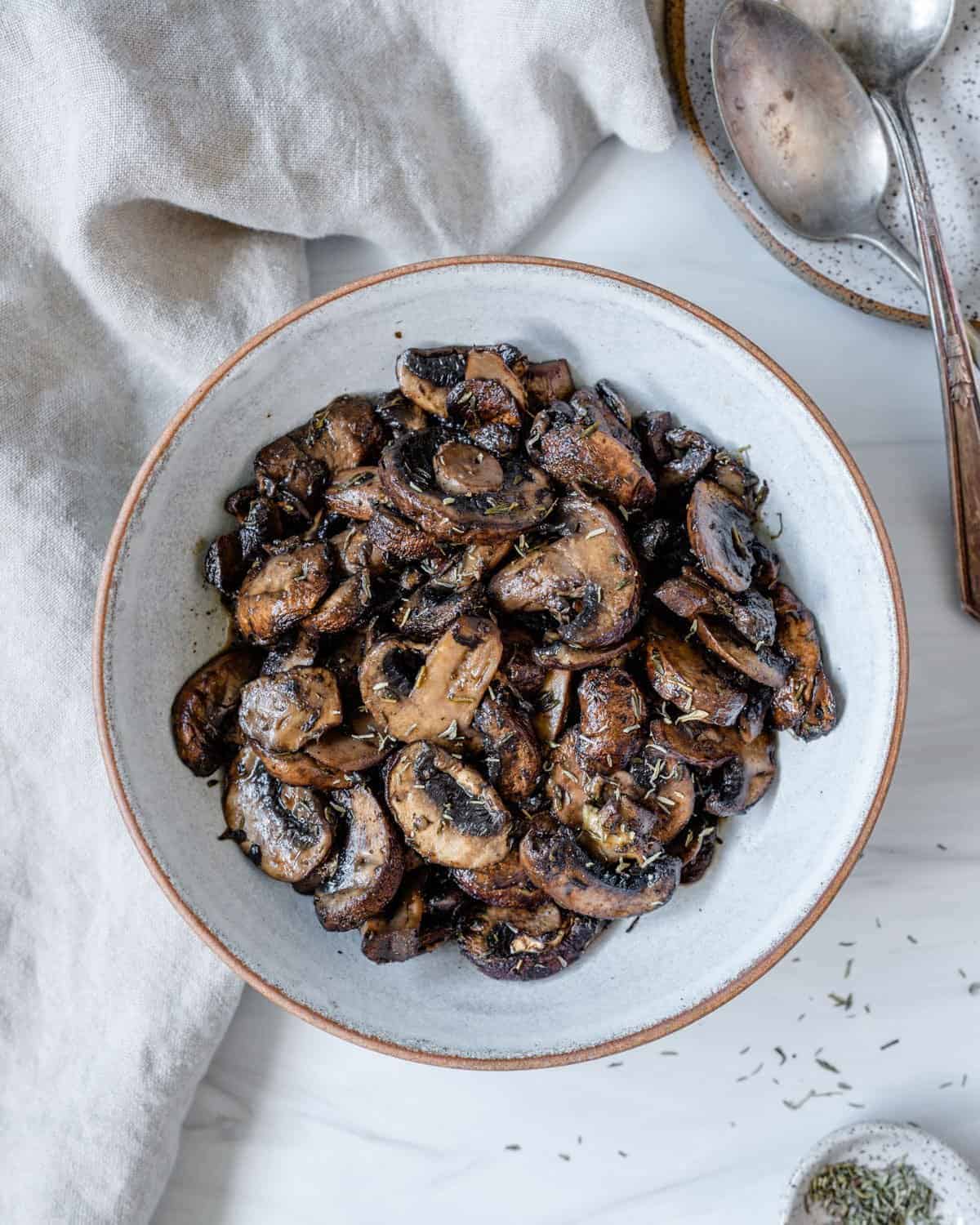 Simple and Flavorful Baked Mushrooms with Thyme
We love mushrooms! They're budget-friendly, diet-friendly, and nutritious, packed with antioxidants, vitamins, and minerals while remaining low calorie. But, unfortunately, they also have a bad rep for being a 'slimy' food. With this simple method for roasted/ baked mushrooms, say bye to slime and hello to tender, lightly browned, wonderfully flavor-concentrated umami-bombs that will have you reaching for mushrooms several times a week!
Unlike other methods for cooking mushrooms like pan-fried mushrooms, oven-roasted mushrooms require just a few minutes of prep; then, it's entirely a fuss-free, hands-off process! And since your oven tray has much more surface space than a regular skillet, there's less worry about crowding the pan (aka ending up with soft/slimy mushrooms).
We've chosen to make this batch of roasted herbed mushrooms with thyme, but there are tons of other ways to flavor/season the oven-baked mushrooms (i.e., garlic roasted mushrooms, lemon, 'cheesy', balsamic, etc.) – as well as extra ingredients and veggies you could add to the sheet pan (tons of options mentioned below!) for lots of taste. Then, once baked, serve up the versatile baked mushrooms as a tasty appetizer, side, or even main!
Keen on trying out other delicious roasted veggies? You might enjoy rosemary roasted potatoes, curried butternut squash, roasted cherry tomatoes, or 'cheesy' roasted tahini Brussel sprouts!
The Ingredients
All you need for these simple thyme mushrooms are 3 ingredients, plus salt and pepper (and water).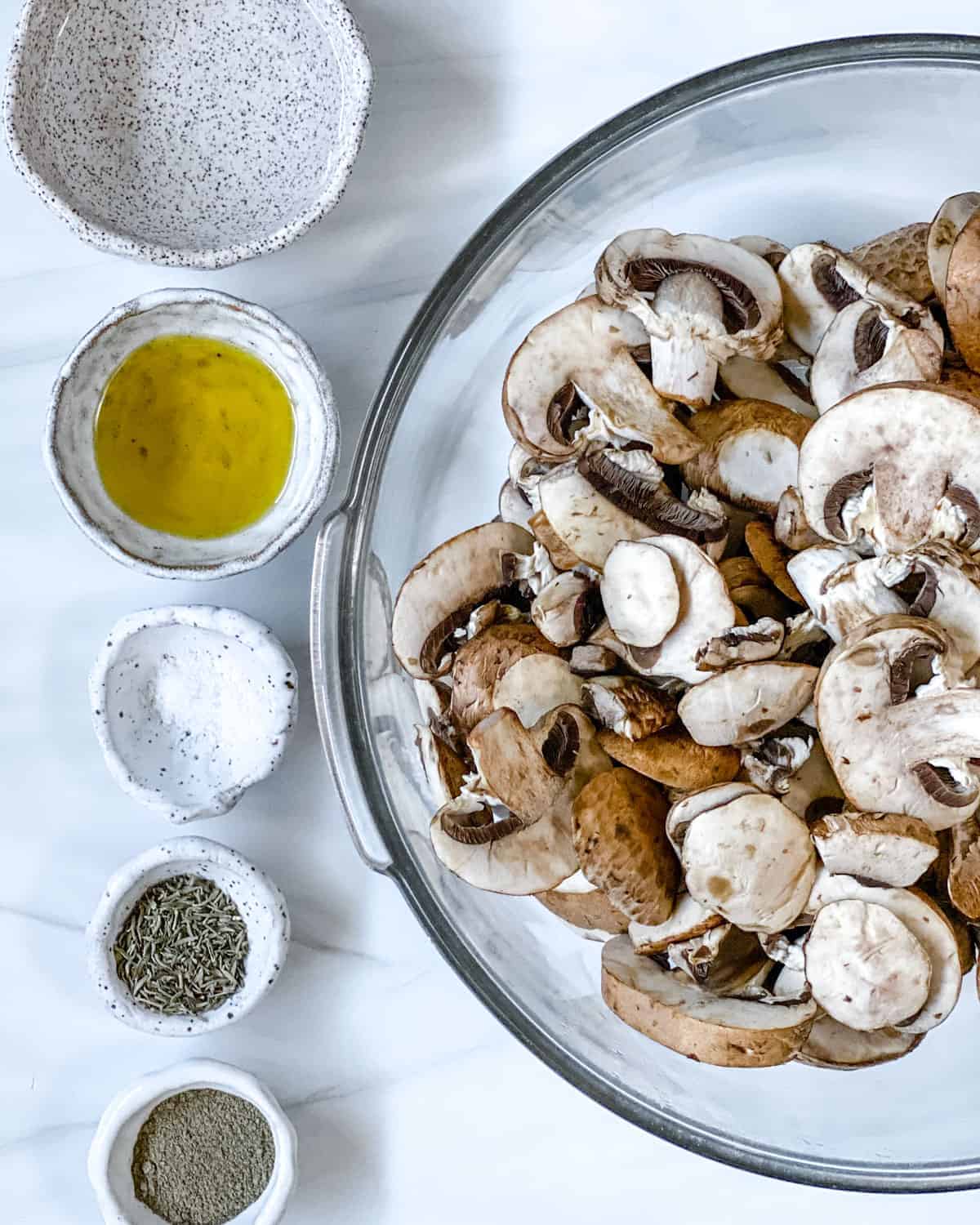 More ways to Flavor Oven Roasted Mushrooms
One of our favorite options is thyme and garlic roasted mushrooms with a squeeze of lemon/lime and topped with a sprinkle of breadcrumbs before baking. So, feel free to mix and match the options above to find your favorite roasted mushroom recipe!
How to Roast Mushrooms?
To say the process for this oven-baked mushroom recipe is simple would be putting it mildly. The entire process requires just three super-simple steps. 
1) First, preheat the oven to 400F/205C and line a baking sheet with parchment paper or a silicone mat. At the same time, clean (with a barely damp cloth) and thickly slice the cremini mushrooms.
The way you slice the mushrooms will depend on what type you're using. You may even want to leave some varieties whole. Just note that this will affect the baking time. 
2) Combine the mushrooms and all remaining ingredients in a mixing bowl and gently toss until well combined.
3) Spread the mushrooms across the prepared baking tray and then bake in the oven for around 18-20 minutes (stirring halfway), or until the thyme mushrooms are lightly browned and not too 'wet.'
The mushrooms will have released lots of their liquids and be browning. If you want to take them further, drain the liquid from the pan and continue to roast for 10+ minutes to your desired results. Alternatively, they'll naturally drain if you cook the mushrooms on a wire rack above a pan. 
How to Store?
These herbed mushrooms are best when freshly roasted. However, you can store any leftovers in an airtight container in the refrigerator for 3-5 days.
To freeze, spread the cooled baked mushrooms across a baking tray and flash freeze until solid for 2-3 months. Then transfer to a freezer-safe container/Ziplock/Stasher bag.
You can reheat the roasted sliced mushrooms either in the microwave (topped with a lightly damp paper towel) or back in the oven. However, our favorite method is to add a small amount of vegan butter to a skillet and pan-fry until heated through and slightly crispy once more.
Make sure you reheat them thoroughly; otherwise, reheated mushrooms can cause some stomach upset. It's also important to note that some wild mushrooms aren't safe to eat more than a day after cooking. So if you are using a wild mushroom, we recommend double-checking before saving any leftovers!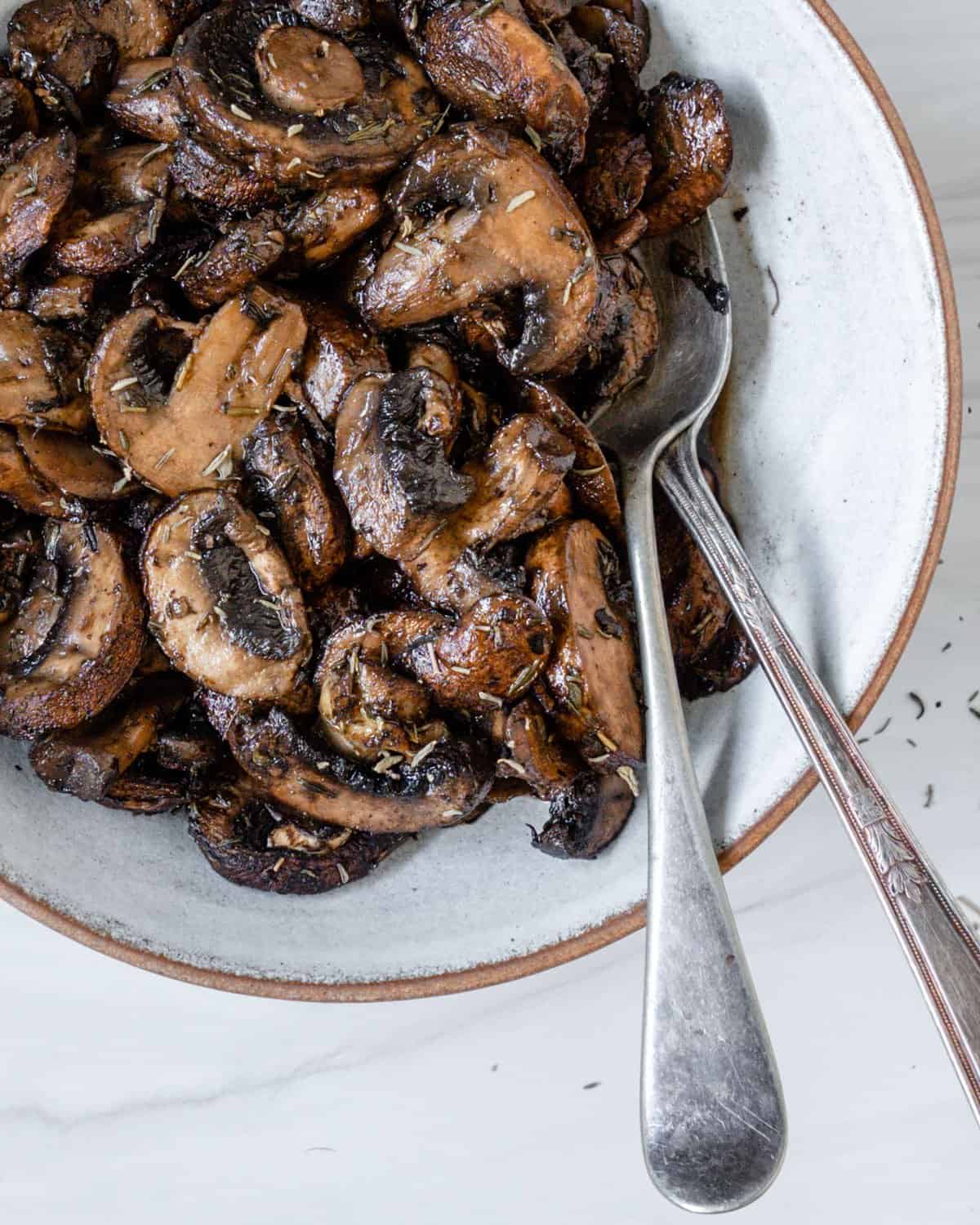 How to Serve Roasted Mushrooms?
If you're a massive fan of garlic, like us, then you'll never run out of ways to enjoy this tender, lightly caramelized roasted peeled garlic or garlic confit.
FAQs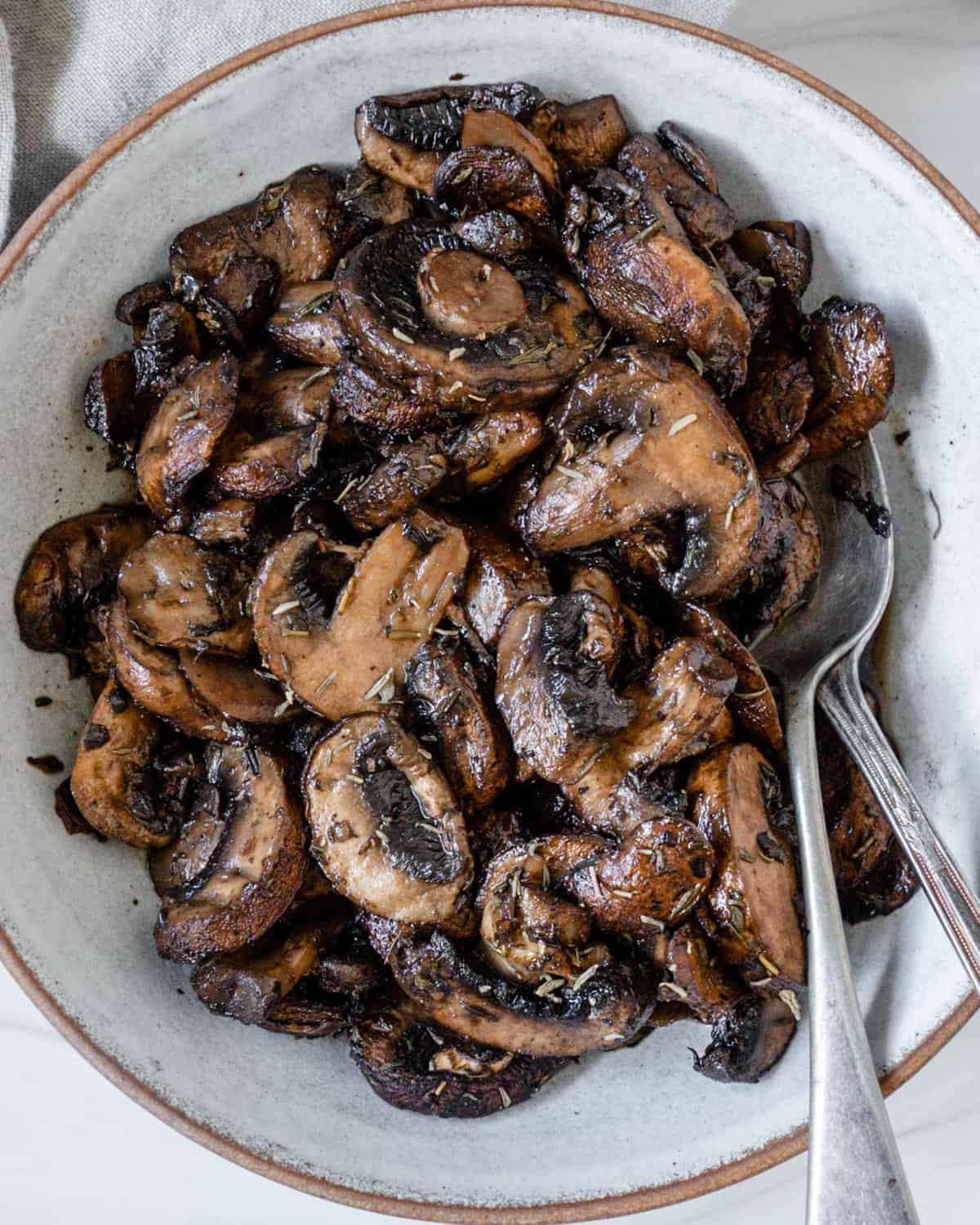 Top Recipe Tips and Notes
More Ways to Enjoy Mushrooms
Or browse through our entire list of vegan mushroom recipes!
Photos by Alfonso Revilla
Simple Roasted Mushrooms (Thyme Baked Mushrooms + Other Flavors)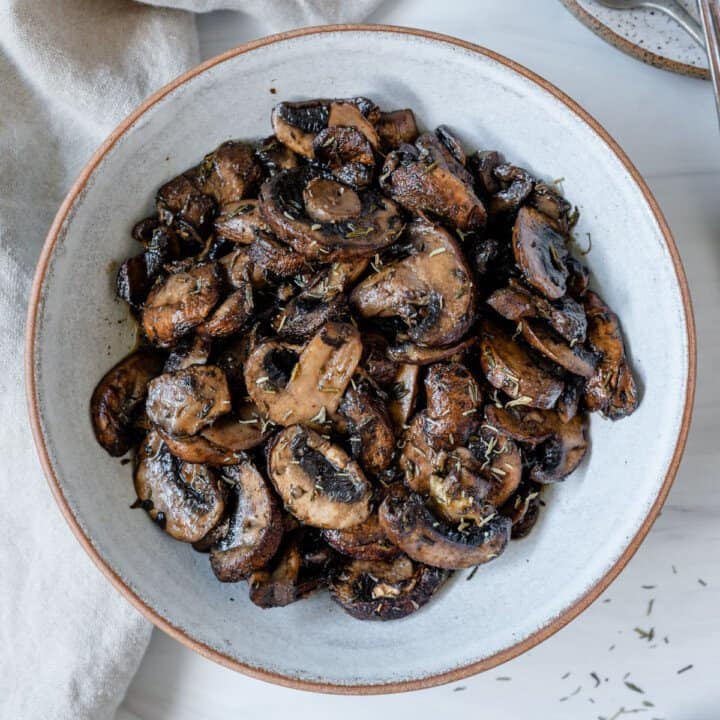 Learn how to roast mushrooms to transform them into super savory, juicy, slightly meaty, umami-rich flavor bombs! Baked mushrooms are fuss-free, hands off, and make for a diet-friendly (Paleo, Keto, Whole30, Low Carb, Vegan) appetizer, side, or main!
Ingredients
12

ounces

of cremini mushrooms, sliced thickly

1

teaspoon

of freshly ground Black pepper

1

Tablespoon

of olive oil

1

teaspoon

of dried thyme

¼

teaspoon

of salt, or to taste

3

Tablespoons

of water
READ POST ABOVE FOR TONS OF OPTIONAL ADD-INS AND RECIPE VARIATIONS!
Instructions
Preheat oven to 400 degrees F. and line a baking sheet with a silicone mat or parchment paper.

In a medium mixing bowl, combine all ingredients and toss well to combine.

Spread the mushrooms evenly on the baking sheet and bake for 18 minutes, stirring halfway through baking time.
Notes
Garlic: One of the easiest (and our favorite) variations is for garlic roasted mushrooms! Use four cloves of minced garlic with the above.
Lemon: Add 1-2 tbsp of lemon juice (or lime juice). For even more lemon flavor, add a teaspoon or so of lemon zest. We recommend adding some before baking the mushrooms and an extra drizzle of lemon before serving them.
Soy sauce: To pack in more umami flavor, add 1-2 tbsp of dark soy sauce (and reduce the other salt in the baked mushroom recipe).
Balsamic: Add 1-3 tbsp of good-quality balsamic vinegar (pairs well with soy sauce and garlic, too).
Spice: Add a pinch (or more) of red pepper flakes, cayenne pepper, OR use a little chili oil in place of other oil in the baked mushroom recipe.
Other vegetables: Several veggies will cook in the same time frame. This includes asparagus (cut into 2-inch pieces), broccoli (in bite-sized pieces), zucchini (in thick slices/wedges), green beans (whole or halved), cherry tomatoes (whole), bell pepper (diced), etc.
Nutrition
Calories:
69
kcal
Carbohydrates:
5
g
Protein:
3
g
Fat:
5
g
Saturated Fat:
1
g
Polyunsaturated Fat:
1
g
Monounsaturated Fat:
3
g
Sodium:
202
mg
Potassium:
521
mg
Fiber:
1
g
Sugar:
2
g
Vitamin A:
35
IU
Vitamin C:
1
mg
Calcium:
27
mg
Iron:
1
mg
Disclaimer: Although plantbasedonabudget.com attempts to provide accurate nutritional information, kindly note that these are only estimates. Nutritional information may be affected based on the product type, the brand that was purchased, and in other unforeseeable ways. Plantbasedonabudget.com will not be held liable for any loss or damage resulting for your reliance on nutritional information. If you need to follow a specific caloric regimen, please consult your doctor first.
Additional Info