36 Easy vegan breakfast recipes for every occasion – whether you're looking for a quick, healthy, sweet or savory, plant-based, veggie, or vegan breakfast idea!
Breakfast is the most important meal of the day, or so they say. So step away from those processed and packaged breakfast items and why not try one of these easy vegan breakfast recipes instead? With options to choose from including pancakes and waffles, quick bread recipes, oatmeal, smoothies, and savory vegan breakfast ideas – there's something for everyone!
Just because your plate isn't filled with meat, dairy, and eggs doesn't mean you can't enjoy a hearty, wholesome start to the day – even better when it's a frugal one too! So whether you're a sweet or savory vegan breakfast type of person, we've got you covered! Rather than shying away from the kitchen come morning time, these vegan breakfast ideas will have you craving your next breakfast adventure!
Jump to:
Pancakes and Waffles
For those with a sweet tooth, vegan pancakes and waffles are a perfect way to start (or end) the day. Whether you want to serve them up as part of a special occasion vegan breakfast, brunch spread, or just mid-week treat. Here are some fluffy egg and dairy-free vegan crepes, pancakes, and waffles to add to your quick vegan breakfast recipe repertoire! You can even whip up a large batch at the beginning of the week to reheat throughout!
These homemade vegan Belgian waffles are the perfect addition to your vegan breakfast, brunch, or even dinner table! They're fluffy, with a crisp outside and tender middle. Plus, once you have the regular version down, you can enjoy chocolate waffles too!
Dairy-Free Waffles
This vegan Waffles recipe will give you a fluffy and delicious stack for a cozy morning. Get your waffle makers ready and toasty!
View Recipe
During the cooler Fall months of the year, our favorite vegan waffles are also packed with warming spices like these vegan pumpkin waffles or apple cinnamon waffles! They're hearty, comforting, and packed with flavor. Plus, most importantly, they taste delicious when doused in syrup!
These Parisienne-style vegan crepes from World of Vegan are 100% egg and dairy-free, but you'd never be able to tell! Filled up with vegan homemade Nutella, this easy vegan breakfast recipe doubles up as a tasty dessert, too!
This vegan baked pancake from Liv B is the perfect mix between a thick pancake and coffee cake (and we'll never say no to cake for breakfast!), complete with oat streusel topping. It's not too sweet, is oil-free, and is packed with cinnamon. Plus, it makes for a great meal-prep plant-based breakfast idea.
Banana pancakes are a simple, fuss-free, easy vegan breakfast recipe. They're dairy-free, egg-free, refined-sugar-free, and can be made gluten-free. Plus, they're the perfect pancake base recipe – great for adjusting (like these spinach banana pancakes)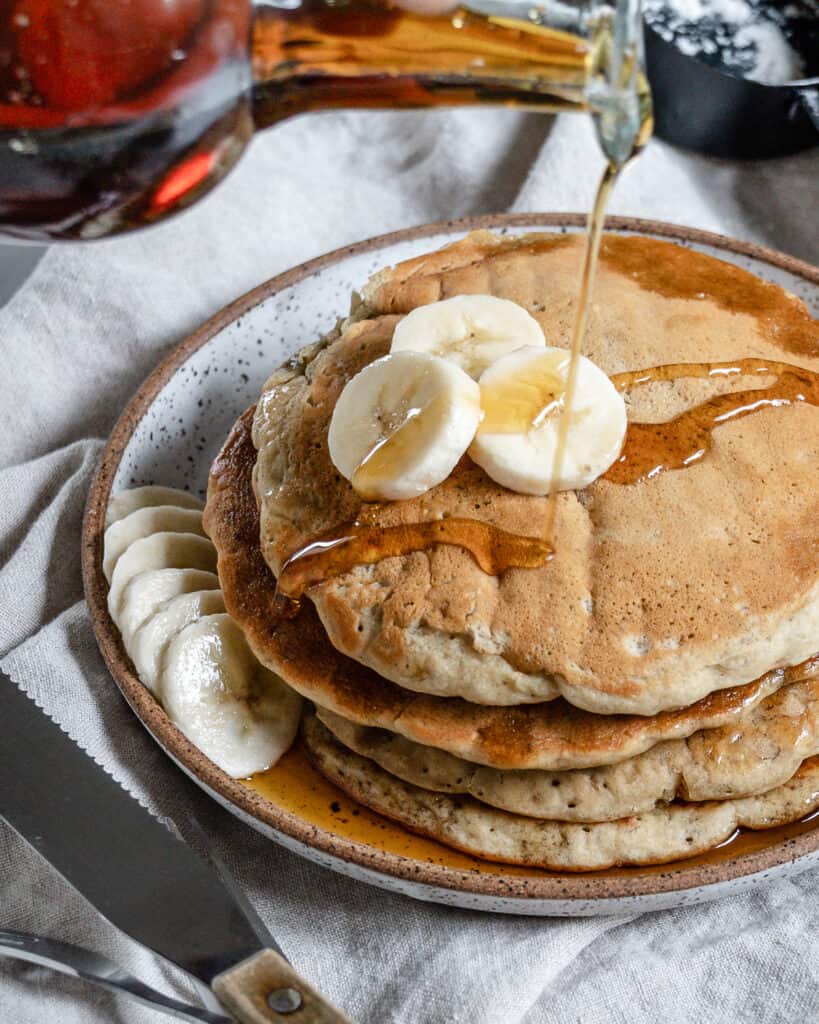 For another classic breakfast turned vegan, try these vegan blueberry pancakes. They're simple and yet packed with flavor and bursting with blueberries. Serve with syrup or even whip up a double batch and enjoy for dessert too with a big scoop of ice cream.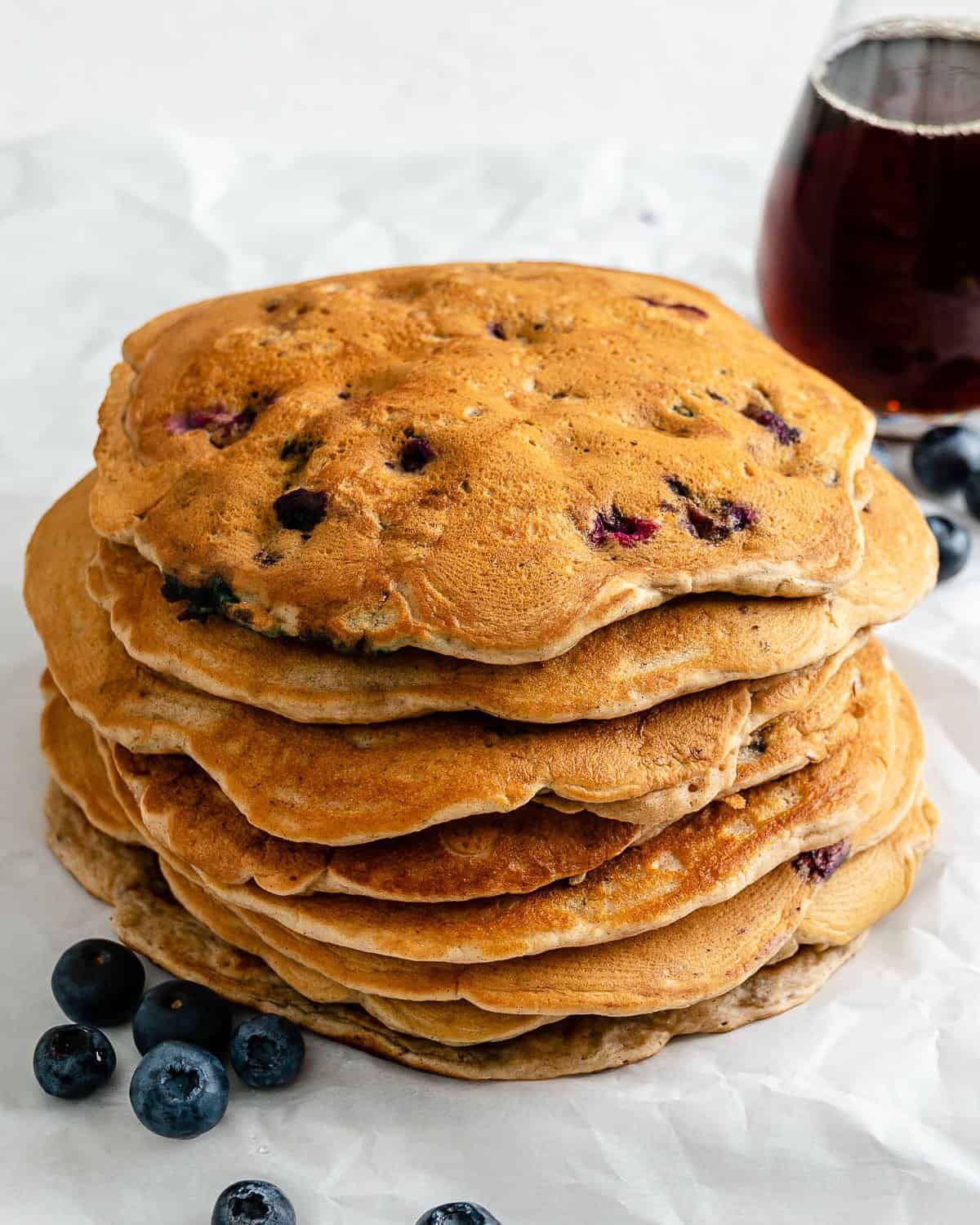 These easy, vegan potato waffles from Raepublic are gluten-free and oil-free yet wonderfully crunchy outside with a tender, moist middle. Yet they're also filling and comforting, making for the perfect savory vegan breakfast.
Enjoy French toast 100% egg and dairy-free with this simple vegan French toast recipe from Veggies Don't Bite. In no time at all, you'll be slapping away family members' hands as they try to steal some of this tasty plant-based breakfast from your plate!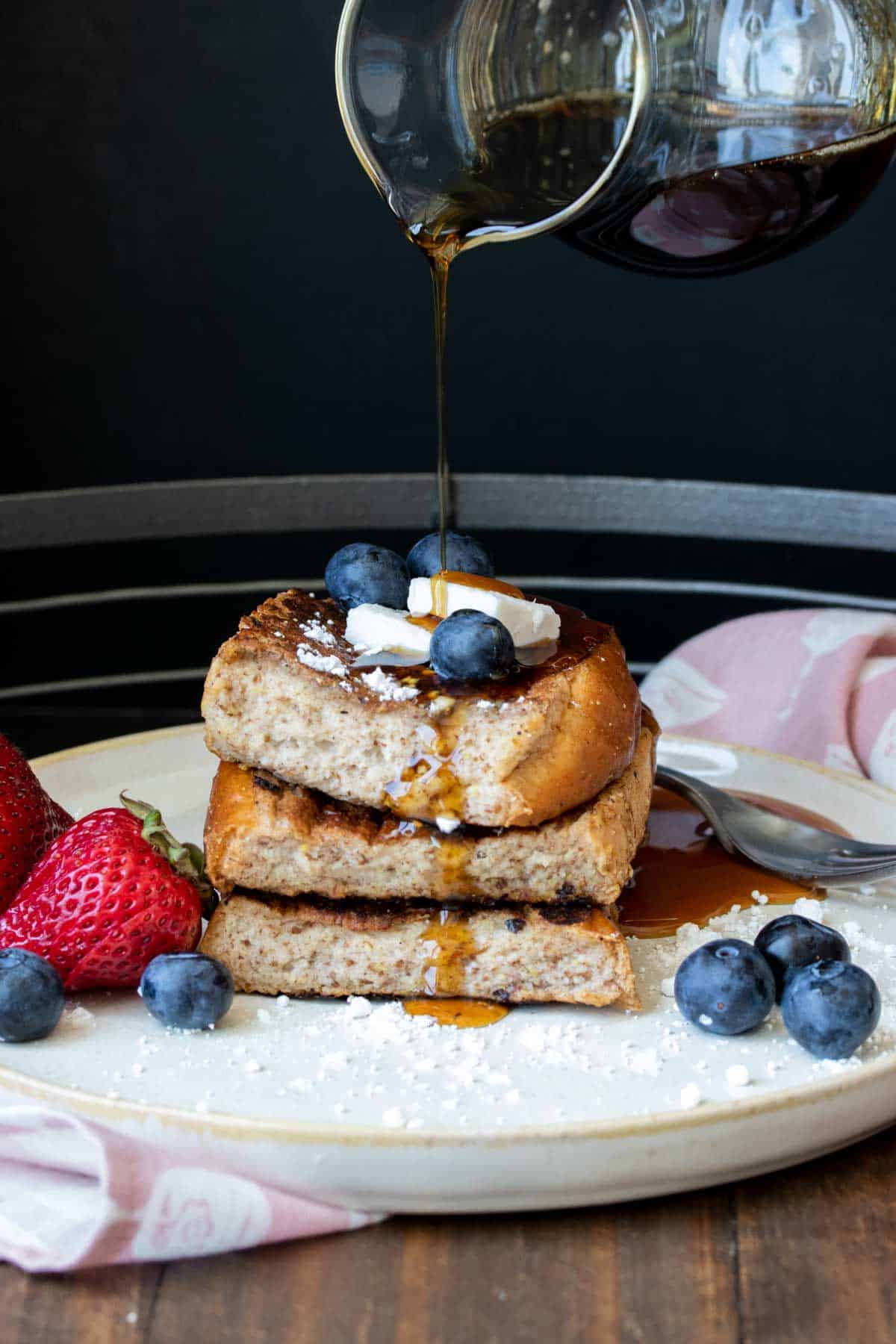 Quick Breads, Muffins and Cookies
If you want a sweet, quick vegan breakfast, then this is the category for you. Whip up a double (or triple) batch of your favorite vegan bakes and store them in the fridge or freezer to reheat through the week (or weeks!). Plus, who doesn't like a breakfast that could double up as dessert?!
This apple cinnamon bread is not only packed with fresh apple and warming cinnamon, but it also contains chewy raisins, crunchy walnuts, and melty-sweet chocolate chips. The result is an easy vegan breakfast recipe that tastes like a dessert but will nourish and keep you satisfied until your next meal!
These quick vegan breakfast cookies from Rainbow Plant Life are healthy enough to eat for breakfast or a post-workout snack! Made with oats, seeds, and almond butter, these cookies are deceptively delicious and are vegan, gluten-free, oil-free, refined sugar-free, and soy-free!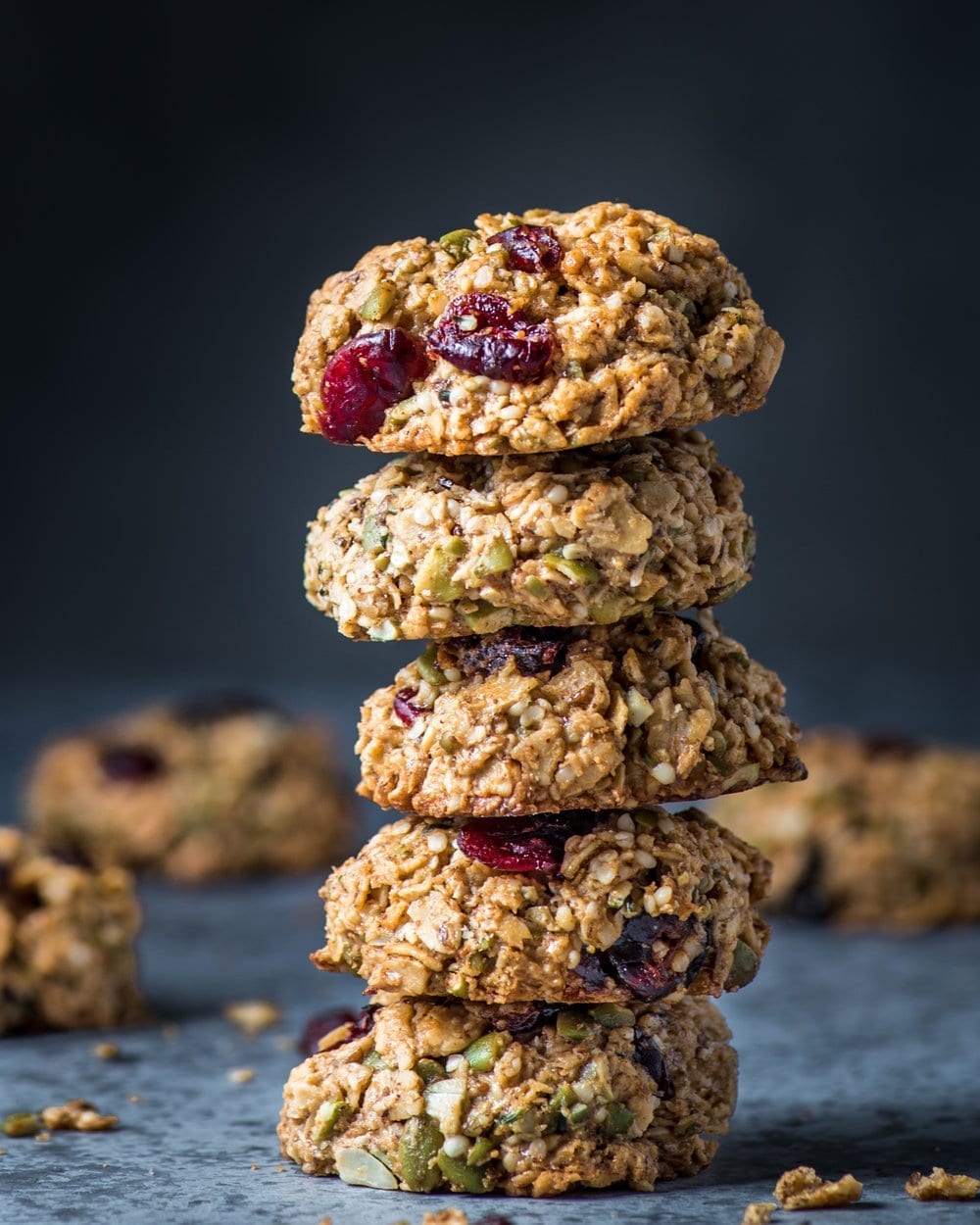 These muffins from Six Vegan Sisters are reminiscent of cinnamon sugar donuts but with a chai twist. They're made up of deliciously fluffy chai muffins coated in melted vegan butter and then a cinnamon-sugar mixture – delicious!
These sweet vegan walnut pineapple muffins are a delicious summery tropical treat, ready in just 30 minutes and perfect as an easy vegan breakfast, snack, and dessert! Best of all, they're so buttery and sweet that no one would even guess that they're dairy-free and egg-free!
Like the rest of the world (seemingly), we here at PBOAB spent a lot of time in the kitchen in 2020 whipping up loaf after loaf of banana bread. The only difference is that our versions are 100% egg and dairy-free! This base recipe comes as close to 'perfect' as I can ever admit. Though if you prefer yours with some extra fruit, you might also enjoy our easy blueberry banana bread or peach banana bread.
Savory Vegan Breakfast Recipes
'Regular' savory breakfast recipes are usually packed with meat, eggs, and dairy. However, there's no reason to think you can't enjoy a savory vegan breakfast that's just as hearty, wholesome, and satisfying but 100% meat-free. In fact, within this category, you'll find tacos, burritos, a hash, and more!
There is never a wrong time to enjoy tacos! In fact, these vegan breakfast tacos are a perfect combination of veggie breakfast ingredients, including buttery hash browns, silky avocado, tomatoes, onions, cilantro, and vegan 'mince' crumbles all wrapped up in warm tortillas. The result is a hearty, wholesome, and delicious way to start the day.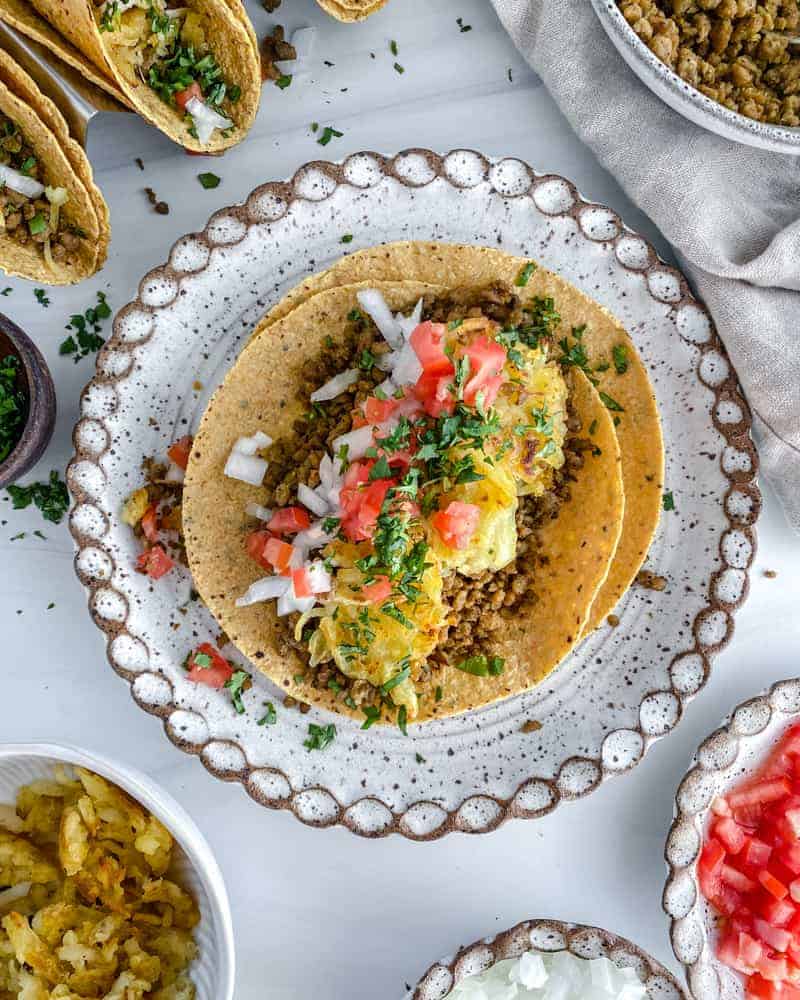 These Mexican-style, vegan breakfast burritos from Healthy Simple Yum are filled with an eggy tofu-chorizo scramble, poblano peppers, onion, crispy air-fried potatoes, pico de gallo, and creamy avocado. The most flavorful breakfast burrito with an authentic Mexican touch!
This Vegan Frittata (Breakfast Casserole) from Jessica in The Kitchen is perfect for your healthy vegan breakfast or brunch, made easily on a sheet pan! The filling, made with tofu, is loaded with burst tomatoes, caramelized onions, and sautéed mushrooms, making for a flavourful dish. It's great for weekends, holidays and special occasions.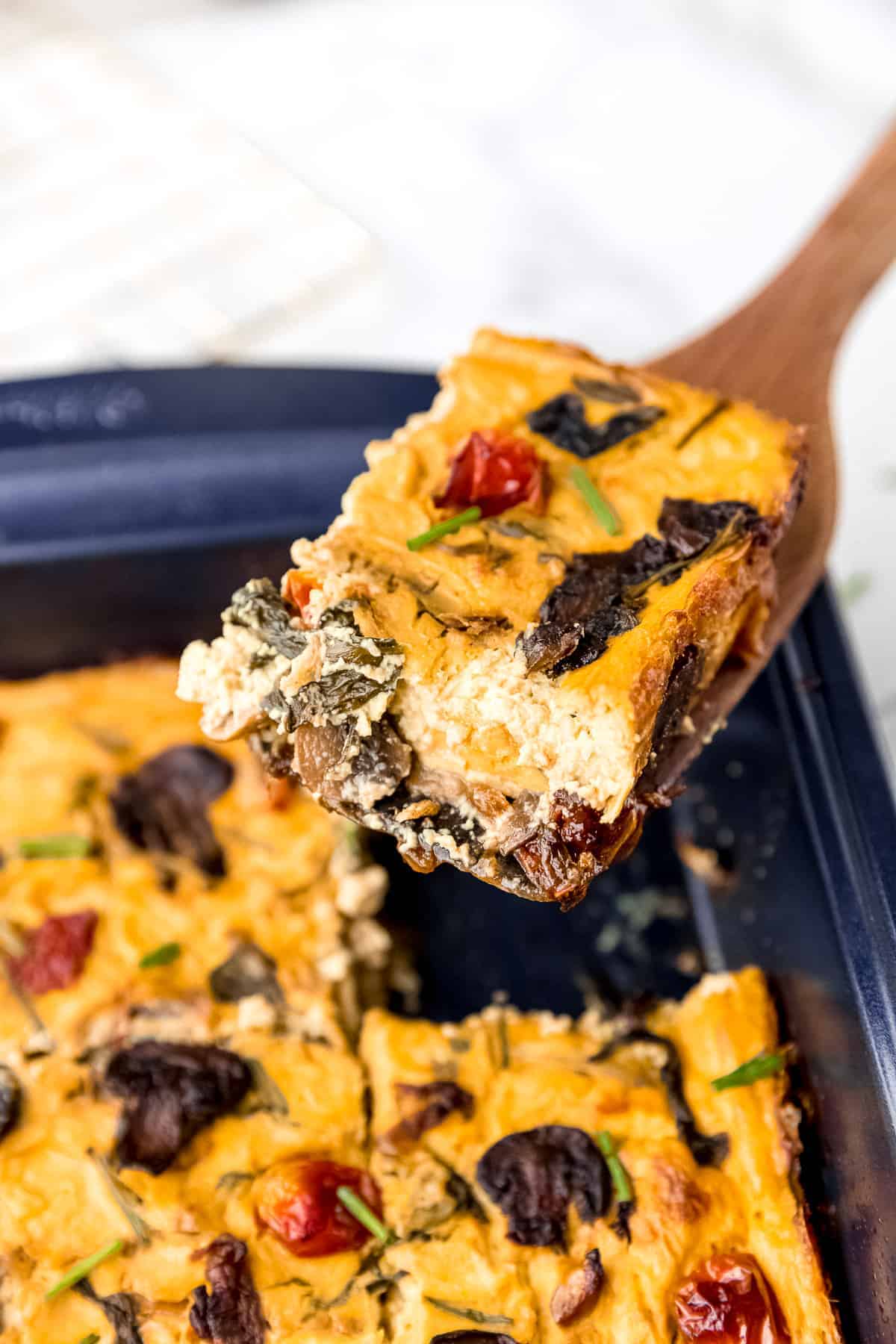 If you're craving a plate piled with scrambled eggs but follow a plant-based diet – then vegan tofu scramble is the next best thing. This simple method and combination of ingredients help you prepare a scramble that tastes remarkably egg-like to satisfy all the cravings!
Once you've got the basics down, experiment with more vegan breakfast ideas like this Nopalitos Tofu Scramble or even Mediterranean polenta scramble!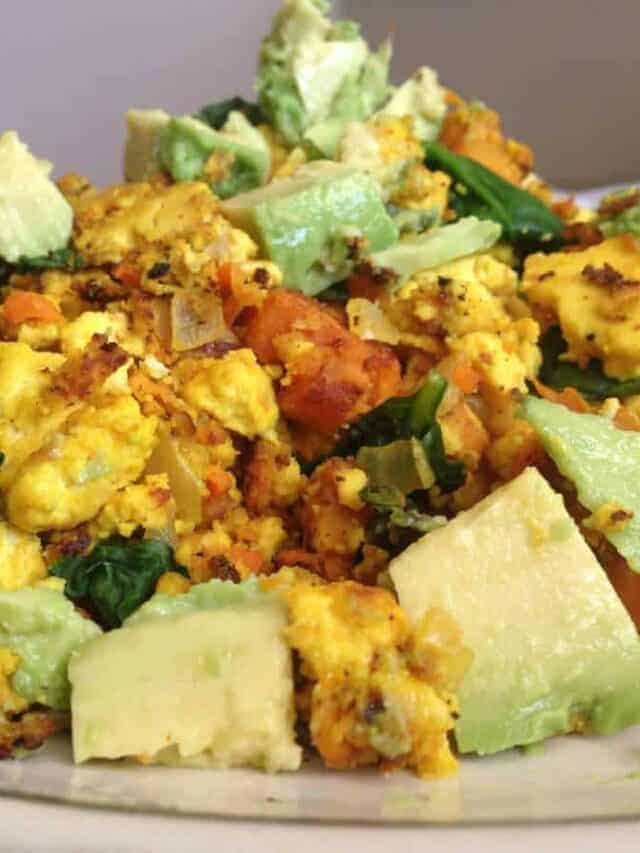 This breakfast hash is a great option for those who love a hearty, savory vegan breakfast idea. It's packed with protein and simple ingredients (which are super versatile) and will satisfy you until lunch. Enjoy it as-is, with some scrambled tofu, or even stuffed into a breakfast burrito!
If you want to enjoy delicious hashbrowns for breakfast with just a fraction of the 'fuss,' then try these potato and leek 'hashbrown' pancakes. This hearty, savory vegan breakfast is packed with flavor, and all you need is a blender, one bowl, and a skillet! Plus, these spud-tastic pancakes are super versatile – mix up the spuds, add in extra veggies, and enjoy with your sides of choice!
There's never a wrong time to enjoy a delicious and nutritious frittata – including as part of a delicious healthy plant-based breakfast or brunch spread. This recipe is egg-free, soy-free, and gluten-free – instead, using a protein-dense chickpea flour and black salt (Kala namak) base to re-create the eggy texture and flavor.
If you love Mexican dishes and savory breakfasts, this vegan tofu chilaquiles is a must-try. With a combination of fried or baked corn tortillas topped with salsa and garnished with tofu, beans, and avocado, this healthy savory vegan breakfast is packed with flavor, fiber, and protein. It's also super versatile – head on over to the recipe to see what we mean!
Whether you're in the mood for sweet or savory, this healthy plant-based breakfast recipe hits the spot! Load it up with your favorite nut butter, fruits, and a sprinkle of seeds, OR slather on the avocado for a new (and delicious) take on avocado toast!
All Things Oatmeal
We here are PBOAB don't think it would be possible to pull together a list of easy vegan breakfast ideas without featuring lots (and lots) of oats. They're frugal, versatile, and packed with nutrients. So whether you want to enjoy a warming bowl of oatmeal, oatmeal cookies, or whip up a batch of homemade vegan granola – there are tons of ways to enjoy this simple ingredient as part of your vegan breakfast or brunch spread.
Overnight oats are one of our favorite frugal, low-effort vegan breakfast ideas. Combine oats, a liquid, sweetener, and your add-ins of choice, then leave to soak overnight, and you have a week of healthy, hearty, and endlessly customizable ideas for vegan breakfasts (like these pumpkin overnight oats or salted caramel overnight oats)!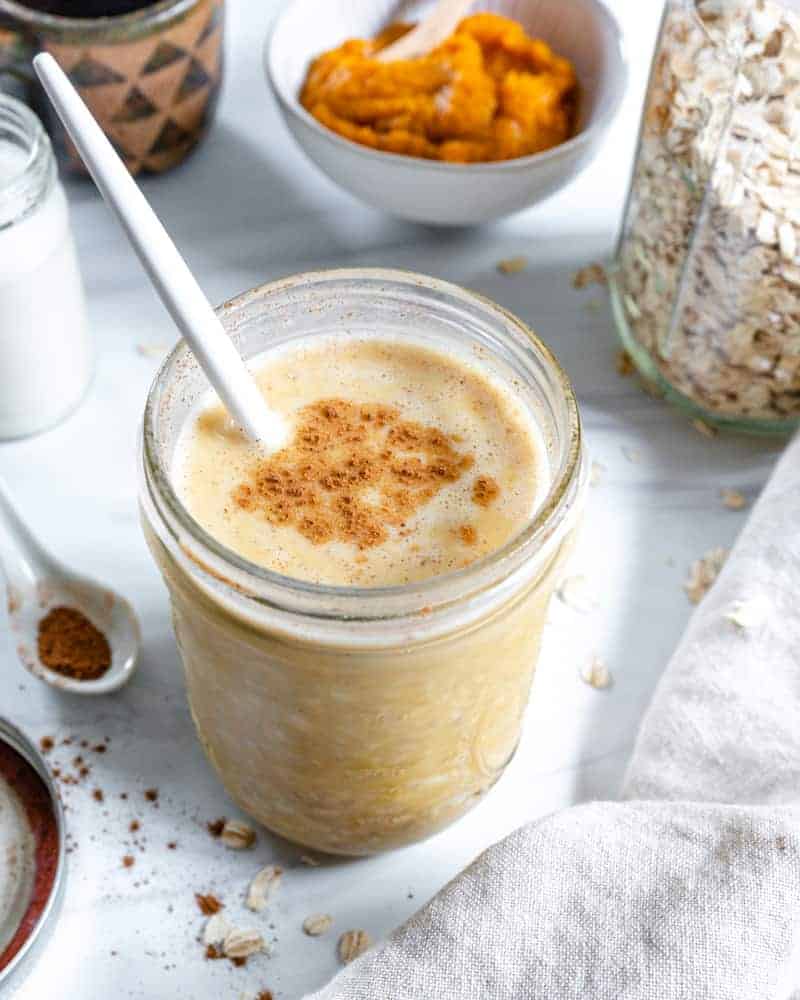 Prefer regular warming oatmeal? No problem – combine your oats, sweetener, and liquid in a saucepan on the stovetop instead and play around with the endless flavoring options like these carrot cake oats or apple cinnamon oatmeal!
This vegan, savory oat breakfast bowl from Vegan Yack Attack is a great way to change up your usual oat routine! With a sheet-pan hash, smoky coconut bacon, creamy avocado, and more – this savory oat bowl is more than packed with flavor (and 100% vegan!) and makes for a delicious healthy vegan breakfast!
These walnut oat scones are hearty, wholesome, and the perfect addition to any vegan/ vegetarian breakfast spread or to enjoy alongside a cup of tea or coffee! Best of all, they require just two bowls, 10 minutes of prep, and 11 ingredients – all of which are pantry staples!
Pulling together a simple and delicious vegan yogurt parfait takes just a handful of ingredients and very little time. This yogurt parfait is packed with protein, fiber, vitamins, and antioxidants with a combination of dairy-free yogurt, granola, and fruits. Enjoy it as a quick vegan breakfast, brunch, or snack!
Whether you want to enjoy granola with milk, yogurt, to top a parfait, smoothie bowl, or more – we love making homemade versions. That way, you can control all the ingredients and the sugar content. Plus, you can even make all sorts of flavor variations like peanut butter granola, nutty granola, or cacao granola, etc.
For a super simple grab n' go high-protein vegan breakfast, try these chewy peanut butter granola bars. With just a handful of ingredients, you can prepare these gluten-free chewy breakfast bars with a combination of oats, peanut butter, dried fruits, maple syrup, and chocolate chips. Best of all, this recipe is super meal-prep friendly (for the fridge or freezer) for an ultimate fuss-free vegan breakfast on the go!
BONUS: Smoothies
On mornings you don't feel up to food; why not whip up a smoothie instead? They take just minutes to prepare, are packed with vitamins, nutrients, and fiber, and there are tons of options to choose from, so you'll never get bored. Even better, enjoy your morning vegan smoothie in shake form or a bowl and topped with all your favorite toppings; fresh fruit, nut/seed butter, 'sprinkles' (like seeds, puffed quinoa, etc.), cacao nibs, etc.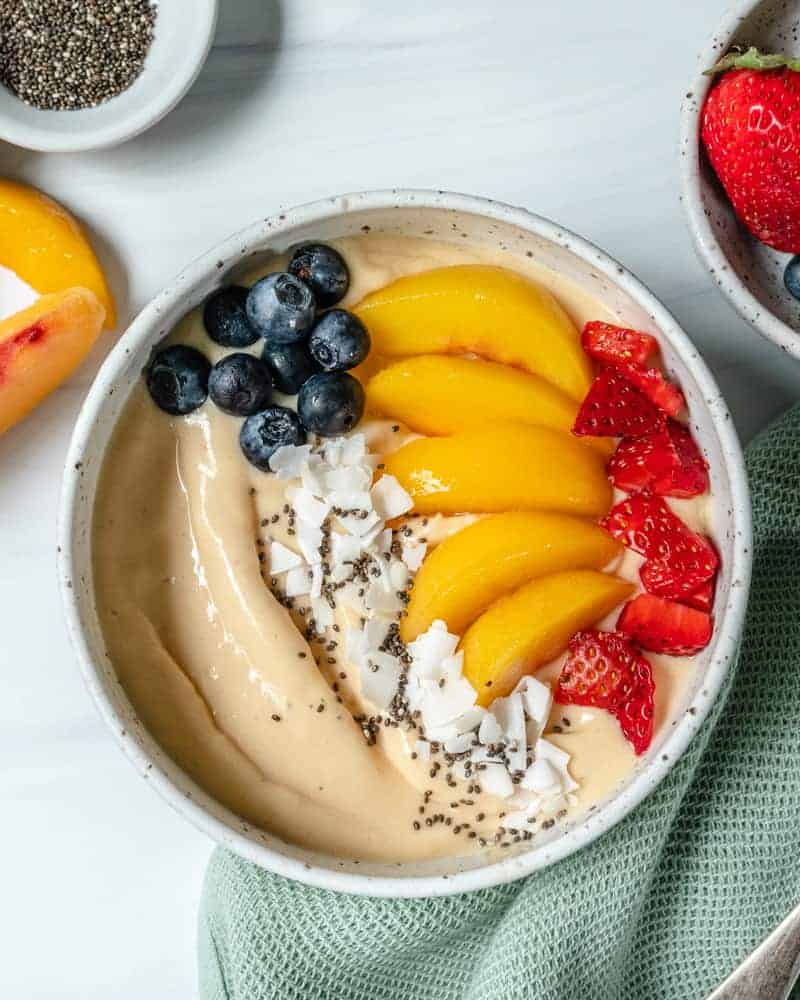 Avocado Shake (Vietnamese Sinh to Bo)
More Vegan Recipe Round-Ups