40+ low-budget, 30-minute easy vegan dinners and meal ideas. Including pasta, noodles, burgers, soup, curry, and more 30-minute vegan meals.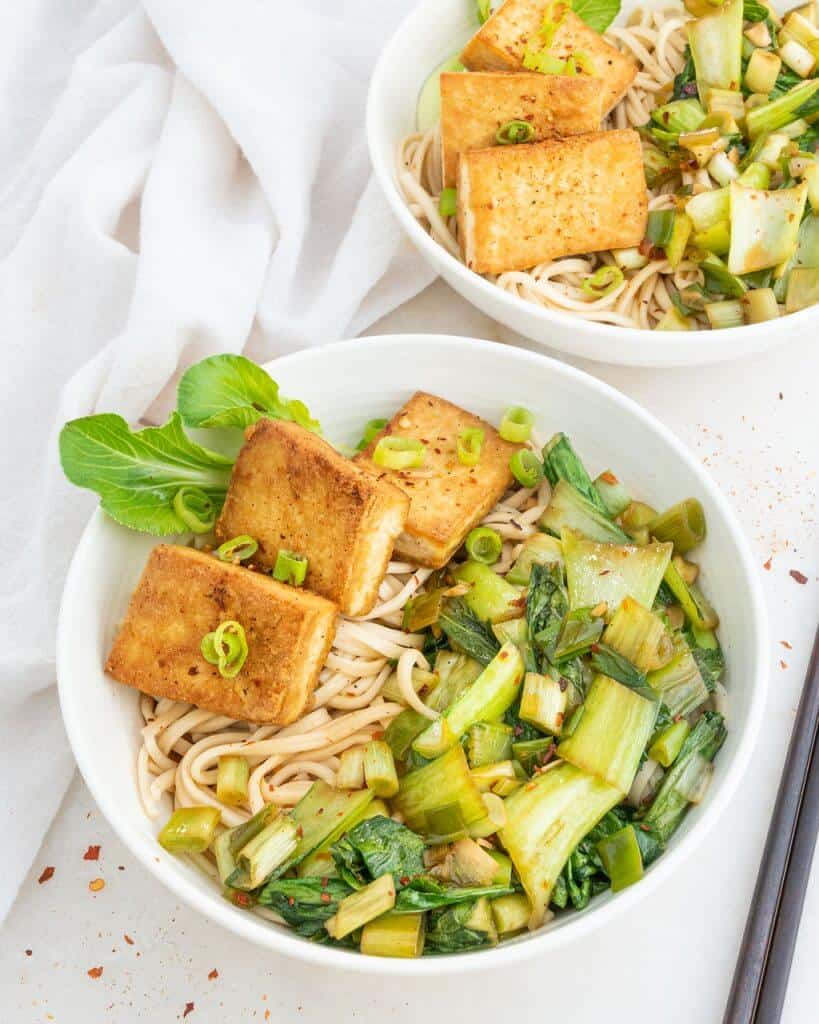 Here at PBOAB, we're all about saving you money in your kitchen with tons of delicious vegan meals on a budget. Of course, it can feel great to help you save some time, too. That's why we've now gathered 40 30-minute quick and easy vegan dinner recipes ready for your perusal.
Whether you're looking for hearty pasta and noodle dishes, simple salads, comforting curries, BBQ fare, vegan pizza, or more. There's a little bit of everything in this list of easy vegan meals in 30 minutes or less. So now you can enjoy quick and easy vegan dinners that won't break the bank or rob you of all your free time. Best of all, they're sure to impress friends and family.
Top Tips for Quick and Easy 30 Minute Vegan Meals
Stock up on pantry staples: Even on a low budget, it's great to keep your pantry fairly stocked with basics (pasta, beans, lentils, rice, spices, etc.). These can be used to pull together tons of flavorful, fuss-free, quick vegan meals.
Meal planning is your friend: It saves time and money and you can utilize what's already in your house. Take a quick inventory of what's available and match recipes to fit your time and budget. You may even be able to avoid a grocery trip altogether.
Meal prep for days: Meal prepping is another quick way to save time in the kitchen. Whether that means prepping ingredients or entire cheap vegan meals, ready to enjoy the leftovers over several days.
Utilize your freezer: Another way to help save time in the kitchen is with freezer meals. Whip up a large batch of any quick vegan dinner, store the leftovers in the freezer, and have a quick meal ready to reheat weeks or even months later.
For now, though, let's hop straight into this carefully compiled list of 30-minute vegan meals to help you find your next favorite!
Pasta and Noodles
Let's begin this list of vegan 30-minute meals with pasta and noodles. They're super affordable, quick to prepare, and have practically endless recipe options. So whether you want a super simple pesto pasta, creamy vegan mushroom pasta, or veggie chow mein, here are some quick vegan dinner ideas.
With wholesome greens, tomatoes, mushrooms, and herbs, this spicy tomato pasta is packed with nourishing ingredients. It's also simple to prepare, relies on one pan only, and is ready in just 25 minutes (use gluten-free pasta if preferred).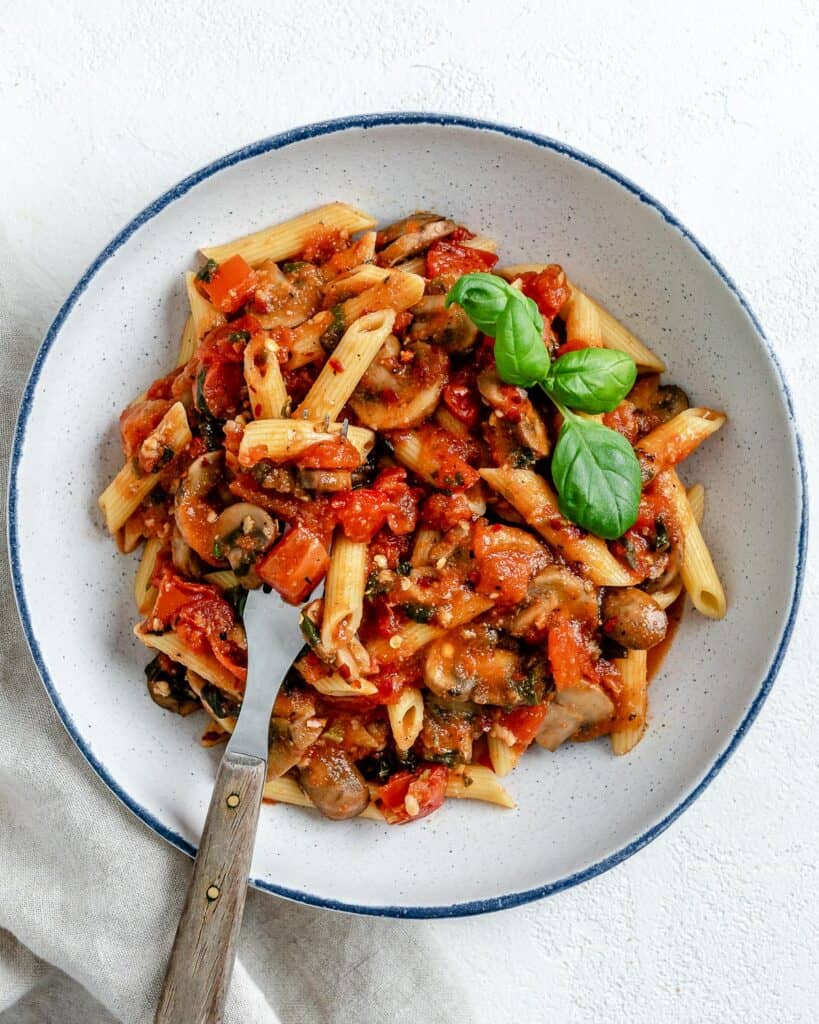 This simple, one-pan vegan chow mein is packed with versatile mixed vegetables, noodles, and a warming, comforting broth sauce. A quick, healthy, filling meatless meal idea in 25 minutes!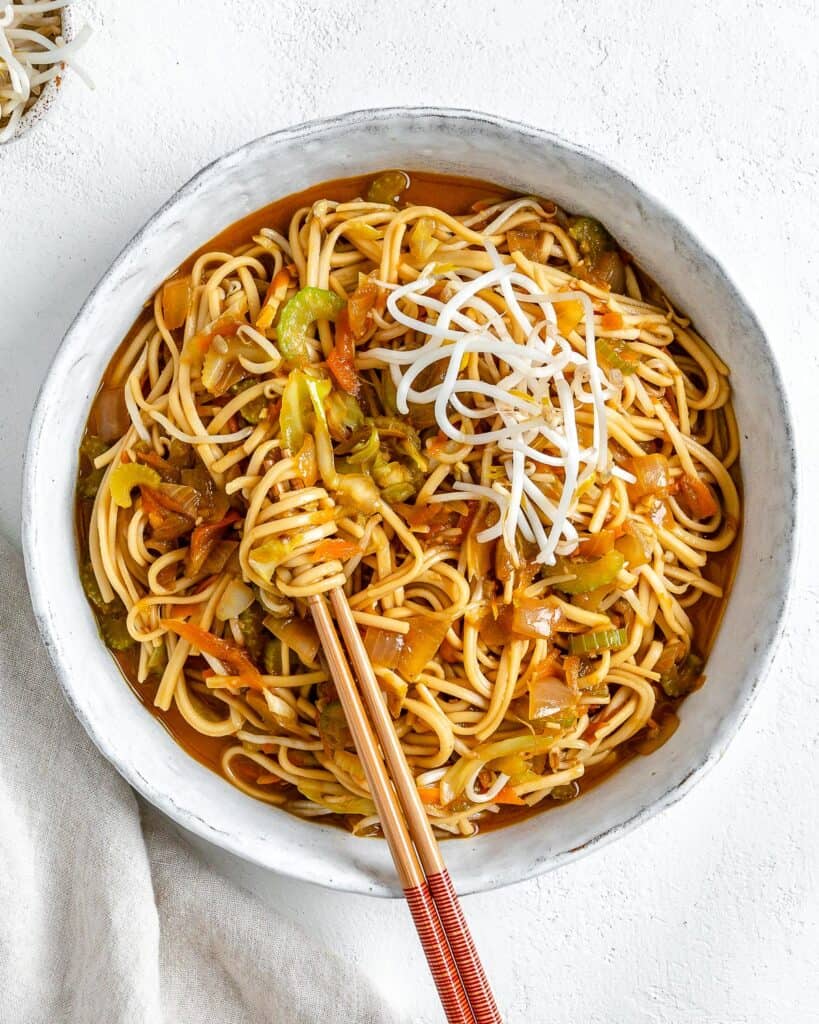 Enjoy this simple sesame noodle salad warm or chilled, combining noodles and carrots with a simple garlic, ginger, soy, lime, vegan Worcestershire, and sesame-based sauce. This versatile, quick vegan dinner is easy to adapt with extra veggies and flavors, making for a delicious low-effort easy meatless meal.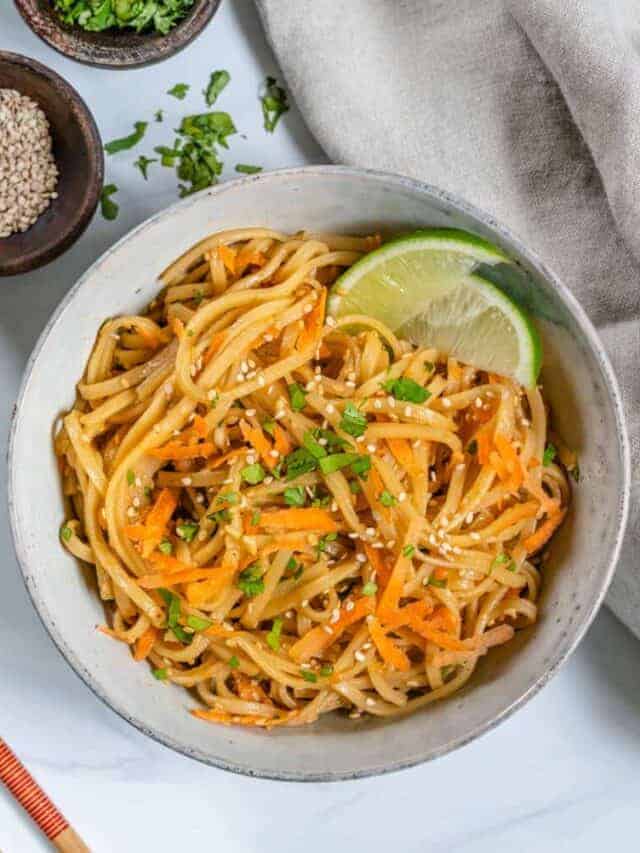 This Warm Soba Salad tossed with Sunomono-Style Cucumbers is a quick, healthy, oil-free, umami-rich salad that will fill you up without weighing you down.
With thick udon noodles, nourishing greens, and protein-dense tofu, this easy plant-based meal is simple but wonderfully filling – and packed with salty, savory, and spicy flavors.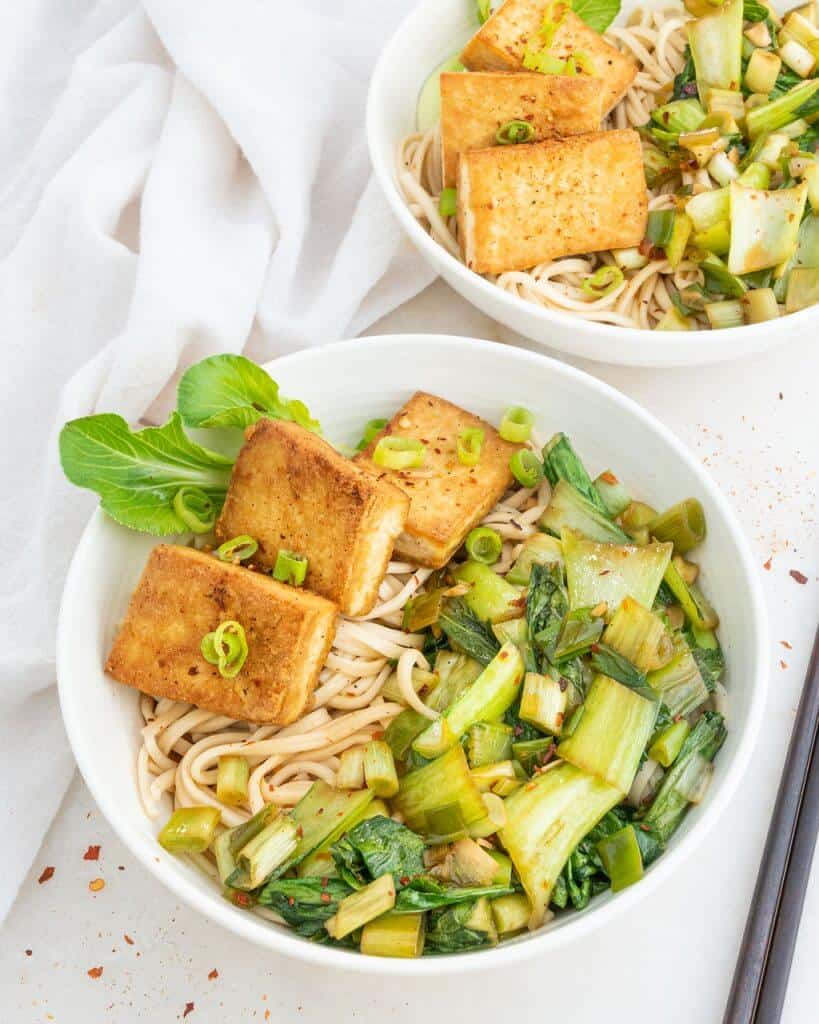 With just a handful of pantry staples, this pink pasta (made with tomatoes and cashews) from World of Vegan is creamy, cozy, comforting, and packed with flavor. Best of all, all you need for this easy vegan dinner recipe is one pot, a blender, and 15 minutes.
30 minutes is all you need for this simple creamy vegan mushroom pasta with spinach from The Banana Diaries. It's packed with flavor thanks to the addition of zesty lemon, fragrant pine nuts, umami-rich mushroom, and aromatic garlic. More so, it's highly nutritious, with 25 grams of protein per serving!
All you need is 6 ingredients and 5 minutes to prepare this flavorful walnut pesto. Then, combine that with the pasta and vegetables of your choice for a quick and easy vegan meal. Better yet, any leftovers can be used as a spread, dip, or drizzle, too!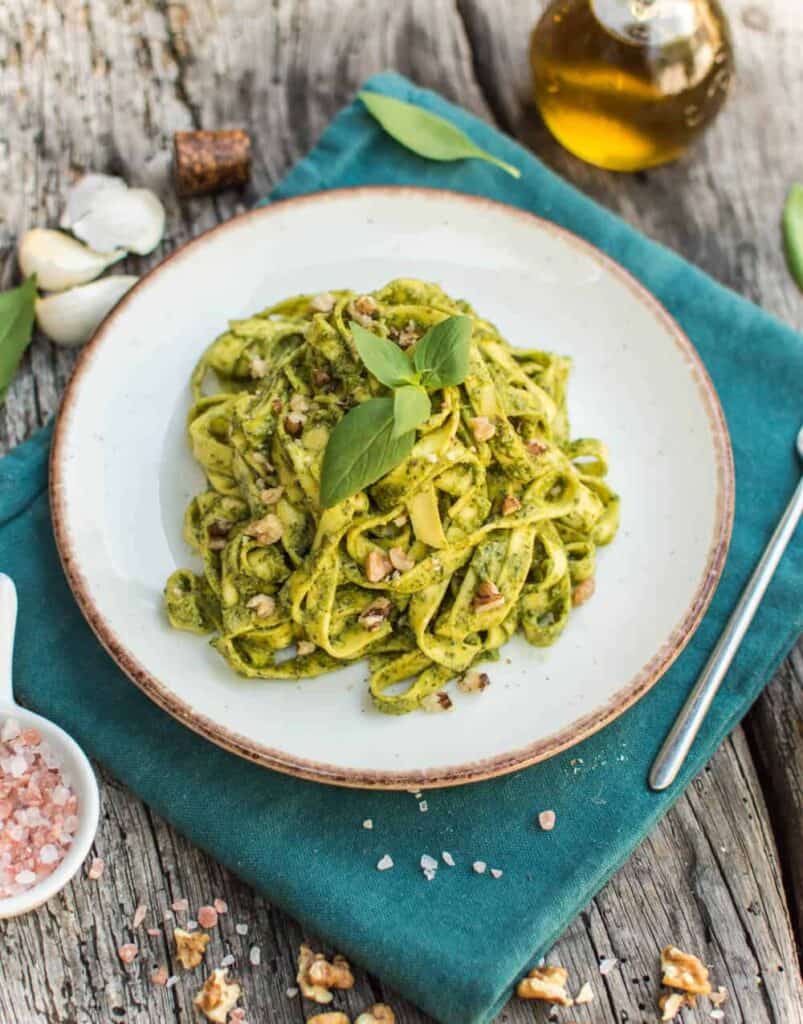 Forego the classic nut or seed pesto recipes for this creamy (and more cost-effective) avocado pesto. It's quick, simple, and super creamy. Perfect for whipping up quick sandwiches and wraps, enjoying with potatoes, veggies, and, of course, pasta. It's a must-know recipe for easy vegan meals.
Soups and Stews
Soups and stews probably aren't the first thing that comes to mind when you think of quick vegan meals. However, that doesn't mean there aren't plenty of delicious 30-minute vegan recipes that pack in a ton of flavor in the limited time.
This mixed bean and tomato pasta soup is perfect for a last-minute warming soup on cool days. It combines pantry staples such as tinned tomatoes, beans, and pasta, with a few seasonings for a simple, wholesome vegan soup. It's pantry-friendly and low-budget, as well as oil-free, gluten-free, optional, and versatile!
You can prepare this hearty, warming broccoli and potato soup either on the stovetop or in a pressure cooker in just 30 minutes. Best of all, this easy plant-based meal requires just a handful of pantry staples, making for a wonderfully low-budget, high-nutrient meal.
This Vegan Minestrone Soup is a healthy one-pot 30-minute vegan meal that will instantly warm you up and leave you feeling comfy and satisfied with every bite!
This vegan Mexican noodle soup features a simple ingredient list and spectacular flavor. Sopa de Fideo is the ultimate soup recipe, made with mainly pantry staples everyone will warm up to! It's a Mexican pasta dish passed from generation to generation that's perfectly spiced with cumin and is very cozy and delicious.
How to make a hearty, wholesome vegan black bean chili in one pot and under 30 minutes, primarily using pantry staples. The result is a budget-friendly, flavor-packed, protein-dense, gluten-free, nourishing black bean chili perfect for the budget-friendly vegan!
Vegan Curries
In our opinion, you can never have too many curry recipes on hand. They're super hearty, cozy, comforting, and packed with flavor and nutrients. You can enjoy them alone, over brown rice, rice noodles, soba noodles, or quinoa, for 30-minute vegan meals guaranteed to satisfy and nourish.
It might seem a little off, but this sweet and savory apple curry is super creamy, hearty, and flavorful. The mix of flavors and textures is just what's needed to impress the entire family.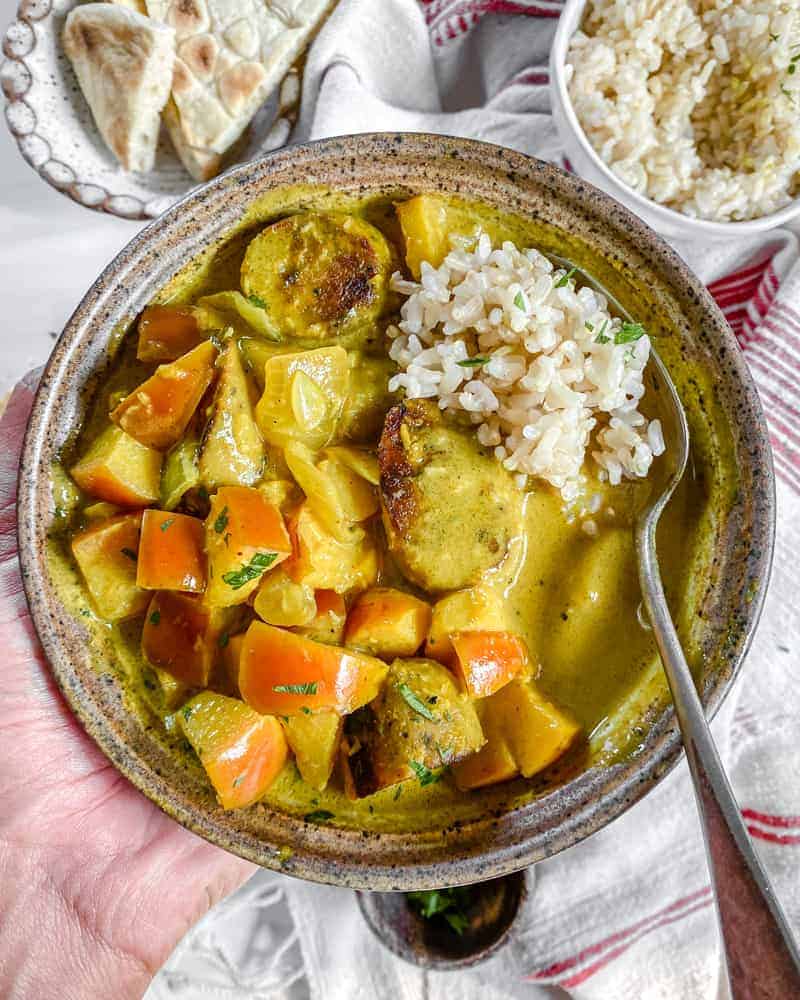 In just 20 minutes, you can enjoy this simple yet fragrant coconut curry made with nut butter and coconut milk for a rich and creamy, easy meatless meal. It's packed with veggies and healthy fats and is a great way to add sprouts to your diet.
This curry combines potato and peas with mushrooms and optionally extra veggies like broccoli, cauliflower, spinach, and/or chickpeas for a truly hearty plant-based dinner recipe. With a careful selection of aromatics and seasonings, this vegan curry is jam-packed with flavor and will warm your bones on chilly nights.
This easy vegan chickpea curry from Shane & Simple is ready in just 10 minutes, using one dish and several savory spices. The result is a warming, nourishing, quick vegan dinner that's gluten-free, oil-free, low fat, and packed with plant-based protein and nutrients.
To some, this is a nightmare. To others, it's just another way to appreciate this controversial vegetable and pack in extra nutrients into your diet. The curried brussels sprouts, potatoes, and carrots are coated with a warm-spiced coconut curry sauce with tahini and sesame seeds! It is creamy, aromatic, slightly spicy, and super comforting.
Vegan Stir Fries
No list of quick and easy vegan dinner recipes would be complete with several stir-fries. They take minimal prep, are usually pack in a bunch of ingredients (meaning plenty of nutrients), and are practically fuss-free in preparation. Best of all, they can take as little as 10-15 minutes to prepare!
Like takeout, but better (and healthier). This spicy sesame tofu stir fry tosses pan-fried tofu with crunchy snow peas, tender mushrooms, and nutty sesame seeds in a sweet soy glaze. Serve over noodles or rice and enjoy this one-pan meatless meal in 30 minutes!
This Shiitake Asparagus Tofu Stir-fry is an Asian-inspired dish of meaty mushrooms, crunchy asparagus, and perfectly golden tofu cubes made in less than 15 minutes, including prep time!
This vegan (baked, air fried, OR) pan-fried tofu with peanut sauce is hearty, wholesome, and versatile! Serve over a bed of spinach and grains, transform into a stir-fry, peanut tofu noodles, and more! All you need is a few simple ingredients and 10 minutes of cooking time (pan-fried) for this frugal but delicious gluten-free, dairy-free lunch/ dinner recipe with tofu!
You need just 20 minutes to prepare this crispy, golden, buttery lemon tofu. It's packed with flavor, topped with asparagus, and perfect for serving over grains as a quick vegan dinner recipe.
Cooked tomatoes are sweet little flavor-bombs perfect for serving over tofu to infuse tons of flavor into any dish. The combination of tomatoes, garlic, and oregano also gives off major pizza vibes. Enjoy it with grains, pasta, or spaghetti for an easy vegan dinner recipe.
Burgers, Sandwiches, And Wraps
With a combination of tacos, a quesadilla, burgers, and a sandwich, here is a short list of 'bready' quick and easy 30-minute vegan meals you'll love (and way more interesting than your 'everyday' sandwiches!).
In just 15 minutes, you could be chowing down on a nutrient-dense, protein-dense, flavorful white bean burger. Made with white beans and a list of herbs and spices found in many pantries, these burgers are perfect for a last-minute meal or meat-free BBQ dish.
This vegan BBQ Sandwich uses is full of that smoky BBQ flavor that everyone can enjoy! It is easy to throw together when needing a quick yet filling lunch or dinner and a perfect addition for your next backyard BBQ party.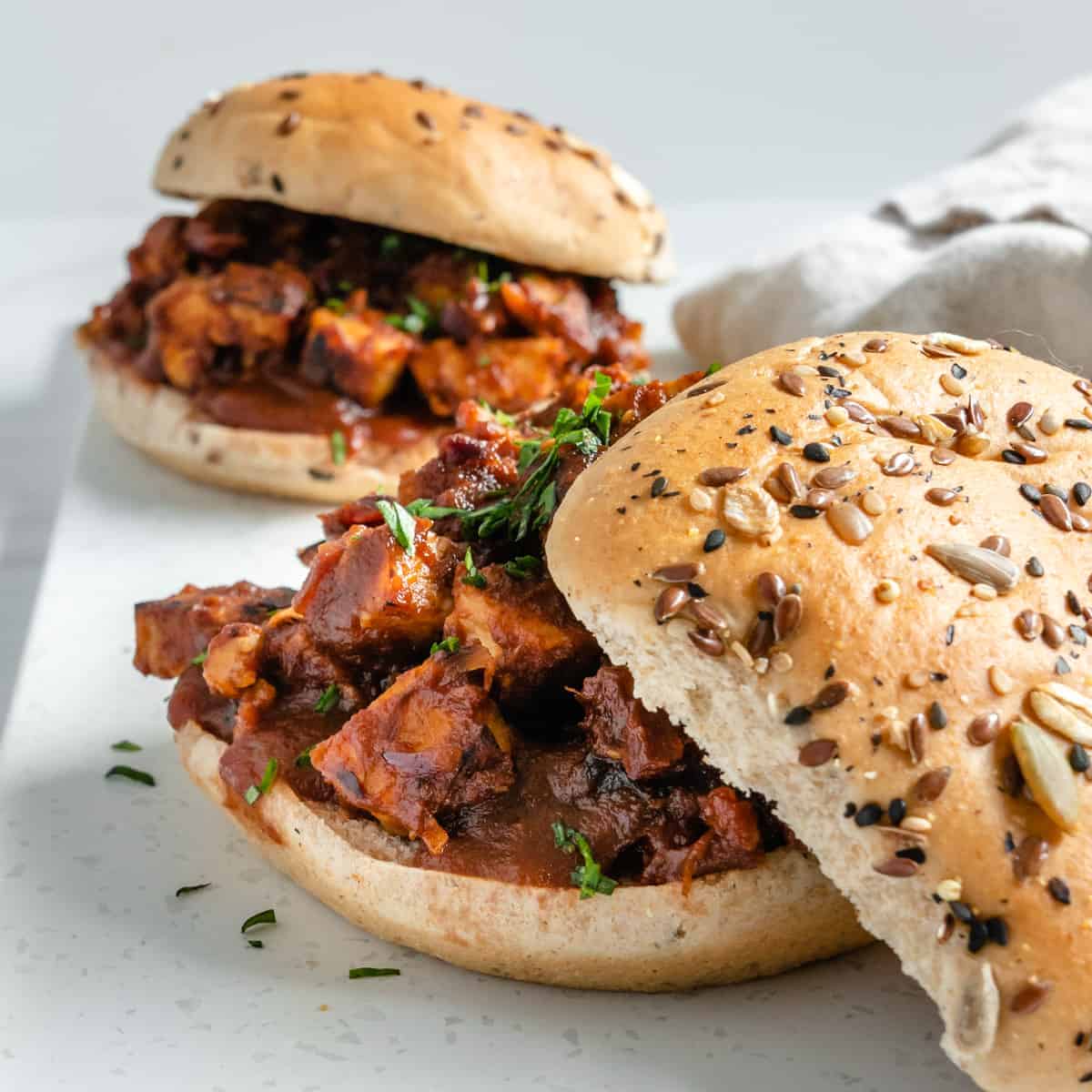 This quick and easy pan-grilled BBQ Tempeh recipe is so delicious and packed with BBQ flavor with every bite. Barbecue sauce-slathered tempeh packed with sweet, savory, and smoky flavors cooked in a pan until caramelized and charred to perfection.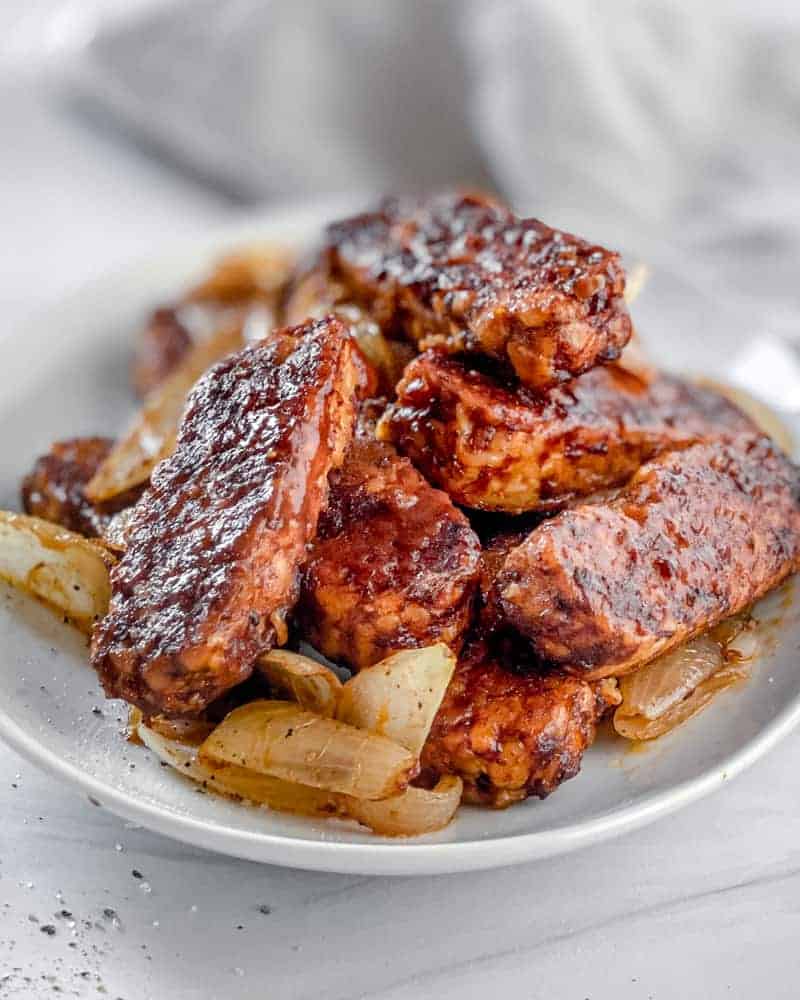 A spicy bean burger is a classic addition to any meat-free eaters' know-how. They're packed with plant-based protein and enough heat to wake all your taste buds. In addition, making these vegan bean burgers at home is healthier and more affordable than store-bought, with just 20 minutes of prep and 10 minutes of cooking time.
These tempeh sloppy joes from Healthy Happy Life are quick, delicious, and filling. Loaded up with BBQ tempeh, vegan mayo, pickles, and optional mustard, all in a big bun/roll. Enjoy with slaw and greens for a delicious 20-minute easy vegan dinner recipe.
Ditch the dairy for a hearty vegan quesadilla filled with refried beans and optional extra veggies. Not only is this cheap vegan meal packed with healthy fats, protein, and fiber, but it's super budget-friendly and ready in just 25 minutes (or less if you have leftover refried beans!).
These sweet potato and carrot tacos from Dora's Table stew the veggies with onion and garlic in a tomato-chipotle sauce for tacos that are packed with fiber, flavor, and nutrients. Top them up with avocado and enjoy a quick plant-based meal.
Salad
While many simple salads take just minutes to throw together, here are some 'atypical' vegan salad recipes that (mostly) shun lettuce for other nutrient-dense ingredients for hearty, easy plant-based meals.
This simple, flavorful orzo chickpea salad is packed with flavor and just 6 ingredients (plus salt and pepper). With chickpeas, tomatoes, red onion, and a tangy red wine vinegar dressing, this versatile Mediterranean orzo salad is a refreshing, summery appetizer, or side salad. Perfect for any potluck, BBQ, picnic, or garden party!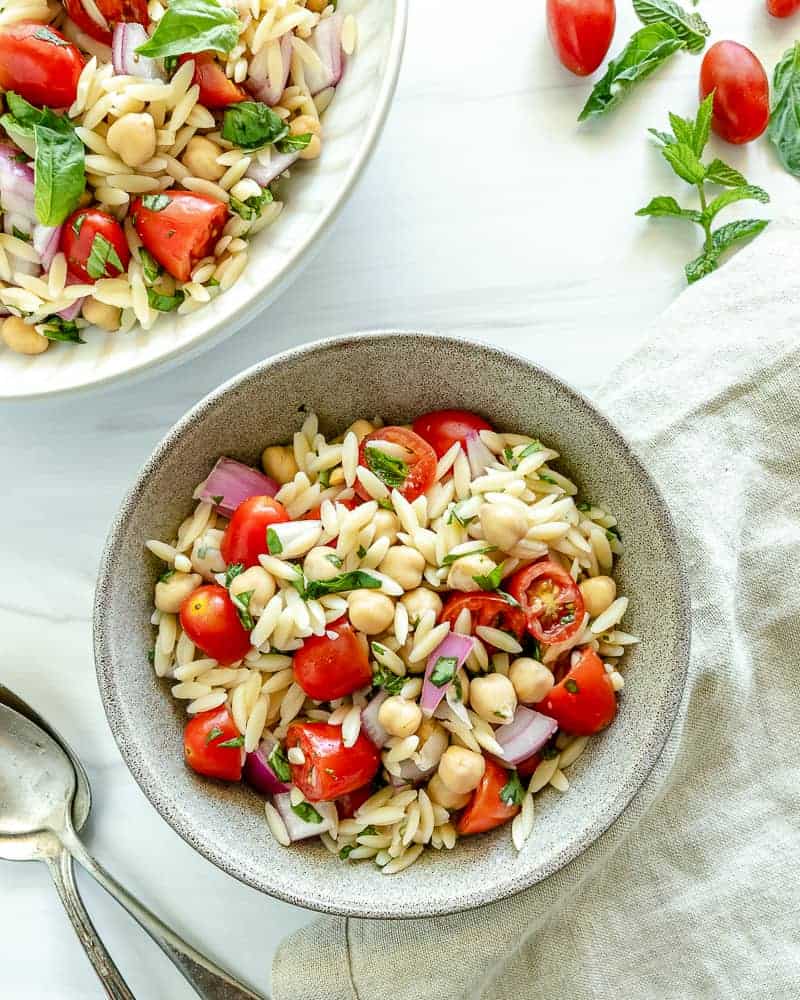 All you need is just 20 minutes to prepare this simple, flavorful chickpea tuna salad. Once it's mixed, enjoy it as a side salad, in sandwiches, wraps, and more. Plus, it stores well, so you can enjoy it with different meals over several days.
Combine classic Mediterranean veggies with hearty protein and fiber-dense lentils for a simple salad packed with nutrients, super affordable, and a simple way to pack in extra nutrients for a quick vegan dinner.
Enjoy this big taco salad from Hot For Food in just 20 minutes, loading up the plate with corn, black beans, tomatoes, avocado, and other classic Mexican flavors, all topped off with a creamy cilantro dressing. Enjoy it alone, with corn chips, and as a must-have on Taco Tuesdays!
Miscellaneous
Finally, a few easy plant-based meals worth mentioning that don't fit any of the above categories. These quick and easy vegan dinners are packed with flavor, nutrients, and ready to impress.
This hummus pizza (without red sauce) takes just minutes to assemble, is packed with veggies (+ tons of other options!), and can be enjoyed as an appetizer, side, or light meal! This version is for a Mediterranean veggie pizza with artichokes, spinach, tomato, and bell pepper!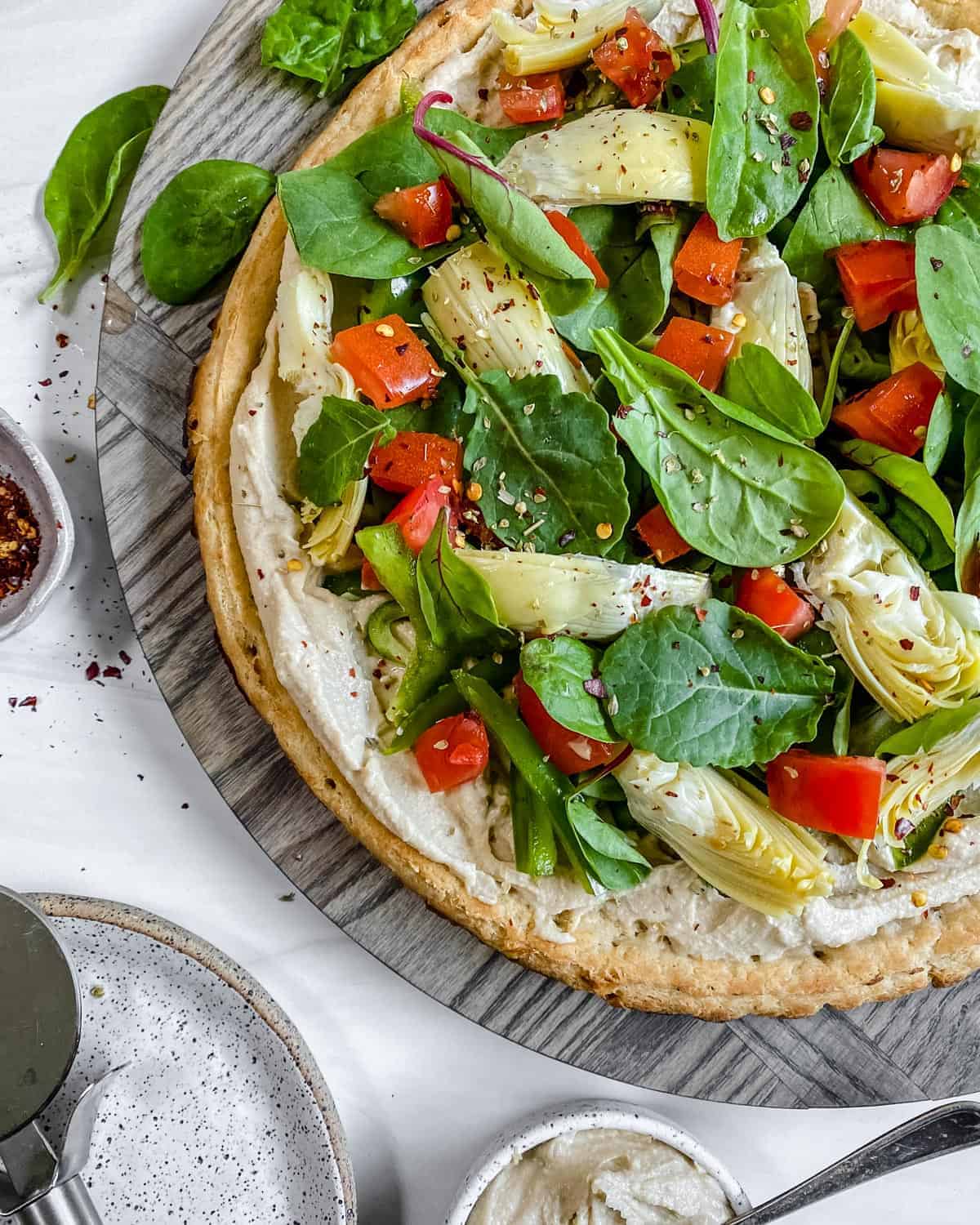 This pesto fried rice by From My Bowl is packed with mixed veggies (like peas, zucchini, tomatoes, and spinach) and coated in a herby basil pesto for a fuss-free, delicious meatless meal idea. Enjoy it as an appetizer or main, topped up with additional protein.
This vegan cheesy cauliflower taco casserole from Make It Dairy Free will become a new favorite of yours. It's deliciously packed with Mexican flavors and spice. It's nutritious thanks to the combination of cauliflower, other veggies, and meatless crumbles. Plus, it's ready in just 30 minutes.
This Vegan Lemon-Garlic Mediterranean Quinoa salad is packed with protein, fiber, and lots of vegetables, including kale, white beans, tomatoes, and olives in a lemon-garlic quinoa dressing! It's delicious as a salad or warmed up as well!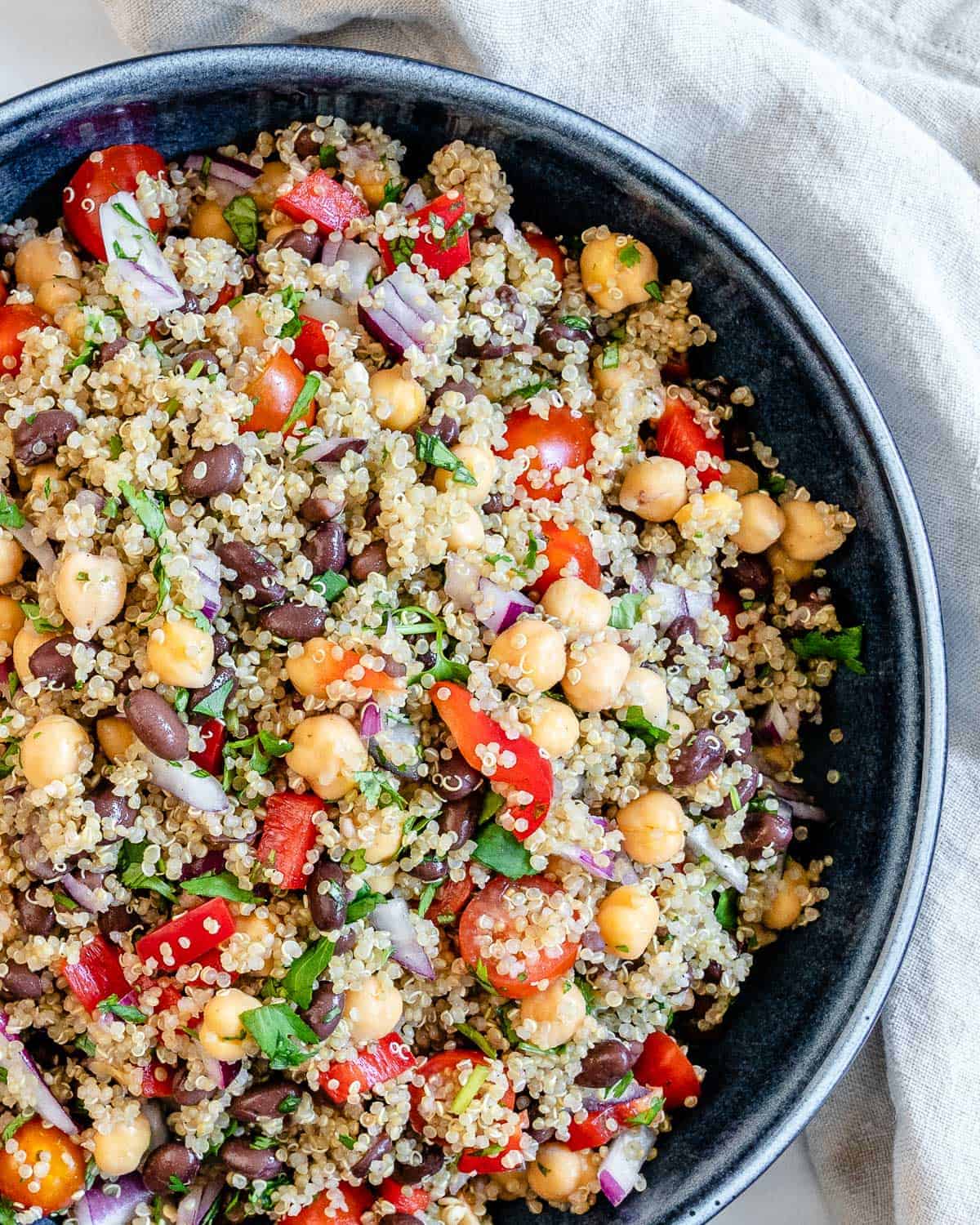 More Vegan Recipe Round-ups